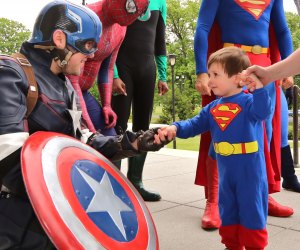 Weekend Fun for Philly Kids: Festivals, Trains, Grandparents Day September 7-8
Philly kids are adjusting to the new school year and acclimating to a different routine, but that doesn't mean family fun has to end. After all, summer technically lasts until mid-September. Why not spend part of the weekend with activities found in the Mommy Poppins's event calendar?
Start off by attending a festival. There are opportunities to appreciate the culture of Poland and Brazil, learn about the impact of honey bees, or pretend to be a superhero. Foodies can enjoy good eats at the Mushroom Festival or Whoopie Pie Festival while music lovers rock out to tunes at Haverford Music Festival. Other noteworthy experience include Caln Community Day, Doylestown Art Festival, Bryn Mawr Day, and Brandywine Festival of the Arts.
Don't forget that Sunday is Grandparents Day! Take Granny and Pop to a museum to learn about family trees, an arboretum to see Thomas the Tank Engine, or the pier for some fishing. No matter how you spend your weekend, make it a great one.