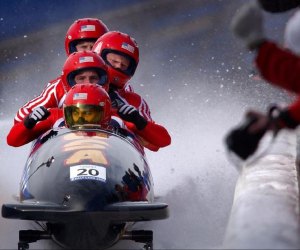 Ways for Philly Kids to Experience the Olympics Close to Home
Every four years, Philly families turn their attention to the excitement of the Winter Olympics. From watching the grace and beauty of the figure skaters to the exhilarating rush of the bobsledders, Philly kids and parent alike enjoy rooting for the good, ole, U.S.A. as they watch the games on television. This year's events are happening half-way around the world in PyeongChang in South Korea. Feel more connected to the spirit of the games by participating in some of these Olympic-themed activities happening locally throughout the Delaware Valley. Let's cheer on our amazing U.S.A. athletes as they compete to bring home the gold!
Olympic Fever- New Hope, PA
February 6, 7, and 9
Make crafts that have Olympic flare at Bucks County Children's Museum in New Hope.
Olympic Kick Off Party- Schwenksville, PA
February 8
Learn about the athletes, sports, and the history of the Olympics at Perkiomen Valley Library.
Hit the Slopes!- Various, PA
Ongoing
Load up the car and travel to one of the many ski slopes close to home to pretend you are a famous Olympic skier as you zoom down the mountain.
Second Saturdays- Philadelphia, PA
February 10
Discover fun facts about the ancient Olympics, play games, and take a gallery tour during Penn Museum's Second Saturdays.
Winter Olympics Party- Your town, PA
Anytime
Invite friends over and host an Olympic-themed party, complete with decorations, games, and food with ideas from our latest post.
Make and Take Monday- Paoli, PA
February 12
Be inspired with crafts featuring the Olympics at Paoli Library.
Badge Squad: Globetrotters- Levittown, PA
February 17
Explore the different countries that are competing in the Winter Olympics at the Levittown Branch of the Buck County Free Libraries.
Outdoor Ice Skating- Various, PA
Ongoing
Lace up your skates and channel your inner figure skater or speed skater at one of these local outdoor ice skating rinks.
Family Winter Olympics- Royersford, PA
February 24
Test your Winter Olympics knowledge and make Olympic donut treats at this family-friendly event held at Royersford Free Public Library.
Celebrate the Olympics: Wii Gaming Party- Yardley, PA
February 24
Compete in the Wii Olympics at the Yardley Library.
Olympic Open House- Newark, DE
March 4, 2018
Try your hand at the unique game of curling at The Patriot Ice Center.