A Year with Frog and Toad at the Arden Theatre: A Parent's Review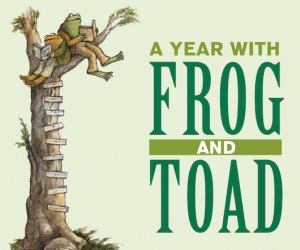 Perhaps you remember the delightful stories from which A Year with Frog and Toad was adapted. The classic series "Frog and Toad are Friends" is a fairytale staple for anyone who grew up in the 70s and 80s. The musical adaptation follows a year-in-the-life of these two amphibious friends (and a few of their adorable sidekicks) through each season of the year. The Arden Theatre brings the stories of the two lovable characters to life with classical and creative costuming and a set that includes a trap door and 2 revolving houses, which was definitely a favorite feature for the kids.
The show follows these two friends through all four seasons of the year starting with hibernation wake-up in Spring. Frog and Toad are accompanied by 3 frisky birds, a few moles, a very slow snail acheiving his dream of delivering mail, a mouse, and a turtle. Frog and Toad is the perfect show for a lazy Sunday afternoon with the kids. It's not full of twists and turns or surprises, but it features some really cute music and a joyful attitude.
We attended A Year with Frog and Toad on a Tuesday morning. As a stay-at-home mom, I tend to opt for weekday performances to help get us out of the house once in a while. That said, weekday shows are intended for school groups, which means you could experience some delays before the show and at intermission, and an audience where the adults are outnumbered. The actual runtime was probably somewhere around an hour and a half on a normal day.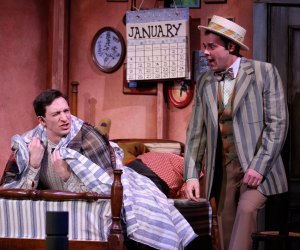 Most of the kids there were around 6 or 7. They very much enjoyed the revolving houses, a good deal of the music, and dancing, and some of the little jokes that occurred sporadically throughout the show. "Frog Looks Funny in a Bathing Suit" was the the most-loved song of the show. Snail was the crowd's favorite character. His costume featured a rolled-up sleeping bag as his shell. He always thought he was running (and was constantly out of breath), but was actually moving ever-so-slowly. The kids could not get enough of this snail. He was met with shouts of, "He really thinks he's going fast, but he's not!"
The theatre recommends the show for ages 5 and up. Kids a little older might appreciate it a bit more; it's definitely not an action-packed adventure like "The Stinky Cheese Man" was, so you might want to make sure your kids are aware of that before you go.
If you're not familiar with the original stories, as an adult, the nature of Frog and Toad's relationship may seem a little more advanced than the average friendship. This is, of course, just an interpretation of the show. It is not blatantly stated at any point, but I only mention this in case you might find yourself needing to or wanting to explain it to your kids.
After each performance, the cast remains on stage for a post-show talkback where kids can ask questions about the characters, the production, and more. This is a great way for kids to learn more about how theatre works, and talk to the actors on a personal level, but is totally optional. If you've got restless kids, feel free to slip out after curtain call is over.
A Year with Frog and Toad runs at The Arden Theatre December 3, 2016 - January 29, 2017. Tickets range from $18-$36 and can be purchased online.
Photos courtesy of The Arden Theatre Company.