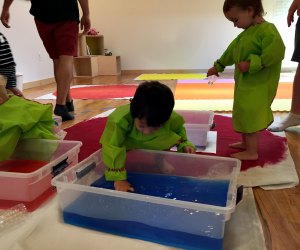 Mommy and Me Classes in Philly for Every Interest
Some of the most rewarding moments we have with our young children is watching them learn something new. Find a mommy and me or baby class in the Philadelphia area, so you can experience that moment with your new little one.
The look on their little faces as they discover a new skill, hear a new sound, or accomplish a new trick is one that makes all the sleepless nights worth it. While we get to see many of these moments in our daily activities as our children grow, with parent-child classes you can also learn new skills alongside your little one. Whether you are just starting out in parenting or looking to introduce your child to your love of books, dance or music, or even want to learn a new language together, we're sure you'll find a fun baby class in Philly.
Movement and Dance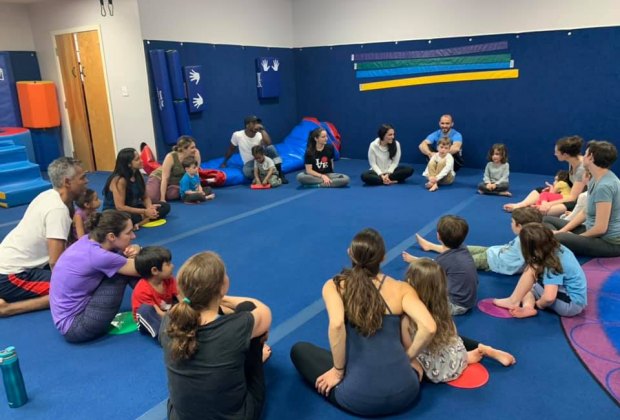 Parent-Child movement gets everyone involved. Photo courtesy of Philly InMovement
Philly InMovement offers tumbling classes beginning at 10 months and progressing up to 36 months as parent-child classes that help your little one gain muscle and brain stimulation and grow into self-reliance. Incorporating music and props, classes are fun for you and your little one.
Mini Move and Groove at PlayArts is a student-centered creative movement dance class for toddlers and their caregivers. Check out dancing, singing, circle time and more.
Workshops in Dance offers Mommy and Me "Dancin' Babies" Class introduce toddlers and their caregivers to the fundamentals of ballet. Children ages 2 to 3 and their caregiver should come dressed to move.
BYO Baby at Fusion Philly, where parents and their children play through basic tumbling and gymnastics skills. Children learn agility and parents help them through obstacles and bounce time. Designed for children from 12 to 36 months.
Learn to tumble with Me and You at FlipOut Productions. Children from twelve to 40 months gain confidence through physical development as parents participate in guiding little ones through tumbling routines and songs.
Music
Nest offers age-specific music classes for babies from 6 weeks up to 6 years. Music classes at Nest are geared to get you and your little one moving, learning, and building skills.
Rhythm Babies has classes all across the city and suburbs, with a program designed to for little ones ages four months through five years. This program enhances young children's auditory senses, cognitive and musical skills through singing, rhythm, and creative movement activities.
PlayArts offers play-based music enrichment classes for babies and toddlers alongside their caregiver. The baby class is for children aged 8 weeks to 12 months, and the toddler music classes are for children aged one to three years old. Each class is play-based and incorporates rhymes, puppets, and movement. As the children age, the class progressively introduces concepts such as tempo, dynamics, rhythm, and pitch.
Language
At PlayArts learn with your little one as you gain a primer from the Chinese Learning Lab, where songs and stories are shared in a class designed to give you the tools to begin incorporating a second language at home.
Learn Spanish at the Creative Living Room with your little one and build on the fundamentals as you explore the seasons and holidays. This class is offered for children up to six years of age with a parent.
At Spanish Workshop for Children, parents and their toddlers learn together with playgroup activities that incorporate Spanish into every aspect of play.
Fitness and Sports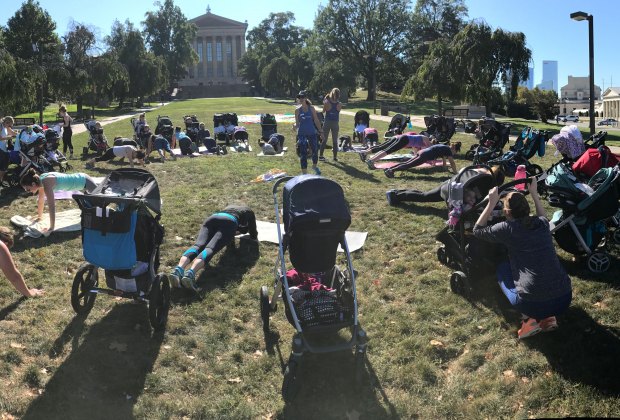 Moms and babies get ready for Stroller Striders. Photo courtesy of Fit4Mom
Mommy and Baby Yogalates at Philly Dance Fitness is specially designed to help new moms restore and heal their bodies through yoga and pilates, while also bonding with their new baby. Babies join mom on the mat as you move through restorative poses.
Fit4Mom offers classes designed for moms looking to get in shape post-baby with child-friendly and even child-focused fitness routines.
Parent-Child Soccer offered at various YMCA locations Is for children aged 2-3 who are ready to learn the fundamentals of teamwork with their parent's guidance.
This fall, Phield House is launching Little Jawns, a parent and child open play experience in the 25,000 sq foot facility. Introduce your child to your favorite sports while they burn off energy just in time for nap time.
Literary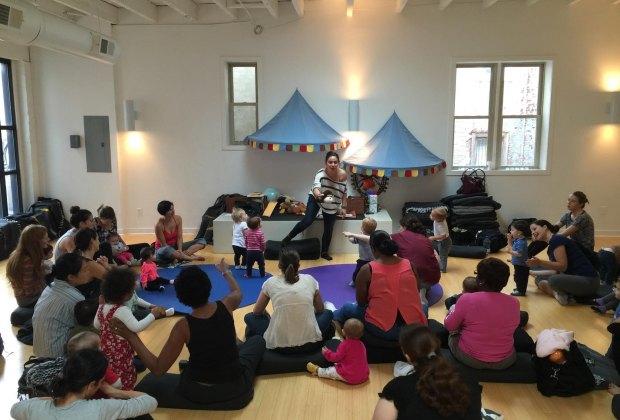 An immersive storytime and theater experience awaits at Baby Wordplay. Photo courtesy the venue
Baby Wordplay helps families foster early literacy with programming that incorporates reading, singing and playing in a language-rich environment. Parents can find daily story plays to attend with their little one, featuring books, songs, finger-plays, puppets, movement, live music, sign language, and more. For ages six weeks to four years.
Leave it to the Free Library to create a schedule of parent and child classes that build literacy in locations across the city. These free storytimes make reading an interactive experience with songs, rhymes, and movement incorporated into each experience.
Creative Play and Art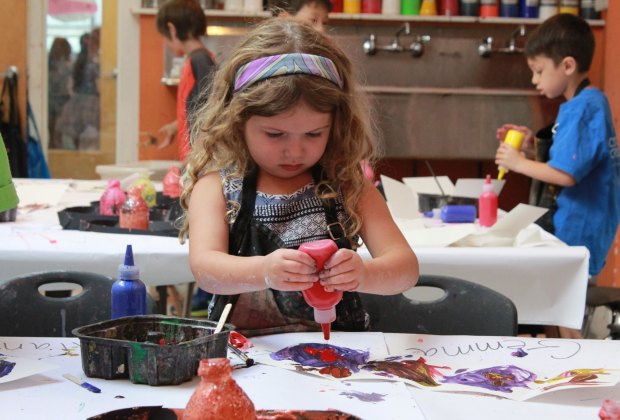 Little ones get creative! Photo courtesy of the Philly Art Center
ByMySide Parenting Group offers playgroup classes that include free open play while parents find new friendship. Kids enjoy circle time and snack as part of the experience but the real joy is in getting to know other caregivers and building a community of friendship for you and your little one.
Creative Parenting offers 8-week sessions of interactive creative play between the parent and toddler to develop skills and prepare for school. Children and parents will participate in crafts, storytime, music, and build social skills. Parents also are likely to form friendships with other caregivers in the program.
Art Lab at PlayArts introduces toddlers to art concepts while emphasizing the creative process with the child alongside their caregiver. Each class uses art and sensory materials to build fine motor skills as well as an appreciation for the creative process.
Philly Art Center has classes for kids starting at 20 months up to three years to introduce the creative process to children alongside their parents. Children gain confidence as they gain skills.
Encouragement and Parenting
At Nest you will find a number of age-specific classes for parents to connect and learn from child development educators as well as other parents. With classes that start from birth and go up into two years, learn techniques on sleep, feeding, and dealing with tantrums. Learn the tips and techniques you can use at home.
Minnow Lane offers two great weekly classes for new moms. The first is a breastfeeding support group which includes weekly weigh-ins. The second is a new moms meetup for open discussion and sharing about all things post-partum.
Nesting House offers new baby meet-ups weekly at two of their multiple locations. Designed for new parents to meet and share in this amazing new experience together.