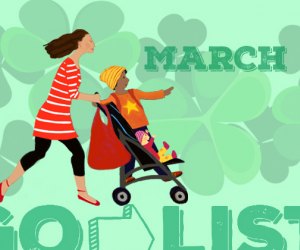 March GoList: The Best Things To Do With Philly Kids
Here comes the sun, Philadelphia! Spring is right around the corner. This month is full of the taste of sweet maple syrup, beautiful flowers, and we can't forget leprechauns! As the cold starts to break, we can count on plenty of ways to get outdoors and play this month.
Although, you never know, maybe we still have time to get that one big snow day in! Hurry up, and check all the winter fun off your list before it's too late with our Winter Activities Guide. As always, check our event calendar for even more fun things happening this March!
February 29 - March 8, 2020
View all the beautiful floral displays at the PHS Philadelphia Flower Show's "Riviera Holiday."
March 1, 2020
What goes with pancakes, waffles and french toast? Maple syrup of course! And, what better way to learn how maple syrup and sugar are made than to experience a maple sugaring festival held at Wissahickon Valley Watershed Association. Guides take small groups of visitors into the woods to see how the trees are tapped and watch the sap being boiled into sugar. Afterwards, stop by the WVWA historic headquarters for some hot chocolate and warm treats. Each tour is approximately 45 minutes. (Note: Strollers are not permitted on the tour).
March 2, 2020
This birthday party celebrates Dr. Seuss at Paoli Library. Guests can expect stories, games, and cake, of course!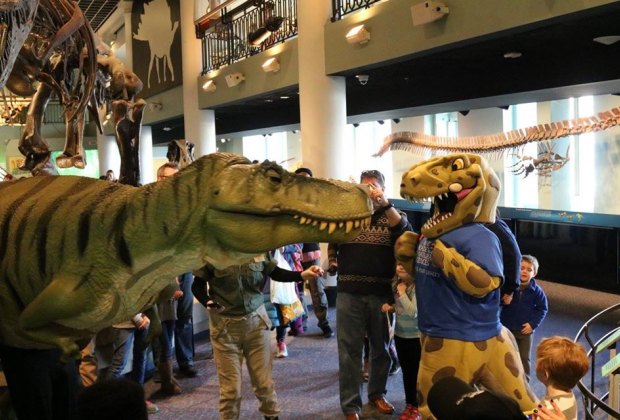 Dinosaurs abound at Paleopalooza! Photo from The Academy of Natural Sciences
March 7-8, 2020
Every year, the Academy celebrates all things prehistoric during Paleopalooza, a day-long festival featuring fossils. This year features new and exciting activities in addition to the museum's most popular and recurring attractions.
March 8, 2020
Kaiserman JCC invites guests to join in one of the largest Purim Carnivals on the Main Line. Perfect for children ages 2-12, this event features inflatables, games, music, crafts, face-painting, photobooth, and Hamantaschen.
March 14, 2020
Prepare to be entertained as dancers and musicians celebrate all things Irish. The parade starts from Conwell-Egan Catholic High School and ends at the Levittown American baseball fields on New Falls Road.
March 14, 2020
The annual St. Patrick's Day tradition is fun for everyone. Children start at "The Blarney" Booth where participants receive a game card with clues and an empty black plastic pot-o'-gold. Then, kids search throughout the shops of downtown Narberth to locate ten hidden leprechauns. For each one they find, they receive a 'gold' chocolate coin. Once, they have found all of them, kids can return to the "Blarney" Booth for their prize, a gold US. Dollar coin, while supplies last.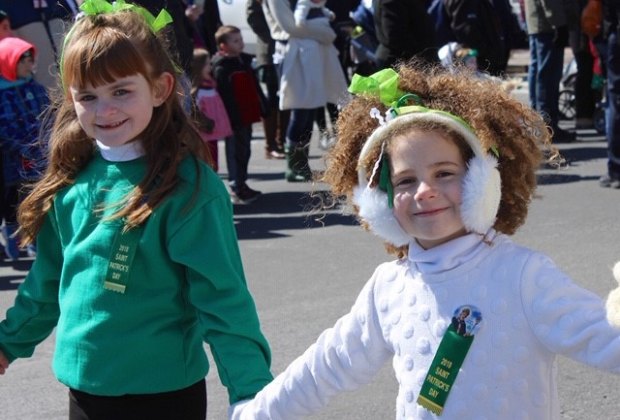 The annual Philadelphia St. Patrick's Day Parade has been a city tradition since 1771 and is a hit with families. Photo from the Philadelphia St. Patrick's Day Parade
March 15, 2020
Celebrate the luck of the Irish at Philly's own St. Patrick's Day parade. Audiences can expect Irish step dancers, Irish music, and marching bands. This year's theme is 250 Years of Faith, Family, Friendship and Heritage.
March 20-22, 2020
Sugarloaf returns to the Greater Philadelphia Expo Center for its annual crafts festival. In addition to artists and crafters, shoppers can expect live music, demos, kids' theater, and food sampling.
March 28 - April 5, 2020
Celebrate spring and the tapping of local maple trees for sap at The Pennsylvania Maple Festival. During the festival, families have the opportunity to learn about the culture, industry, and commerce from the last 170 years.
Be sure to subscribe to our email newsletter to see our weekly roundups of events as well!