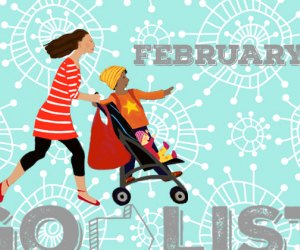 February GoList: The Best Things To Do With Philly Kids
We've had some frigid days in Philly this year, and we may be looking at quite a few more before spring finally arrives. Luckily, there's plenty of fun for Philly kids indoors, if you're not ready to brave the chills outside. Whether you're just looking for a place to drop-in, or trying to save a little money this winter, we've got a little something for everyone, including fun for even the littlest ones! So, stay warm and have fun this February, Philly!
Don't forget, there are tons more great events listed in our event calendar every day, and for indoor fun, check out our Indoor Activities Guide.
January 26 - February 23, 2020
Families with children 4 and up can delight in this new musical based on Hans Christian Anderson's Princess and the Pea at The Media Theatre. Can you guess if she passes the test?
February 1, 2020
John Heinz National Wildlife Refuge at Tinicum invites families to learn about the history of Groundhog Day through groundhog walks, children's crafts, and coloring contests. Live music and light snacks round out the day.
February 1, 2020
Embrace the season with a little frozen fun at Delaware Museum of Natural History. Dress up in royal attire for a winter-themed event in celebration of winter. Build a snowman, learn how to freeze water, join the snowman-making contest, and meet a fan favorite Ice Queen and Ice Princess.
February 2, 2020
During this free event at the Please Touch Museum, children who have learning and developmental disabilities and those on the autism spectrum and their families can experience sensory-friendly accommodations, such as reduced lighting and no music. In addition, guests can expect special activities and partnerships.
February 8, 2020
Wagner Free Institute of Science hosts its winter celebration featuring live crystal demonstrations, make your own mineral necklace workshop, and scavenger hunts. Visitors can also explore Wagner's 100,000-specimen natural history collection. Activities are geared towards children ages 6-12 and their families; however, visitors of all ages are welcome.
February 8, 2020
Kids from 12-18 are invited to the Teen Center at the Parkway Central Library to watch both modern and classic cartoons. Teens can hang out with old friends and make new ones too!
February 8, 2020
Children ages 5 and older can visit Pennypacker Mills for a craft session to make several Victorian themed Valentine crafts. Refreshments are included. All materials and instructions are provided. Pre-registration and pre-payment are required by January 31.
February 16, 2020
Celebrate President's Day at Washington Crossing Historical Park. Guests can expect demonstrations, a station to make special birthday cards for General Washington, and a meet and greet with the General himself. Afterwards, sing Happy Birthday and eat his birthday cake cut with his sword.
February 23, 2020
The Philadelphia Mummers celebrate Mardi Gras at XFINITY LIVE!. Guests can expect live performances both indoor and out, family-friendly activities, photo booths with Mummers costumes and props, face painting, and silent auction.
February 23, 2020
Guests to Norristown Farm Park can examine sugar maple trees, as well as other maple trees, and discover how Native Americans and early settlers retrieved maple sugar from trees. Visitors learn how maple syrup is made from the sap of these special trees. Participants can taste maple sugar and pure maple syrup to compare with commercial syrups. Afterwards, listen to the Native American legend of how maple sap was discovered. Pre-registration is required so be sure to call and secure a spot.
February 28, 2020
Reservations are required for this nighttime event at Churchville Nature Center. Guests can enjoy the night sky by viewing constellations and other celestial wonders both with and without telescopes. Afterwards, everyone can gather around the campfire for marshmallow-roasting. This program is weather-dependent.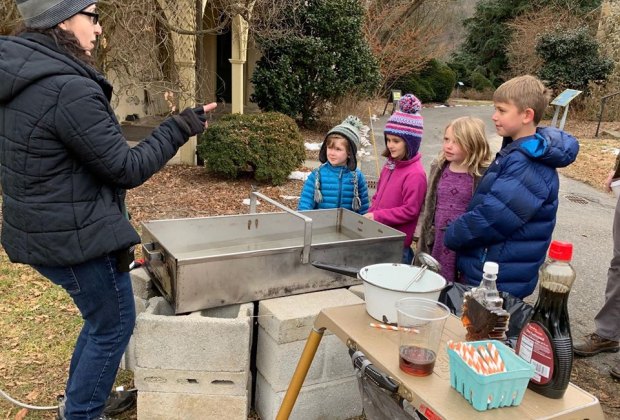 Taste, learn, and see all about maple syrup at maple sugaring events. Photo from Tyler Arboretum
February 29, 2020
This nature event at Tyler Arboretum begins inside where children learn about trees and how sap rises in the spring. Then, bundle up and head outside to see how maple syrup is made by watching a demonstration about tapping trees and collecting sap. This event is rain or shine but with a snow date of March 7, 2020.
Be sure to subscribe to our email newsletter to see our weekly roundups of events as well!