Can You Beat the Clock? Haunted Escape Rooms for Teens and Tweens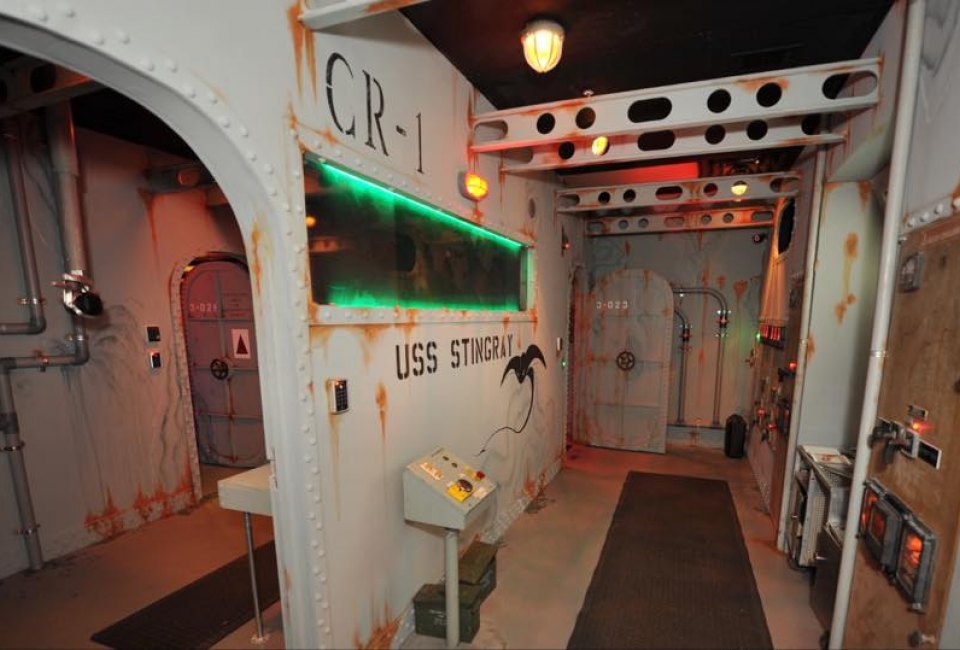 9/19/17
- By
Jennifer Vishnevsky
Escape rooms are as popular as ever. If you haven't been locked in a room with your friends, family, or coworkers, Halloween is a great time to hear about it from your older kids. The escape rooms we mention are not recommended for children under the age of 12. This Halloween, escape rooms will let kids exercise their minds, not just their screams. The "locked" group has up to an hour to solve clues to make their way out. While some local escape rooms have haunted themed rooms, there are also some major Halloween attractions that have added escape rooms. Instead of seeing an "I escaped!" sign, your teen might actually feel like "I survived!" the challenging fright fest. If you're looking to try this adventure with your family during the rest of the year, check out our post on family-friendly escape rooms.
Room Escape Philadelphia- Philadelphia
There is no age limit on this one, but the recommended age is 12 and up. The Caribbean Pirate Ship is that of a hidden ghost, so this adventure is an hour-long and is focused more on spooky elements rather than terrifying thrills. If your kids are going in a group, the maximum is 8 participants.
The Doylestown Escape Room- Doylestown
The Camp Fear room is on the scarier side, containing live actors and darkness. This room is recommended for ages 13 and up, however children under 16 must be accompanied by an adult. The room holds up to 6 participants. In this adventure, you're a group of scientists on an expedition. One of your friends needs to be saved from an enemy that lurks in the wild.
Amazing Escape Room- North Philadelphia
​In the Infected room, participants are trapped with a "zombie" actor who is chained to a wall. In this interactive experience, you run the risk of being "infected" by the zombie if he touches you during the adventure. If that's the case, you can only help your team verbally, not physically. The zombie's chain gets longer every five minutes, making it harder to avoid his "bite." Amazing Escape's other themed room is "Find the Cure." The zombie concept is the same, but this time he's looking for his next meal of brains. Players under the age of 12 must be accompanied by an adult.
Bates Motel Escape Rooms- West Chester
There are no actors like in a haunted house; however, these rooms are geared towards older kids. Children between the ages of 8 and 17 must be accompanied by an adult. The scariest room is Revenge of the Serial Killer, where participants will be held captive in the warehouse of "The Cipher." You'll have one hour to face your fears and escape his terror. This room plays homage to the Saw films.
The Valley of Fear- Feasterville
The Operation Z Compound combines an escape room with live action paintball. The room is on lockdown and taken over by zombies. Visitors act as special forces soldiers and try to secure the compound, and then attack and destroy the zombies head on. Valley of Fear is one of the more terrifying Halloween sites, and is not recommended for younger children.
Shocktoberfest- Sinking Spring
The Prison of the Dead Escape is a separate ticketed event that requires online registration. You and your group will try to prove that you were wrongly accused of a crime. If you can succeed, you will avoid the death sentence.
Waldorf Estate of Fear- Lehighton
Try to escape the zombie apocalypse, recommended for ages 12 and up. Up to 10 participants in the escape room will have 30 minutes to fight for your life from the zombie wasteland.
Photo courtesy of Bates Motel Escape Rooms via Facebook
Sign up for the Mommy Poppins Newsletter today!
i