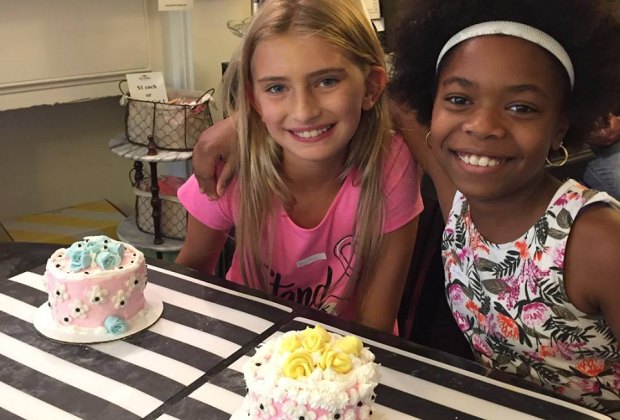 Kids' Cooking Classes? Taco Bout a Good Time!
Philly parents agree: There are a gazillion reasons to get kids cooking in the kitchen. Besides being a "hidden gem" STEM activity with its math and chemistry components, it hones motor skills, builds self esteem, teaches an important life skill, and makes kids more willing to try new foods (if they cook it, they will be much more likely to try it).
If you're already sold on the benefits of kids cooking and want to give your little chef more structured and professional instruction, then a cooking class can be a great addition to your extracurricular line up. Running anywhere from 45-90 minutes for a regular class and longer for workshops and winter break/summer camps, these classes are sure to impress parents with the skills their young ones learn.
Keep reading below for some Philly area cooking classes designed with kids in mind.
1. Williams Sonoma - various locations
This kitchen and dining retailer offers in-store cooking classes for kids with their Junior Chef classes. Designed for kids aged 8-13, course cover a variety of cuisines and themes, from main courses to dessert, Thanksgiving to American Girl™. Check the events calendar of your local store.
2. Sur La Table - King of Prussia
Another well-known kitchen retailed, Sur La Table hosts workshops and classes for kids, too. Offering seasonally themed classes, such as Spooktacular Treats, to ravioli parties and winter break and summer camps, kids as young as eight can get in the kitchen, learn new skills, and enjoy the fruits of their labor in a professional kitchen setting with other kids their age.
3. The Kitchen Workshop - Paoli
An intimate culinary experience, class sizes at The Kitchen Workshop are limited to 12 students to enhance the hands-on learning. This school, centrally located off the Main Line, offers cooking birthday parties and parent-and-child classes.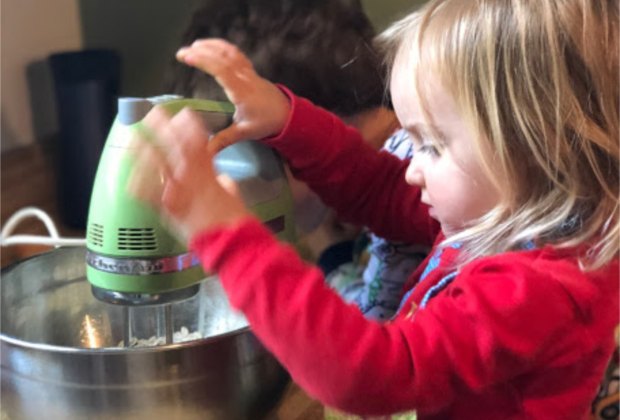 Kids as young as two can enjoy cooking in the kitchen. Photo courtesy of the author.
4. Hungry Education - Wyndmoor
Don't underestimate what kids can do in the kitchen! At Hungry, culinary education starts early - with parent-and-child classes offered for children as young as two in its "Pre-C" ("Pre-Cooking") classes. But for kids in the 5-11 year old range, the Kid Wonder classes will dive into hands-on learning in a low teacher-to-student ratio.
5. HomeCooked - Paoli
Great for those school holidays when you're not quite sure what else to do with the kids, HomeCooked Paoli offers cooking workshops that last several hours and send participants home with a ready-to-cook meal and dessert (what's not to love about that?) Workshops and classes are available for young chefs on other occasions so be sure and check the event calendar.
6. Really Cooking with Robin - East Norriton
Whether you're looking for birthday parties, summer camps, kids workshops or classes, this culinary school has a lot to offer for kids. Children aged seven and up are invited to join in any of the adult classes, as well, so long as there is a participating parent.
7. Ella Vanilla - Chestnut Hill
Baking more your little one's thing? Send them to Ella Vanilla. Baking classes are held for a variety of skills, such as beginner cake baking, to cookie making and decorating. Check the calendar for appropriate ages, but classes are available for adults and kids, starting at age nine and up. Look out for parent-and-child baking classes for kids aged five to eight.
If you sign your little ones up for a cooking class, let us know over at our Facebook page. We'd love to know!
Note: Most classes run 45-90 minutes; workshops and camp classes may go longer.
Top photo courtesy of Ella Vanilla on Facebook