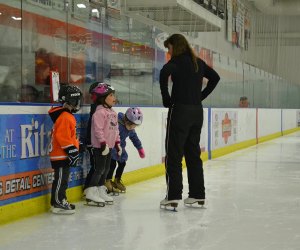 GOAL! Take to the Ice with Hockey Lessons for Philadelphia Kids
Philadelphia is home to the Flyers and some intense sports fans. So for many, hockey is serious business, and it comes as no surprise that kids want to take to the ice and learn to skate and play like the pros. Fortunately, there are a number of local programs that are NHL Learn to Skate USA partners. The program is designed to build skills and make hockey a positive experience, and the only thing you need are basic ice skating skills. If your kid has the eye of the tiger and is dreaming of growing up to be the next Bobby Clarke or Claude Giroux, we've put together a roundup of some Philadelphia-area rinks that offer ice hockey lessons for kids.
Want to check out other lessons in the Philly area that might interest your kids? Take a look at our Philly Classes and Enrichment Guide.
West Chester
Offering camps and clinics, Ice Line can take boys and girls from beginner all the way up to playing for local leagues. Learn to Play sessions are six weeks. They also offer cross-ice clinics for "Mites," youth ages 5 to 7. These clinics actually give kids the chance to play in mini-games against other kids in the clinic to learn quick decision-making skills.
Philadelphia, PA / Pennsauken, NJ / Voorhees, NJ
Where better to learn to play than where the hometown heroes practice? The Philadelphia Flyers Skate Zone offers a Rookie Program for boys and girls ages 5 to 9, and as part of the Learn to Skate program all equipment is included in the cost of the six-week session, making the cost a lot more manageable. As the largest hockey resource in the area, they host camps as well as skill-specific clinics.
Philadelphia
Rizzo Rink offers youth hockey programs that teach not only the fundamentals but also focus on good sportsmanship. Rizzo Rink's hockey program serves boys and girls ages 5 to 13. The Mites program, for kids ages 5 to 7, requires no ice skating skills.
Havertown
Offering classes and clinics all year round and for all ages and levels, the Skatium is a partner of Learn to Skate USA. Clinics run in six-week sessions. If your child shows real potential and love for the sport, the Skatium is also home to the Haverford Hawks travel league.
Philadelphia
Ed Snider Youth Hockey Foundation provides free programming for kids learning to skate as well as hockey instruction, and the opportunity for league play. The Foundation provides equipment, ice time, and experienced coaching so that boys and girls from across Philadelphia and Camden, NJ can learn the sport and all the life skills that come with it.
Philadelphia
This Philly staple for skating has been responsible for teaching ice hockey skills since the late 1950s. Their "Little Warriors" program teaches kids as young as 4 the fundamentals of hockey, as well as the importance of teamwork and self-confidence. Wissahickon also supports athletes as they grow and develop their skills.
Originally published in 2018