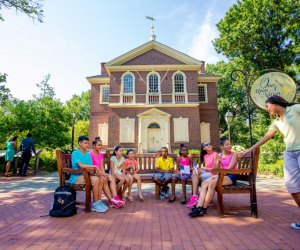 15 Places in Philly That Are Free for Kids Under 12
They say the best things in life are free -- and that includes family fun here in Philly! Winter, spring, summer, or fall, families can explore a variety of indoor and outdoor spots found throughout the region that offer lots of enjoyment without charge.
Sometimes, finding activities in the City of Brotherly Love for the entire family can get a bit pricey...unless you know where to look. The good news? We do! So with all the things Philly has to offer, there's no reason to let money prohibit you from missing out on a day of family fun. Check out these engaging, educational, and free activities in the Philly area, perfect for kids under 12.
For more fun on a budget, check out our Free Activities Guide.
1. Tell Me a Story
Gather 'round one of Historic Philadelphia's 13 Once Upon a Nation storytelling benches spread throughout the Historic District to enjoy a free, five-minute story about Philadelphia's rich history told by professional storytellers. (Bonus: kids who make their way to all 13 benches will receive a free Parx Liberty carousel ride in Franklin Square!) Be sure to regularly check Historic Philadelphia's website for additional free programming.
2. Find Family-Friendly Activities at the Barnes Foundation
Enjoy free admission to the Barnes Foundation every first Sunday of the month, courtesy of PECO. Choose from a variety of family activities, special performances, and more based on the season or monthly theme.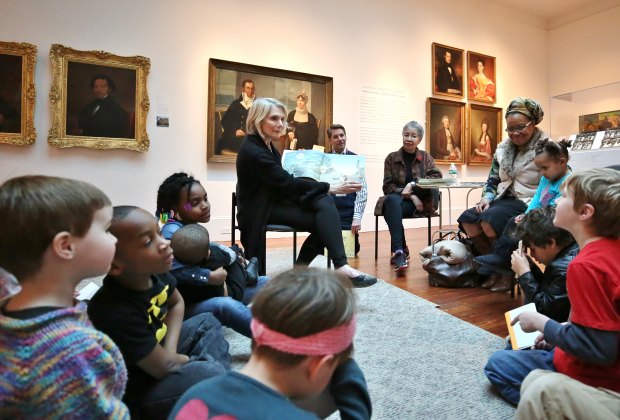 Photo courtesy of Woodmere Art Museum
3. Explore the Arts
Children and students with ID can visit Woodmere Art Museum for free. In addition to viewing the exhibits, families can participate in art sessions and story times as well as seasonal special events such as MLK Festival and holiday tree lighting party.
4. Check Out the Free Library of Philadelphia's Many Events
Today's libraries don't just offer storytimes. From Fantasy Roleplaying Club to Movie Nights to Wii Wednesday to Sundays on Stage, the Free Library of Philadelphia has a calendar of events that's jam-packed with free activities for kids of all ages.
5. Get Artsy with the Entire Family
Head to the Pennsylvania Academy of the Fine Arts for one of their Family Arts Academy workshops on Sunday afternoons from 2:00-4:00 p.m. These free, family-friendly programs will be sure to bring out everybody's artistic side with local artist meet-and-greets, art projects, and creative games.
6. Learn How Money Is Made
Take the 45-minute self-guided tour through the U.S. Mint. Every weekday from 9:00 a.m. to 4:30 p.m., you can take a walk from 40-feet above the factory floor and watch the coin-making process in action.
7. Do a Philadelphia Playground Crawl
What better way to spend the day than burning some energy at one of the city's many playgrounds? Take the Philly Playground Crawl challenge and see how many you can make your way to in one day!
8. Discover Nature at the John Heinz National Wildlife Refuge
Free for all ages every day of the week, John Heinz National Wildlife Refuge offers a wide range of nature-filled activities the whole family can enjoy such as 10+ miles of hiking trails, fishing, kayaking, canoeing, wildlife observation, and environment education.
9. Smith Memorial Playground. Need We Say More?
Visit the huge, free outdoor play space that is Smith Memorial Playground. With two different play areas spanning across 6.5 acres, one for kids ten and younger and one for kids five and younger, all of the kids will be sure to have a blast. It is important to note that the playhouse is currently undergoing renovations.
10. Run the Art Museum Steps à la Rocky Balboa
Kids can put themselves in the shoes of the famous Rocky Balboa and run up the "Rocky steps" at the Philadelphia Museum of Art. As an added bonus, you can visit the museum on the first Sunday of the month from 10:00 a.m.-5:00 p.m and every Wednesday evening from 5:00-8:45 p.m for Pay What You Wish admission for another budget-friendly family outing.
11. Be inspired at the National Museum of American Jewish History
Children 12 and under are always free at the National Museum of American Jewish History. Families can learn about Jewish American people such as Ruth Bader Ginsberg who is currently featured in the exhibit, Notorious RBG, and their impact on history. Throughout the year, the museum hosts Family Days that are free for everyone.
12. Take the Kids Bowling for Free
Sign up for two free bowling games every day of the summer through the Kids Bowl Free program. Choose from different Philadelphia area locations of the 1200+ participating bowling centers.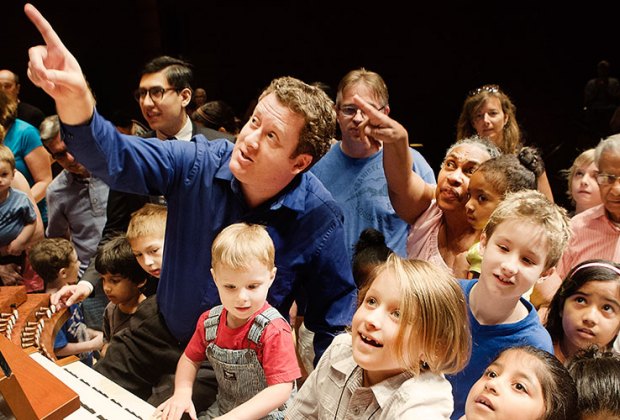 Photo courtesy of the Kimmel Center
13. Grow Up Great at the Kimmel Center
The Kimmel Center provides kids an opportunity to experience and appreciate music during its free programming. During PNC Grow Up Great events, kids learn from musical and theatrical performances. Organ demonstrations are also offered.
14. Hungry for a Pizza?
Even though Philly is known for its cheesesteaks, the city is also home to Pizza Brain, the museum of pizza culture! Free for kids of all ages, this museum celebrates all things pizza including some Guinness World Record collections.
15. Find your Shoes!
You may not be able to locate your kid's shoes when you are rushing out the door, but you will find plenty of shoes at The Shoe Museum on the campus of Temple University. Last summer, a new exhibit featuring moon shoes in remembrance of the 50th anniversary of Apollo 11. If making a trip, be sure to contact the curator in advance to schedule a visit.