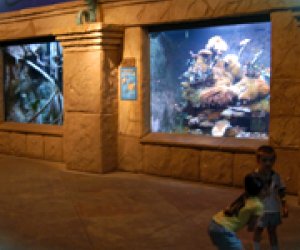 Sleepover at the Long Island Aquarium and Others
A while back we wrote about how awesome the Night at the Museum Sleepover. But the Museum of American Museum of Natural History isn't the only cool place you can sleepover. Here's some news about other cool places to spend the night, including one you can do this weekend for a great little weekend trip out of town.
A Night at the Aquarium Sleepover
Atlantis Marine World is hosting a sleepover this weekend. The Long Island Aquarium in Riverhead is a fantastic place, but the other thing that makes this sleepover exceptional is the price: just $60 for non-members ($40 for members, children under 2 free). This is less than half the price of other museum sleepovers, and a great way to spend the weekend on the North Fork or Hamptons. (Except for the waking up at 6am thing.)
Here's what they say:
Grab your sleeping bags and experience a true nocturnal Aquarium adventure! Explore the Aquarium as you've never seen it before - in the dark by flashlight. Let the glow of the tanks guide you on a tour of all the animals that like to come out and play at night! And just before settling into "bed," we'll talk about creepy, crawly critters with live animal interactions.

We'll offer activities throughout the evening and conclude with a movie and bedtime snack. In the morning, you'll wake up with the fishes and enjoy a continental breakfast.
By the way, you do not need a car to enjoy this weekend trip out of the city. You can take the Long Island Railroad to Riverhead and it's a short walk to the Aquarium. Riverhead is a nice town with good restaurants and other amenities to enjoy the next day before hopping back on the train and coming home.
For more information: AtlanticMarineWorld.com
NewYorkology gives us an update on NYC sleepovers:
American Museum of Natural History on Tuesday announced four new dates for sleepovers in May and June...May 9, May 22, June 19 and June 26 — are in addition to the previously announced March 20, April 4 and April 24.

Elsewhere, there is only one remaining date open for the Bronx Zoo's Family Overnight Safaris: Sept. 26. The three earlier dates have all gone to a wait list.
Get more info at NewYorkology.com
Find more must-see museums and hot-spots in our Culture Guide.