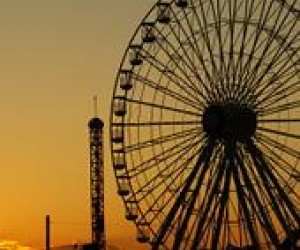 Last Minute Vacations at the Jersey Shore
We're sure that you were busy this summer with trips to water parks, pirate adventures and hopefully even some free fun activities. But as summer draws to a close, maybe you're hankering for a last minute trip and where better than the New Jersey shore?? As long as you are flexible, even as August is winding down, there are deals to be had at various Jersey shore towns. Here are some of our favorite realtors and sites to connect to last-minute spots!
Monmouth and Ocean counties
For last minute rentals in Monmouth and Ocean counties as well as on Long Beach Island, we like Diane Turton Realtors. They deal with a comprehensive list of properties of all kinds. Their website is easy to use, availability can be found by entering search criteria such as location, bedrooms, dates, etc. A calendar pops up showing open rental periods. There is availability for the last 2 weeks of August. Turton suggests using to website to locate a property that meets your needs, but then to call directly once a property is located, as many of the listings are shown by other realtors. Realize that rentals are weekly, Saturday to Saturday.
Ocean County (Lavallette, Ortley, Seaside Heights/Seaside Park)
Villano Realtors deals with communities in Ocean County, close to the Toms River and Point Pleasant areas. Families can access available rentals via their website, which also allows searching by area, date, and criteria. Once you choose a property, please call Villano directly to confirm availability.
Entire Jersey Shore
If the family wants to hit the beach one last time, and is flexible as far as town, etc., check out Jersey Shore Vacation Rentals. There is a calendar of events for most of New Jersey's popular destinations, so moms and dads can plan their last-minute trip based on local activities. Rentals often include pictures, and can be searched by location or amenity.
Shore Summer Rentals has last minute listings for anyone looking for a spur of the moment vacation. Plug in any range of dates and all the listings available can be seen. Sometimes, owners list last minute cancellations, which mean a great deal of savings for a family that is flexible and willing to make a quick decision as far as beach area.
If you are super-flexible with dates, and are looking for a last minute deal, check out Vacation Home Rentals. While they deal with multiple states, you can search just Jersey shore. Multiple dates and prices are given, so families can choose the best options for them. Searches can also be done by amenity, so properties that meet personal needs can be easily found.
Tips for a Last Minute Holiday…
Remember, this late in the game it isn't prudent to be too picky. If the oceanfront condo isn't available, maybe the two-blocks-away cottage will suffice. Check sites such as Living Social, Expedia, and Hotels.Com. They often have some rooms available, and you can search by date and location.