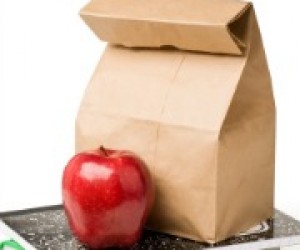 5 Easy and Packable Lunches for the First Week of School
I'm the worst mother on the planet (well, maybe just in NJ), because I basically packed the same school lunch for my daughter 180 days in a row: PB & J, cheese stick, juice box, fruit and 2 cookies. So, after looking at Mommy Poppins' great school lunch article from last year, Get Packing!, and our terrific Back to School Guide, I decided to try some new stuff. This year when my daughter opens her lunch box, she'll be in for a surprise!

I found a lot of inspiration at Pinterest, plus a little inspiration from some of the day trips we took this summer. I also found a new way to use my ridiculously large stash of cookie cutters that I never use and those random extra cupcake liners that are mysteriously left over every time we bake. I was able to narrow down my favorite five to try for the first full week of school!
1. Cucumber and Cream Cheese tea sandwiches (inspired by our trip to American Girl)
Slice cucumber into thin slices. Spread cream cheese on whole-wheat bread (no crust allowed in this house!) Place cucumber on and use a cookie cutter to cut the bread into a fun shape for maximum edibility.
2. Celery Sticks, Peanut Butter, Goldfish and Raisin Go-Fish (inspired by these adorable pictures on Pinterest and our many fishing trips in East Hampton, NY)
Slice celery sticks and put peanut butter in a small container. Put Goldfish and raisins in separate square containers. Your child can dip the fishing rod (the celery) in the peanut butter (the bait) and try to catch the "fish" (Goldfish) or the "shells" (raisins)!
3. Gnome walking sticks (inspired from our many hikes in NJ state parks and forests)
Isn't everything better on a stick? Use coffee stirrers or cut wooden kebab sticks and load them up with cheese, fruit, vegetables, cold cuts, or even beans for protein.
4. Cupcake Wars (inspired by our effort this to tour some of New Jersey's best cupcake shops)
Use the left-over cupcake liners as holders for mini rice cakes, grapes, granola, hard boiled egg, etc. Place liners in a larger container. Let's face it, getting picky kids to eat is all the about presentation!
5. Hot Potato! Hot Potato! (inspired by our Wiggles farewell tour concert this past weekend)
Pack a baked potato with toppings such as cheese, beans, tomatoes, broccoli, ranch dressing, etc. and let your child make his or her own stuffed potato. Most schools now have microwaves for reheating lunch but my kids will eat them cold.
Finally, I am a big fan of putting notes in lunch boxes. I usually write them out the night before, just in case it is a rough morning, (if you know what I mean). I try to use reuse and recycle any junk-mail envelopes and stickers we receive!
So now I have the first week of lunches planned! (Hey, don't knock it, at least I have one week done). For beautiful, yummy photos and more inspiration, here are some great sites: