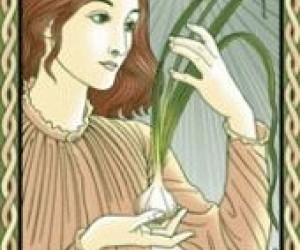 The Hudson Valley Garlic Festival: Leaf Peeping, Fabulous Food, and the Bodacious Bulb
The quaint streets of Saugerties, New York will be alive with food, music, crafts, entertainment and the pungent aroma of garlic on the weekend of September 25-26, when the annual Hudson Valley Garlic Festival will be scenting the area. Garlic lovers from near and far will unite to celebrate this venerable bulb's appeal with demonstrations on crafting and cooking with garlic, as well as lectures on a wide range of garlic-infused topics. Even if your kid is garlic-adverse, this is a fabulous two day event for families, well worth the 100-mile journey from NYC.
While not the peak leaf-peeping weekend, fall's color palette should be in full swing, providing a rainbow-colored view. Volunteers from the Saugerties Art Lab will be on hand to assist and encourage kids with pumpkin decorating and other naturally inspired art activities in the Children's Craft Tent. Face painting and a portable rock -climbing wall will also be available.
Five stages spread around the grounds means continuous family-friendly entertainment throughout the weekend. It also means lots of walking and time spent on your feet, so if you are on the fence about bringing the stroller, pack it along. With 3 or 4 acts going simultaneously, you should find something that appeals to you. Past favorites include Arm-of-the Sea Theater, a performing ensemble that uses vibrant masks and puppets to tell stories that celebrate the Hudson River Valley. The Barefoot Boys perform traditional folk music and square dance tunes, and don't be surprised if impromptu do-si-do action spontaneously erupts from the audience.
OUR LATEST VIDEOS
All of this is prelude to the star of the show. Scores of garlic-growers will be selling freshly harvested varieties of naturally grown garlic. The family can sample little-known varieties, and you can bring home what you purchased in the lovely braid that you can learn how to create.
This is not the day to pack a picnic from home, as the smells emanating from the Garlic Food Court are mouth-watering and may prove irresistible. Kid-approved fare like corn on the cob, hot dogs and French fries sit side-by-side with the more exotic flavors of truffles with roasted garlic, garlic-infused chocolate and garlic ice cream.
If you choose to attend the festivities be forewarned that this is a deservedly popular event, and though this tiny town does its best to deal with the throngs, anticipate traffic jams. My advice is to arrive early. The activities begin at 10 a.m. both mornings. It is approximately a two- hour drive from New York City on the New York State Thruway, one mile off exit 20. You park in a lot and are then shuttled to the venue, Cantine Field, via free trolley.
The daily cost is $10 per adult at the gate, kids 12 and under free when accompanied by an adult. Tickets can be bought in advance online for $7, but as they can take up to 10 days to arrive at your home, this might be a better option for a future visit.
Hudson Valley Garlic Festival
Pavilion St
Saugerties, NY
845-246-3090
If you are looking for a car-free way to get to the event, click here to see the links to several tour bus operators that are offering day trips from New York City.