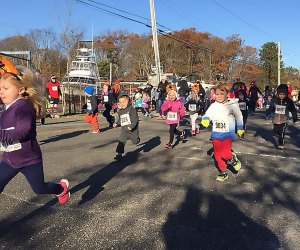 Thanksgiving Day Runs for Long Island Families
Before the Thanksgiving festivities begin (not to mention the eating frenzy), why not get the whole family up and moving with a good old-fashioned turkey trot. These runs and walks are held in Nassau, Suffolk, and the East End around the time of the holiday, and many are open to all ages, often featuring a "fun run" just for kids.
Many of these races start bright and early, so even if you're the one putting the turkey in the oven or have to hit the road by noon to get to grandma's, you still should be able to fit in a holiday trot. For more seasonal adventures, check out our Long Island Events Calendar and our November GoList.
Saturday, November 23, 2019
Massapequa Park Turkey Trot — Massapequa Park
The half-mile youth fun run at this pre-Thanksgiving event, begins at 8:30 a.m., while the 5K run/walk begins at 9 a.m. Proceeds benefit the YES Community Counseling Center, a nonprofit that works to prevent and treat drug use and abuse. Register online or mail in a registration form by Nov. 14 to guarantee a T-shirt. Donations of nonperishable food items are suggested.
Sunday, November 24, 2019
City Council Turkey Trot— Long Beach
The 14th annual City Council Turkey Trot starts and finishes on New York Avenue and the boardwalk. The one-mile children's race starts at 8:30 a.m., and the 10k race begins at 9 a.m. Top winners receive free turkeys, and all winners get a trophy. Participants are asked to bring nonperishable food items. Register online or mail in a registration form by Nov. 14 to guarantee a T-shirt.
Thanksgiving Day, Thursday, November 28, 2019
Montauk's 42nd annual Run for Fun Turkey Trot — Montauk
Show up at the village green for this community event from 8 a.m. to 9:30 a.m. to check-in for three- or six-mile races around picturesque Fort Pond. Races begin at 10 a.m. Pre-registration ends Nov. 21. Register online All proceeds from the race and donations benefit The Montauk Food Pantry, The East Hampton Food Pantry, The Springs Food Pantry, and Meals on Wheels.
Mattituck-Cutchogue Teachers' Association 13th Annual Turkey Trot — Mattituck
This 5K run/walk is open to all ages and begins at 9 a.m. Register ahead of time for special pricing; same-day registration begins at 7:45 a.m. T-shirts are given to the first 300 registrants. Pre-register by Nov. 22. Register online here or print/mail-in your registration form.
RELATED: Enjoying the Macy's Thanksgiving Day parade in NYC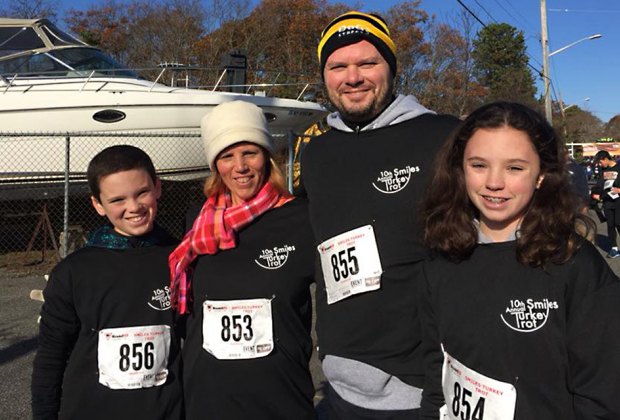 The Smiles Turkey Trot is a Thanksgiving tradition in Blue Point.
12th Annual Smiles Turkey Trot — Blue Point
The 1½-mile fun run for children ages 10 and younger starts at 8:30 a.m at the south end of Corey Avenue. Turkey headbands are given to all participants, and the top five finishers receive prizes. There is also a 5K run and a 1½-mile walk that each start at 9 a.m. Register online or print a registration form and mail in a check. The event benefits Smiles Change Lives, a nonprofit that provides essential orthodontic treatment to low-income children. Register by Nov. 1 for special pricing. Regular registration ends Nov. 25. Race day pick-up is from 7:30 a.m.-8:30 a.m.
Garden City Turkey Trot — Garden City
The 1.4-mile fun run starts at 9:15 a.m. There is also a 5-mile trot at 10 a.m. Challenger Division race for special-needs competitors at 8:30 a.m. The challenger race is FREE. Register online. Consider bringing a nonperishable food donation. Note: There is no parking at St. Paul's or on course roads.
RELATED: Long Island restaurants open on Thanksgiving Day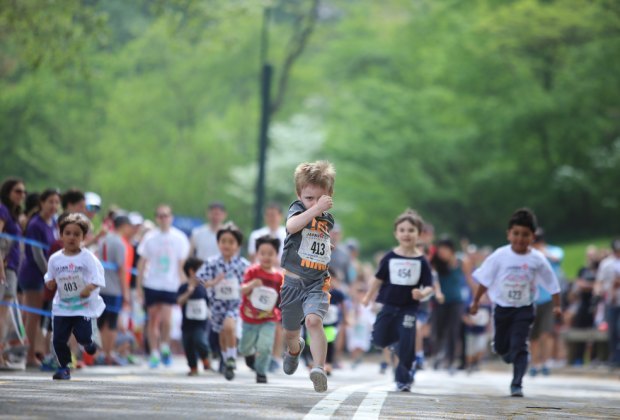 A Long Island fun run is an ideal way for kids to burn Thanksgiving Day calories. Photo via Shutterstock.
Huntington Thanksgiving Run — Halesite
Check-in on race day from 7:30 a.m.-8:30 a.m. The fun run begins at 8:30 a.m. There is also a four-mile race at 9 a.m. SHARP. This popular rain-or-shine event benefits the Townwide Fund of Huntington. NOTE: You may park in the Mill Dam ball field parking lot, across the street from the boat ramp. Register online or print a registration form and mail it in. You can also register at Super Runner's Shop up until Nov. 27 at 4 p.m.
Oyster Bay Turkey Trot — Oyster Bay
This 5K run/walk through the streets of Oyster Bay is for adults and kids of all ages. Same-day registration opens at 7:45 a.m. and the race starts at 9:30 a.m. T-shirts go to first 750 entrants. Proceeds are donated to local nonprofits. Register online and view the course map. Price increases after Nov. 18.
Port Washington Thanksgiving Day Run — Port Washington
This five-mile race benefits the Community Chest of Port Washington and is open to children ages 9 and older. The run begins at 8:30 a.m. and is capped at 3,000 entrants. All registrants receive a long-sleeve T-shirt. Strollers are not permitted. Roads close at 8 a.m., and the parking lot at the park closes at 7:30 a.m., or when full. Register online or print out the application. Nonperishable food items are appreciated.
Nissequogue River State Park Turkey Trot — Kings Park
Kids 12 and younger can take part in the 1K Turkey Trot for Kids that starts at 8:30 a.m. All 1K participants receive a ribbon. The 5K run/walk starts at 9 a.m. Enjoy live entertainment and a cash prize for the best Thanksgiving costume. Walkers, wheelchairs, and strollers are welcome. Register online, by mail, or on race day.
Happy running and happy Thanksgiving.
This article is updated annually.
Writers Christine McGrath & Lisa Mancuso contributed to this post.