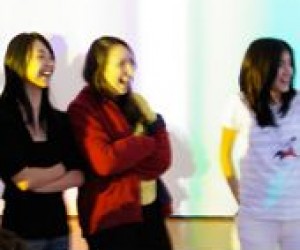 MoMA's Great Offerings for NYC Teens
There are so many fantastic opportunities for little ones at NYC's amazing museums, but we have not forgotten about your teens, and neither has The Museum of Modern Art. The MoMA offers free movies and pizza, drop in programs, and even free art classes. Their site is also able to communcate with the future leaders of the world in their own language, using its own Facebook page and Twitter account to give last minute info on teen events. Read on to find out more of what the MoMA has to offer New York City teens.
The MoMA uses a little bribery to entice teens, in the form of free movies and pizza on Fridays. And with the flash of a valid high school ID, entry is gained to the drop in programs. Pizza is served at 4pm, and movies or artist talks begin at 4:45pm. On January 14, teens can see Cinema Paradiso. On January 21, teens can take a workshop about Andy Warhol.

Online Community

Teens can also connect with MoMa online, through the MoMA Teens website. Teens helped create the content, and you can search the archive of teen artwork. The MoMA Teens site also has its own Facebook page and Twitter account, where you can get last minute info on teen events.

FREE Art Classes

If your high school student can get to midtown Manhattan by 4pm on a weekday, check out the free art classes offered at the MoMA. Applications are due Friday, January 14, 2011.

It is particularly nice that you do not have to be an experienced artist to take a class, or submit a portfolio. The only requirement is that you are a NYC high school student. You can download the application online, but you have to get a teacher recommendation. Classes are held Tuesday, Wednesday or Thursday at 4, and you must commit to attending all classes in the course your choose.
In Spring, 2011, MoMA offers five different classes, including an Art and Science of Conservation course on Tuesdays, February 1 - April 19. Teens work with conservators behind the scenes and learn how to preserve artwork. On Wednesdays, February 20 - May 18, the Museum Studies course is for teens who might be interested in working as a curator. Students put together an exhibit of teen art.

For the Museum Studies course, high schools around the city submit the best student work in their art classes, and the teen curators select work for an exhibit. It is a very rewarding experience for the teens who chose the artwork, and the ones whose work is chosen. Last year, one of my daughters didn't even know that her art teacher had submitted her photograph. She was thrilled to have her art hanging at a museum, and she was even more excited that a group of her peers had judged her work, and found it worthy of inclusion.

MoMA also has three different classes where teens create art:
Stop or I'll Shoot!: Performance and Photography lets teens be both photographer and subject. The class is on Tuesdays, February 1 - April 5.

What the #%!$@???: Abstraction, Emotions, and Art, offered Thursdays, February 3 - April 7, encourage teens to express emotion through sculpture, painting and drawing.

Music for the Eyes: Making Art with Sound, Thursdays, February 3 - April 7, looks at the connection between music and art.
In addition, MoMA has free summer classes; check online for course information, which will be available soon.

The Museum of Modern Art
11 West 53rd St
NYC