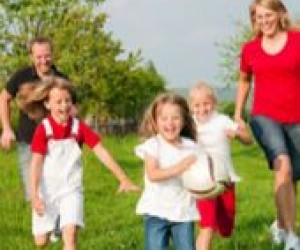 Long Island Weekend Round-Up of Events August 14th-15th
Here we are at the mid-point of August. September is just around the corner. Those "Back to School" specials are everywhere you look. This weekend, let's savor these last few carefree days of summer. There are many opportunities to do so, ranging from a fundraiser that grants you an all-access pass to a camp's facilities to outdoor summer theatre at the beach. And it's Fee-Free weekend at our National Parks! Get out there and make the most of it!
Saturday, August 14, 2010
A full roster of fun including live music, a hole-in-one contest, miniature golf, a bouncy castle, swimming and paddle boats, raffles and a Chinese auction, a poetry circle, a ball field, a teacup auction, vendors and a celebrity guest appearance. If the little one isn't tired after all this action, I'm not sure what it would take. If you get hungry steak, chicken and burgers will be provided by Outback Steak House from 12-4.

Volunteer Day: Pellets & Pizza Party
Theodore Roosevelt Sanctuary & Audubon Center
134 Cove Road
Oyster Bay, N.Y. 11771
(516) 922-3200 or trsac@audubon.org
1:00-4:00 p.m.
Ages 13 and up
Dissect owl pellets with Sanctuary staff and learn about local owls in the process. When your hands-on scientific research is done, end the volunteer op with a pizza party. Registration is required.
Children's Summer Theatre
Sunken Meadow State Park
Rte. 25A and Sunken Meadow Parkway, Kings Park
631-321-3510
2 p.m.
All ages
Vehicle use fee is in effect: $10 per car
Bring the kids out for vaudeillian clown, Chip Bryant. Don't forget a blanket or chair. When the performance is over (or before) let the young ones stretch their legs on one of the many hiking trails that Sunken Meadow has to offer, or perhaps check out the boardwalk.
Sunday, August 15th
Birds of Prey Program
Sagamore Hill National Historic Site
20 Sagamore Hill Road
Oyster Bay, N.Y. 11771
(516) 922-4788
2 p.m.
For all ages.
Free
Check out raptors, including a native hawk, an owl and a falcon at the Audubon's free Birds of Prey program.
(631)261-2900
11 a.m.
All ages
$15
Your kids will love the odd and timeless story of a young girl who falls down a rabbit hole to experience the non-sensical, wacky world created by Lewis Carroll. This show strikes a balance between the original story and a bit of popular culture.
August 14th and 15th
Fee-Free Weekend
This weekend offers an opportunity for families to explore a nearby park for free. It's the National Park Services Fee-Free weekend! Look up the National Park close to you, or what heck, travel a bit, it's free!