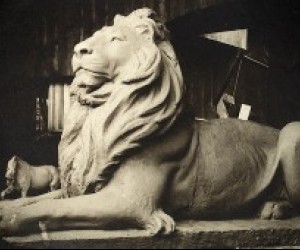 Free Fun for Families at the New York Public Library's Centennial Festival
One hundred years ago, the main branch of the New York Public Library—you know, the one with those stately lions Patience and Fortitude guarding its entrance—opened on Fifth Avenue and 42nd Street. Its construction took more than a decade, and when the stunning Beaux-Arts structure finally welcomed visitors for the first time, tens of thousands streamed through its doors.

These days, local families regularly enjoy the fabulous family programming offered at the branch, officially known as the Stephen A. Schwarzman Building, especially in its wonderful Children's Center. The branch marks its birthday on May 23, and the NYPL is celebrating with some fantastic free events. In addition to the retrospective Celebrating 100 Years—which opens this Saturday, May 14 and features a history of the building, and notable items like a Gutenberg Bible and one of Malcolm X's journals—there will be a big festival the weekend of May 21-22 with great events for all ages.

We've rounded up highlights for that weekend, as well as info on related events going on at branches across the NYPL system.
Centennial Festival Events for Families

Thursday, May 19

Centennial Book Launch
Vanderbilt Hall, Grand Central Terminal
Thursday, May 19 6–8pm
FREE
Literary luminaries, including National Book Award Winner Colum McCann, read from Know the Past, Find the Future: The New York Public Library at 100. Snag the book for free: Copies will be given away on subways and busses, at parks, and in local libraries and selected bookstores, beginning on Thursday, May 19.

Saturday, May 21

Teen Program: History, Fantasy, Future: Comics Make You Think
South Court Auditorium in the Stephen A Schwarzman Building
11am–noon
FREE
Comic books are brought to life in an interactive presentation by R. Sikoryak and other notable comic creators. Ages 13 and up.

Centennial Ice Cream
Astor Hall in the Stephen A Schwarzman Building
1pm

FREE
Sample it for free—while supplies last.

Dikki's Wacky Magic Show
The Sue and Edgar Wachenheim III Trustees Room in the Stephen A Schwarzman Building
1pm 

FREE
Dikki performs classic and contemporary tricks. Watch him levitate an audience member, throw a fireball and make it snow. All ages.

Alice in Wonderland
Margaret Liebman Berger Forum in the Stephen A Schwarzman Building
2pm 

FREE
The Hampstead Stage Company performs this live adaptation of Lewis Carroll's classic tale. Ages 4 and up.

Molière Comes Alive: A Reading by New York Classical Theatre
The Lionel Pincus and Princess Firyal Map Division in the Stephen A Schwarzman Building
2:30–3:30 pm
FREE
Watch the New York Classical Theater rehearse its upcoming summer production of The School for Husbands. Ages 10 and up.

Dog on Fleas
South Court Auditorium in the Stephen A Schwarzman Building
3:15pm
FREE
Boogie to the beat of this family band. Fans have dubbed the group's live shows "tornados," so expect high energy fun. All ages.


Sunday, May 22

Children's Storytelling Festival
Children's Center in the Stephen A Schwarzman Building
1:30-4pm
FREE
Let someone else read your kids stories for a change. The talented performers from the Storytelling Center of New York City bring tales to life. All ages.

Other Events

Celebrating 100 Years
Friday, May 14–Saturday, December 31
Monday, Thursday–Saturday 10am-6 pm; Tuesday-Wednesday 10am-7:30pm; Sunday 1-5pm. FREE
Notable items from the NYPL's collection will be on view, like Virginia Woolf's walking stick, as well as everyday vintage artifacts like board games and dime novels. Click here for a sneak peek.

LEGO Mane-ia!
Astor Hall in the Stephen A Schwarzman Building
May 20-22
FREE
Marvel at five-foot replicas of the famous lions made entirely out of Legos.

Plus, there's a slew of kids' events going on at other NYPL branches throughout the year. Enjoy live stage performances, including classics like Mr. Toad, Alice in Wonderland and A Christmas Carol. Check out cool science and nature programs, and get up close and personal with live animals and birds. Also on tap: puppetry, storytelling, museum programming, art, author appearances and even a Gustafer Yellowgold concert. It's way too much to list here, so grab your calendar and visit the NYPL's website.

And there are, of course, plenty of amazing, adults-only happenings, like Bedtime Stories for Grown-Ups Presented by The New Yorker with Frasier star David Hyde Pierce on Saturday, May 21 at 9pm. It's free but reservations are required. Click here for a complete schedule of events.

Stephen A. Schwarzman Building
Fifth Avenue at 42nd Street
New York, NY 10018