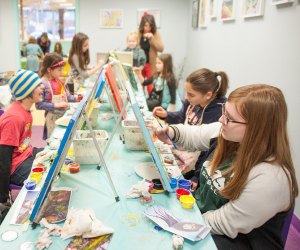 Arts & Crafts Birthday Parties in Fairfield County
Whether your kid bedazzles like a future Betsey Johnson or just likes to make a mess with paint, glue or glitter, there's an artistic option out there for his or her next birthday party. Yes, I said his. Pottery is obviously gender-neutral, but even some of the others on our list consider the fact that boys have a right-brain, too. Add in the fact that arts & crafts-based parties have built-in party favors, and something to focus that boundless energy on...just add cake and WHA-LAH!! For more fun party ideas check out our Party Guide! Here's some fun in Fairfield County.
Best Time Ever, Stamford
They claim your kids will have the 'Best Time Ever' any day of the year, so imagine how they handle a birthday party! They customize the party theme in every possible way, from the arts and crafts to the decor. Parties are 90 minutes. The cost of party does not include invites, goody bags, food, drinks or cake.
Laurie Lynne's Jewelry and Creative Kids Parties, Meriden
Laurie Lynne loves what she does, and she comes to you with all the goods you need for a creative party at home. They'll even come up with new party themes for your boys or girls, ages 4-18. Choose from beading, tie-dying, jewelrymaking, decoupage, the options are endless! The birthday girl or boy will receive a cool gift, and Laurie Lynn makes up goody bags for all the guests, too. She'll even do personalized invites if you book more than 30 days in advance.
OUR LATEST VIDEOS
Sew Create and Celebrate, Norwalk
Remember when it took you three weeks to make that pillow in Home Ec class? Your birthday child and friends will have it sewn up in two hours! If sewing isn't his/her bag, what about beading, knitting, embroidery, plastercraft, or stuffing animals (like that store at the mall that shall remain nameless)? They allow revelers as young as three. (You can also throw in pizza or sundaes for $5/each). During onsite parties, parents are encouraged to skedaddle off to cutesy Silvermine to kill time ... or else pay to party!

Michael's, Milford and Stamford
They've got a big box store at their disposal, yet they keep it nice and simple. When you book your party, they tailor a craft to both your child's interests and your budget. Someone will be there to do the craft with your birthday child and guests, then the rest of the two hours you can use for cake and presents.

Sports Center of Connecticut Glitter Party, Shelton
Don't let the name fool you!! They've got almost as many projects designed for boys as they do for girls -- rocket ships, race cars, airplanes, etc. It's a 90-minute party for the first 8 participants. That includes pizza, party invites, and paper products -- you provide the cake.

Then there are the un-italicized pottery spots. Kids won't mold the clay here, but rather creatively paint their own piece of ceramics, and it cuts the price in half. One also offers a beading party option.

Art & Soul, New Canaan
90 minute pottery or beading parties. The guest of honor also receives a keepsake plate. Minimum 8 children.

Hands on Pottery, Darien and Fairfield
90 minute parties include a keepsake plate for the guest of honor. Food and drinks are welcome on the premises. They also have a take-home version of their party if you want to keep things in-house! Minimum 8 children during the week; 10 on weekends.
The Giggling Pig, Shelton
The Giggling Pig hosts parties that are not only unique but also affordable. You choose the type of craft—from wooden projects to ceramics to canvas painting. Pizza for the children as well as tablecloths and paper goods are provided. The Giggling Pig staff gets everything ready for you, and you can order cupcakes and buy party favors through them, making the planning easier for you.
Kre8art Studio, Monroe
For children age 5 and up, Kre8art studio offers hands-on pottery parties where children can choose to paint an animal figurine, a pet bank or a room decor item. Kids can also create a commemorative handprint keepsake on a canvas or plate for an additional cost. Parties are 90 minutes and limited to 12 children.
Splatter Box, Westport
Two-time winner for #1 Party in Moffly Media's annual Best of the Gold Coast contest, Splatter Box offers birthday parties at its Westport location for kids age 3 and up. With themes like glow-in-the-dark, cupcake and rockstar, each 90 minute parties is jam packed with projects, glittler playdough, a silly freeze dance, and the limbo.
Green Moon, Rowayton
From dinosaurs to rainbows, princesses to pirates, each 90 minute party at Green Moon is fully customizable and themed. Parties are offered on Saturdays and Sundays and can accomodate up to 26 children.
Photo courtesy of The Giggling Pig.
Originally published 7/12/12.