Baby Shopping on the Upper East Side: 5 Stores for Baby Gear, Furniture and Nursing Supplies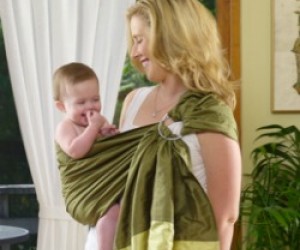 [UPDATED: December 1, 2012]
For the final post of our month-long focus on the Upper East Side, we're sharing our favorite practical shops for new parents and babies in the neighborhood. Take a stroll on one of the nabe's main avenues like Madison or Lexington and you'll pass a ton of fancy boutiques selling chichi wears for little ones (that they'll grow out in, oh, about a week). So instead of listing all of those swanky spots that have expensive outfits and not much else, we decided to focus on stores that offer necessities for new parents and babies. These five spots sell everything from nursing supplies to nursery furniture, baby slings to baby toys. Plus most offer special classes and events especially for new parents.
Metro Minis
821 Park Avenue at 75th Street
This is no ordinary baby boutique. Metro Minis offers a great selection of all-natural baby products, notably an awesome variety of baby slings and carriers, and cloth diapers. Plus, the shop hosts free baby-wearing classes, cloth-diaper workshops and other programs led by expert moms. (Private consultations are also available for a fee).

Giggle
1033 Lexington Avenue near 74th Street
If the thought of registering at Buy Buy Baby or Babies R Us makes you panic, drop into the UES outpost of this high-end baby boutique, which offers lots of personalized attention. Park your tot's ride in the stroller parking area (complete with fake parking meters) and browse lovely cribs, changing tables, strollers, high chairs, toys, clothing, bottles and more. The staff is friendly and always willing to help. Giggle also occasionally hosts events, like special registry nights and Strollercize®.

Yummy Mummy
1201 Lexington Avenue near 81st Street
Breastfeeding or planning to nurse? Then you'll want to check out this shop which, despite its punny name, is serious business. Started by a local mom who suffered her own nursing woes, this specialty boutique caters to breast-feeders with a wide selection of nursing gear (tops, bras, pajamas), pumps (for purchase or rent), pillows, lotions, gadgets and more. The store also hosts lots of classes for new or expectant parents like prenatal yoga, infant CPR, breastfeeding tips, plus support groups.

Planet Kids
Unfortunately this store closed in February 2014
The UES outpost of this local chain carries everything you need for babies and young kids, from furniture to strollers, toys to clothing. The playthings are right by the door (good luck getting through them if you've got a toddler in tow) but in the back and on the other floors you'll find the more practical items. Overall the stock skews young and comes from big-name brands. Like Giggle, Planet Kids is a great (and local!) alternative to the big-box stores.

Cherry's Pharmacy
207 East 66th Street between Second and Third Avenues
There's nothing worse than a baby who's up all night screaming due to a fever/teething/discomfort. Once you've got a prescription in hand, bring it to the helpful folks at this apothecary, which caters specifically to kids. Cherry's offers pediatric compounding services (in other words, they mix up the meds exactly the way the doctor wants), can flavor medicine and sells a variety of over-the-counter items for babies, like teething and nursing supplies, formula and homeopathic remedies. Plus it's got a cool toy train running overhead... although your baby will have to grow up a bit to truly appreciate it.

Read all of our posts about the Upper East Side.