SPONSORED
HudsonWay Immersion School Brings Mandarin and Spanish Bilingual Education to NYC and NJ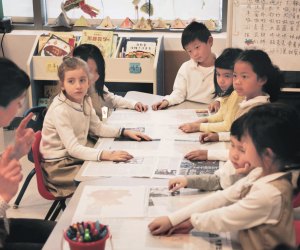 Founded in 2005 by an expectant mom committed to giving her soon-to-be-born twins a bilingual education, HudsonWay Immersion School (HWIS) has grown from a home-based class of five kids into an academically rigorous, full immersion Mandarin and Spanish language program for children ages 2 through grade 8. Beginning in PreK, HWIS's core curriculum is taught in both English and the selected foreign language, with the goal of helping students develop advanced cognitive skills, higher second language proficiency, strong social skills, and an increased awareness of the many diverse cultures in our ever-changing world.
Over the last 14 years, the bilingual school has expanded to two campuses in Stirling, New Jersey and New York City, including a brand new facility in Midtown West that just opened in time for the 2019–20 school year. With all this momentum, we sat down with the mastermind mom behind HudsonWay Immersion School, Sharon Huang, to learn more about the unique dual language program and the new Manhattan campus.
Mommy Poppins: Can you tell us more about how HudsonWay Immersion School (HWIS) started, Sharon?
Sharon Huang: Back when I was a soon-to-be mother of twins, I began searching for an immersion Mandarin preschool in the New York/New Jersey area for my sons—and when I couldn't find one, I decided to start a dual language program in my New Jersey home! Fifteen years later, we've added a Spanish track, we go beyond preschool to elementary and now middle school, and we have locations in Manhattan as well as New Jersey's Morris County. In fact, we're relocating our New York City location to a new, expanded space in Midtown West this October 2019.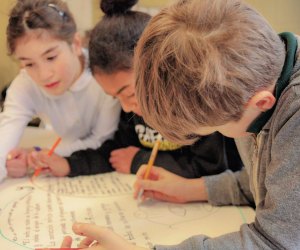 MP: What makes HWIS such a unique institution?
SH: The vision has always been to provide students with a bilingual education that still delivers a rigorous curriculum, so students are not sacrificing general learning. As a parent, I wanted nothing less for my children and for others.
We offer a full immersion model, meaning that 90-100% of students' time in preschool is spent in the target language, which provides the environment for optimal language proficiency. Our faculty consists of all native speaking teachers and experienced immersion administrators, and we offer half- or full-day programs five days a week for 2 and 3 year olds as well as elementary school. Plus, our program is one of the few immersion schools that continues through middle school. This is the best environment for immersion learning and we are unique in the New York/New Jersey area in being able to offer it.
MP: What is a dual language immersion school and what are the benefits?
SH: A dual language school is a school in which content such as math, science, social studies and language arts are taught in two languages. The benefits of a dual language school are tremendous. Not only are children able to develop enhanced critical thinking, creativity, and executive function (the ability to focus on a select task), but they become bilingual and biliterate. They also gain a better understanding of other cultures, which enhances their social emotional development.
MP: Does the school incorporate other educational approaches?
SH: We employ practices that are used in many of the best educational settings, such as flexible grouping, where we frequently assess and place students in small groups to provide differentiated instruction. We also use a lot of hands-on learning, which engages students, and makes learning fun and comprehensible in a second language!
MP: Where is HWIS located? Can you tell us more about your campuses?
SH: Yes! We have two campuses. Our Stirling, New Jersey location in Morris County is in the newly renovated educational wing of the St. Vincent De Paul church. Meanwhile, we have a brand new expanded New York City location at 525 West 52nd Street in Midtown West. This new Manhattan location will have a gym, music room, art room, maker space, and media room, along with additional preschool classrooms that will enable us to grow through middle school. Our Spanish track—which we've offered for nearly ten years in New Jersey—will also be available.
MP: What programs do you currently offer?
SH: In addition our Mandarin language program and Spanish language program for preschool through grade 8, we also offer summer camps, after school language, general enrichment, and global travel experiences.
MP: How can a family figure out if HWIS is the right fit for them?
SH: Come to one of our information sessions to meet our educators, visit our classrooms, and speak with parents who are part of our community.
We also encourage families to visit a number of dual language programs, because we value informed and knowledgeable parents as partners in our children's education. We're confident that if you do this, you will come to see how special our immersion program really is.
MP: Sharon, we really appreciate you taking the time to speak with us. If families want to learn more about HudsonWay Immersion School, what should they do next?
SH: Start by visiting our website, www.hwis.org, and sign up for an information session. I look forward to sharing our school with you!