SPONSORED
BASIS Independent Schools Expands Advanced Programs in Brooklyn and Manhattan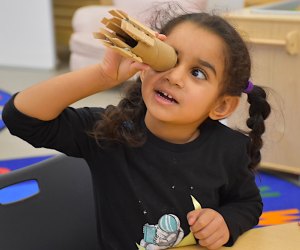 How does a lower school balance kids' natural tendency to question and explore everything with intentional academic learning? BASIS Independent Schools believes it's cracked the code with an Early Learning Program that gives gifted and talented students in PreK and Kindergarten an advanced curriculum that empowers independent thinking while serving up interactive hands-on courses in literacy, Mandarin, STEM, performing arts, and music—just to name a few.
Here in NYC, BASIS Independent Schools offers its comprehensive Early Learning Program at its Brooklyn and Manhattan locations. And because of rapidly growing demand for the popular secular private school, fall of 2021 will mark its first year at a brand new PreK–grade 2 campus for BASIS Independent Brooklyn in Downtown Brooklyn at City Point—while their Red Hook campus remains home to grades 3–12 students. BASIS Independent Manhattan students in PreK–grade 5 remain at the school's much-loved Upper West Side location—while their grades 6–12 campus expands to a stunning Chelsea location this fall.
To complement the program's multi-faceted approach, all of the school's beautiful state-of-the-art campuses are thoughtfully designed to foster learning and growth. Plus, each NYC location boasts its own unique features, from rooftop green spaces to imaginative indoor play areas to sweeping views of the city.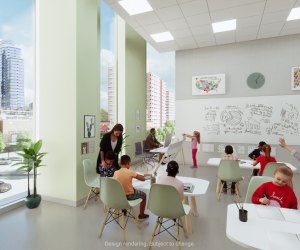 In Fall 2021, BASIS Independent Brooklyn Lower will open its PreK–grade 2 campus.
Inside the classrooms and specialty areas, PreK and Kindergarten students are exposed to a well-rounded content-rich curriculum that prioritizes both academic and social-emotional growth—something that feels particularly meaningful at this moment in time. Kids build public speaking know-how and problem-solving skills from foreign language instruction and engineering lessons, and often leave the program at two levels higher than the standard reading level.
"Our spiraling curriculum is by far what really separates us from other programs," says Ms. Cameron, Head of School at BASIS Independent Brooklyn Lower. "This means students are presented with a skill and then dig a little deeper every year. We are constantly building upon skills and helping students grow their confidence in their learning."
Meanwhile, when it comes to social-emotional learning, there's a real emphasis on building self-help and social-skills, creating a safe and supportive school environment where children are encouraged to be curious and are truly excited to learn. According to Mr. Lee, Head of School at BASIS Independent Manhattan Lower, "The BASIS Curriculum coupled with a focus on social-emotional learning is a formula that makes a long-lasting impact on our youngest students."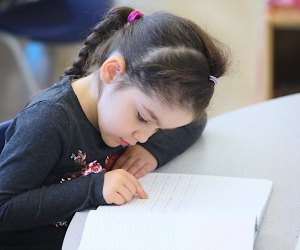 At BASIS Independent Manhattan, kindergarten students learn 1st grade reading skills.
​To further guide these young minds during the Early Learning years, BASIS Independent Schools has a "two-teacher model," which means that every classroom is staffed with a passionate, nurturing Early Learning Teacher, as well as an Early Learning Teaching Fellow. This enables the teachers to better support accelerated learning and to provide the kind of individualized attention that helps little ones unlock their full potential.
Interested in learning more about a school that prides itself in taking the best practices from some of the top education systems in the world and infusing them with the creativity and spirit that has come to define American education? Both BASIS Independent Manhattan and BASIS Independent Brooklyn are hosting upcoming Virtual Open Houses! For more information, sign up for the interest list for your preferred location or visit the BASIS Independent Schools website.