Is Axe-Throwing Brooklyn's Newest Kid-Friendly Activity?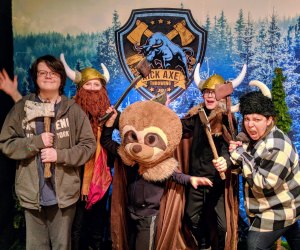 As you step into Kick Axe Throwing, you will be forgiven for a momentary flash of jealousy pointed at the pretty young things hanging out and drinking beers with their friends in the hipster-chic log cabin–themed spot. New York's first axe throwing venue is the perfect place for beers with your buds, but I was here to determine if it was equally cool action spot to take kiddos.
Technically, children aged 7 and up are allowed to participate, so, to test the waters, I had come to Gowanus, Brooklyn with an 8-year-old, a 12-year-old, and a 14-year-old, ready to chuck axes. Consent forms signed, we met our Axpert in the waiting area and headed with anticipation to our axe-throwing range.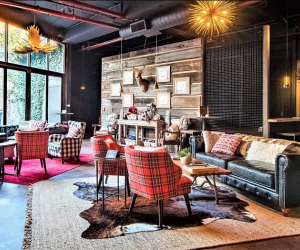 The hip lounge area sets the scene for lounging. Photo courtesy of venue
After being instructed on basic axe-throwing safety and technique, we were each given a turn to practice throwing. Our Axpert was really great at giving specific suggestions to improve our swings. Our smallest thrower was given a kid-sized axe and allowed to stand closer to the target. After just a few tries, each of us hit the target. If one of us had a little trouble getting the hang of it, we were given extra practice throws.
Axe-throwing is similar to an oversized game of darts. With two hands you heave an axe over your head and hurl it at a large slab of wood with rings painted on it. It doesn't take strength as much as finesse. Our Axpert taught us a few different versions to play, similar to popular dart games. The simplest involved just racking up points and, later, we played a game that involved trying to hit specific points. That might have been a little optimistic for us. I think we were all pretty happy if we just got the axe to stick to the wall, but it really didn't matter either.
So, Is Kick Axe Throwing Brooklyn's Next Hot Kid Spot?
Whether you think axe-throwing is fun probably has to do with whether you enjoy things like archery, pitching, and maybe even yoga. It's all about focusing on your form to get the right toss, at least as you are learning. For kids, I think it will mainly depend on whether they can do it or not. When you are throwing and not hitting, it gets old fast. Luckily, our Axpert was always there to help us. For kids that can't get the hang of it, they do have an alternative of throwing a foam axe and scoring points for wherever the axe hits the target.
RELATED: 13 Tween and Teen Birthday Spots for NYC Kids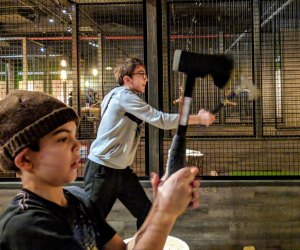 It takes focus and aim to chuck axes. No toddlers allowed!
The kids had a great time. They loved the competition, the skill of throwing, and especially loved yelling, "Kill shot!" when they hit the seven-point center and having the whole venue echo "Kill shot!" back. I think the youngest had the most fun. I would say if your kid gets excited about the idea of chucking axes, then you should put this on the bucket list of cool NYC things to do. It would be perfect for a multi-age outing with family and friends where the grown-ups can toss back a few and everyone can chuck axes. I'm not sure this is going to be the next hot kids birthday party spot, but I think it could be fun new party option for tweens or teens.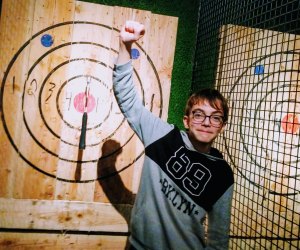 Nothing like the feeling of a bull's-eye.
Know Before You Go
Was it dangerous? Axe-throwing definitely requires everyone being able to follow directions and pay attention. Two chuckers throw at once so being able to not impulsively run to grab your axe after you throw is important for safety. Also, there was one time an axe bounced off the target and came almost all the way back to a child's feet, so it's imperative that kids pay attention at all times. You definitely would not want to bring smaller children along, as there is nothing to keep them from wandering into the throwing range.
Soft drinks, beer, and snacks are available for sale. Outside food is permitted only if you book a special event via the venue's events team.
Axe-throwing sessions run for an hour and fifteen minutes. Reservations are recommended and can be made online at the Kick Axe Throwing website. Book per person and everybody there has to pay (currently $35 per person, plus tax), whether they throw or not. Closed-toe shoes are required.
If you want to guarantee that you have a range to yourself, book for eight people (a range can accommodate up to 12). Make sure to read the FAQ to understand how to make a reservation for your group and all the rules. So far, it seems like you'll have a good chance to have a range to yourself on a weekday afternoon even if you don't make a reservation, but that could change. We were told that weekends have been booking up.
Kick Axe is located at 622 Degraw Street in Brooklyn and is open seven days a week. See its site for complete daily hours.
All photos by author unless otherwise noted.