Easter Brunch Takeout and Delivery Options in NYC
Easter Sunday is fast approaching, and even though the stay-at-home order is still in effect in NYC, it doesn't mean you can't plan something festive to mark the occasion. For those who have been preparing (and cleaning up) countless meals at home, we feel you! So, we've rounded 12 stellar restaurants around the city offering holiday-worthy spreads for Easter brunch or dinner, prepared fresh, and ready for pick up or delivery to feed the whole family. If that wasn't enough, we've even got the inside scoop on where to find a few sweet Easter treats for your brood.
So, gather around the table—perhaps decorated with one of these Easter crafts or beautifully dyed eggs—and count your blessings as you break bread with your nearest and dearest.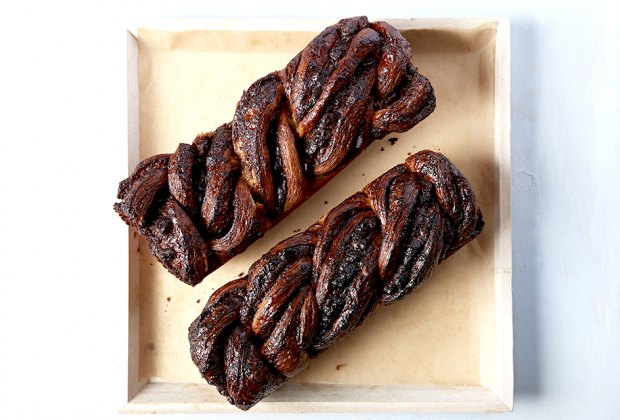 Have fresh chocolate babka delivered to your door for your Easter brunch. Photo by Brian Kennedy
If there was ever a time to get creative with your options, this is it. Whip up a couple of brunch-inspired dishes at home, like scrambled eggs and sausage, and round out your Easter meal with the delivery of baked goods from this scrumptious spot. The popular purveyor delivers chocolate babka and other yummy treats.
Choose from family-style meals for two or four people filled with holiday-worthy treats for brunch or dinner. Brunch selections include quiche, salmon canapes, deviled eggs, and a double chocolate souffle cake. At dinner, choose your main—leg of lamb, turkey, salmon, or ham—with sides like sweet pea and leek soup, creamy mashed potatoes, and more. Finish the meal with a fruity flourish and a lemon meringue tart. Order by April 7 for pick up or delivery.
This Bronx staple is offering delivery of its Cuban-inspired eats for Easter dinner, including traditional dishes like mofongo and Cubano sandwiches.
Keith McNally's beloved neighborhood eatery is currently offering takeout and delivery with a limited menu, including favorites like the Minetta Burger and steak frites.
RELATED: Easter Crafts for Kids and How to Dye Easter Eggs

Check out Bareburger's new family-style menu for casual Easter eats.
5. Bareburger — Multiple Locations
The uber-popular burger joint has created a new menu complete with family-sized mix-and-match specials, including a choice of four entrees, two shares, one dessert, and four sauces. For kids, try the BOGO Cubby Meals, which include a choice of buttermilk-fried organic chicken fingers, organic grass-fed beef or turkey cheeseburger, or organic uncured beef hot dog in a pretzel bun.
Elegant brunch favorite Stone Park Cafe is offering a special delivery or takeout menu for Easter brunch. Each includes a choice of two appetizers, two entrees, two sides, and two desserts with mouth-watering options like braised short ribs, roasted leg of lamb, potato galette, creamed spinach, a trio of macaroons, and more. Throw in the restaurant's famous bloody mary as a treat for the adults, and you've got yourself a party.
This hip Dumbo spot serves Easter brunch all day. Consider ordering its beloved buttermilk pancakes, French toast, and steak and eggs. Don't forget to add-on an at-home mimosa mixing kit, available in regular strength or super boozy.
RELATED: Pandemic Parenting: 20 Ways Kids and Teens Can Help Others During Coronavirus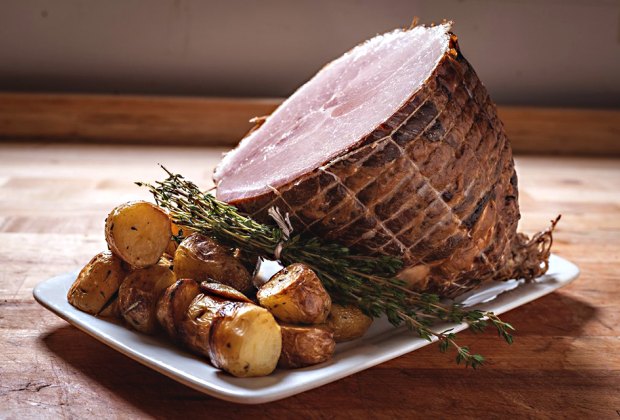 Dickson's Farmstand Meats is offering traditional Holiday Heritage Hams for Easter.
The one-platter Easter feast from local butcher Dickson's Farmstand Meats is about as easy as it gets for a high-quality, budget-friendly meal. Your order arrives frozen; defrost overnight and re-heat at home, and you'll be sitting down to an almost homemade spread of ham, macaroni and cheese, sweet potato mash, and collard greens in about an hour.
Mix it up and order a spread of traditional Korean dishes for your Easter feast, including bibimbap, a tasty meal of rice, veggies, meat, and egg, or hot pot bulgogi with marinated beef and sweet potato noodles. Takeout and delivery services are available from 10am-9pm; delivery is FREE in Flushing for orders $30+. There will be a delivery fee for other locations.
Enjoy a classic Italian menu full of fresh flavors and ready for pick up at Lincoln Ristorante. Order a kid-pleasing Margherita pizza, while you nosh on a selection of homey sandwiches, pasta, or entrees. Fresh focaccia is a welcome addition, no matter your choices. Finish with a sweet flourish: House-made, candy-filled giant Easter eggs can be ordered for each kid, or treat the whole family to an overflowing Easter goodie basket with homemade marshmallows, chocolate-lollipops, and scratch-made cookies. Wine, beer, and cocktails can also be added.
11. Calexico— Multiple Locations
Mini-chain Calexico features fast-casual Mexican food, with specialties like burrito bowls with "crack sauce" (spicy mayo), fried chicken, and chipotle pork. Its Park Slope, Greenpoint, Upper East Side, and East Village locations are currently open, delivering Mexican delicacies and margaritas, too!
Necessity is the mother of all invention, and this collaboration between Bien Cuit and Joe Coffee proves it. The two local purveyors have teamed up to share resources and offer contactless delivery throughout much of Brooklyn and Manhattan. On Easter, enjoy a la carte options like quiche, hot-cross buns, tartines, or order a ready-to-eat brunch for four, which includes quiche, pastry, coffee, or fresh-pressed OJ, and even a wine pairing.
Where to Get Easter Baskets and Sweet Treats Delivered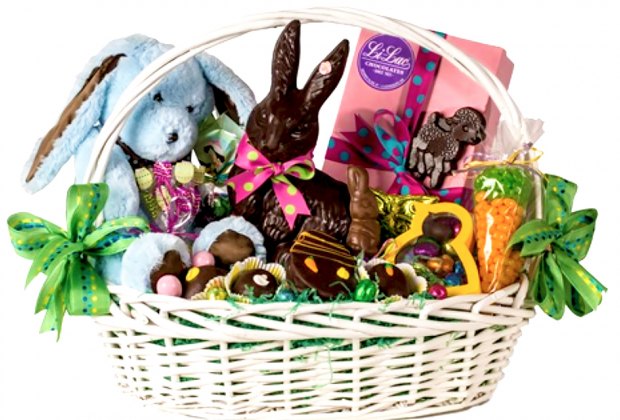 Li-Lac's best Easter Basket...the Colossal is ready for delivery!
Since 1923, Li-Lac Chocolates has been crafting fresh chocolate in small batches. Manhattan's oldest chocolatier is shipping Easter treats like chocolate bunnies, Easter baskets, and jelly bean carrots. Items can be shipped nationwide through its website or delivered locally in NYC via Mercato and Postmates.
This old-school candy shop has a massive selection of goodies including Coney Island Classic Popcorn, UK imports, DIY candy kits, plus plenty of classic Easter faves like Peeps, and chocolate bunnies and eggs galore. Buy a selection from the menu to hide in plastic eggs or make your own treat bags at home. Fferins is currently open for deliveries and is offering FREE delivery in Park Slope, Windsor Terrace, and neighboring areas from 7-8pm daily ($20 order minimum). Curbside pickup is also available.
This gourmet specialty shop has shuttered its doors for now. However, it is still selling an array of delicious products online, including various chocolatey treats, soap egg cartons, and sweet Easter baskets. Get free UPS Ground Shipping on online orders of $49 or more with promo code FREESHIP49.
RELATED: Free Resources for NYC Families During Coronavirus: Meals, Internet, Books, and More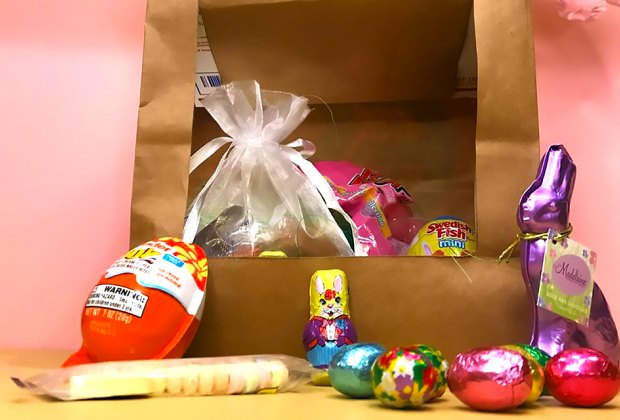 Exit9 knows how to impress for the holidays, and its Easter baskets are no exception.
Filled with colorful eggs, chocolate bunnies, art supplies, stuffed plushies, Tattly temporary tattoos, and other sweet treats, these handcrafted "bunny bags" are sure to be a hit on Easter morning. Baskets are available for pick up only April 10 and 11.
A Word on Food Safety
According to the CDC and FDA, there is currently no evidence of food or food packaging being associated with the transmission of COVID-19. However, like other viruses, it is possible the virus can survive on surfaces or objects. To be extra safe, here are some steps you can take when ordering takeout:
Use a no-contact delivery service. Many delivery companies are now offering this, including Postmates. While Grubhub, Doordash, and Seamless don't have specific contactless options, customers can leave notes in the app to request a delivery be left outside. Remember tip generously.
If you are picking up food, practice social distancing. Stay six feet or more away from people whenever feasible.
Use your own dishes. When you bring food into your house, remove it from the box and place it on your own dishes and dispose of the containers. Add a note when ordering that you won't need napkins or plastic utensils.
Disinfect surfaces the containers have touched. Once you have thrown away the packaging and containers, disinfect any surfaces the container comes into contact with.
Lastly, (we've all heard it a million times!), wash your hands after handling all packaging and before eating.
Photos courtesy of the restaurants/shops