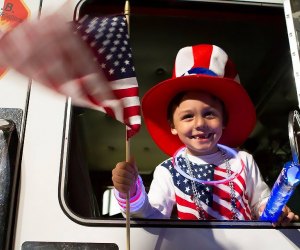 4th of July Weekend for NJ Kids: Fireworks, Festivals, and More Fun Things To Do
The long 4th of July weekend blasts off on Thursday, July 4, with fireworks and festivities in Wildwood, Long Branch, Camden, and Cape May, among many others.
The Independence Day fun continues all weekend with rides and games at Leonia Sports Booster Club Carnival and Cumberland County Fair, and with delicious eats at TRUCKerton Food Truck & Brew Fest, City of Millville Fireworks & Food Truck Festival, and Terhune's Blueberry Bash. Plus, carve out some time for train rides and dinosaur expeditions this weekend.
Find even more options for weekend family activities in our Summer Fun Guide, including Free Summer Outdoor Movies for New Jersey Families. And look to our July GoList and event calendar for a complete listing of happenings this weekend and beyond. Happy Fourth, NJ!