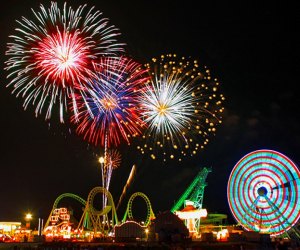 Best 4th of July Fireworks for NJ Families from Jersey City to the Shore
We've got the scoop on NJ's best family-friendly fireworks shows on the 4th of July, from small-town celebrations to waterfront extravaganzas. You can cheer on the red, white, and blue in Atlantic City, which hosts one of the country's biggest 4th of July celebrations; spread out a beach blanket and enjoy a display down the shore; take in the fireworks extravaganza at the New Jersey State Fair; or choose from more than a dozen other great fireworks displays happening throughout the state.
Big kids might enjoy a special trip out to the NYC 4th of July fireworks show, or the fireworks festival in Philadelphia.
In addition to fireworks, these Fourth of July festivities include lots of other fun activities, such as parades, rides, live music, and more. Read on for more than a dozen picks, and try these non-fireworks July 4th activities for kids before the show or with little ones looking for a little less noise.
For even more holiday-weekend fun, be sure to check out our Summer Fun Guide.
The following fireworks displays take place on Thursday, July 4, 2019, unless otherwise noted.