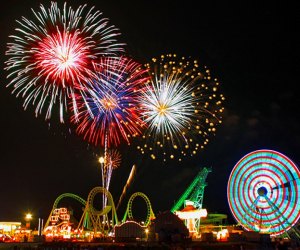 The 4th of July Fireworks 2020 Guide for NJ
We've got the scoop on which of New Jersey's 4th of July fireworks shows and other Independence Day activities near you are still happening in 2020, from small-town celebrations to waterfront extravaganzas.
New Jersey officials gave the OK in June for fireworks to go forward in 2020, but most cities had already canceled their displays, parades, and other 4th of July events. There are a few holdouts, including Toms River, where a new sponsor has stepped forward to put on a local fireworks show. Read on for where to find 4th of July fireworks in NJ this summer.
Staying home? Try these non-fireworks July 4th activities for kids before the show or with little ones looking for a little less noise. For even more holiday-weekend fun, be sure to check out our Summer Fun Guide.
(The following fireworks displays take place on Saturday, July 4, 2020, unless otherwise noted.)