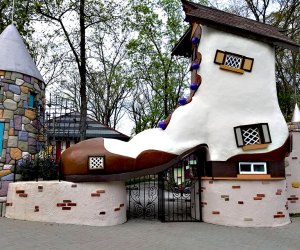 Long-Awaited Reopening of NJ's Fairy Tale Forest Theme Park Set for Spring 2020
The long-awaited reopening of Fairy Tale Forest in Oak Ridge, NJ, could kick off as early as March with the launch of Fables Restaurant and Marketplace at Fairy Tale Forest. But what has locals really stoked is the restoration and potential reopening of the North Jersey theme park on which the restaurant is situated.
The park has been undergoing renovations since 2018, and previous plans for reopening—first in the fall of 2018, and then in spring of 2019—have been delayed. According to an article on NJ.com and other sites, the owners now say that Fairy Tale Forest should be ready to welcome visitors by Memorial Day.
The unique walk-through Fairy Tale Forest village was originally created by German immigrant Paul Woehle, Sr., in the 1950s. The village delighted NJ families with almost-life-size cottages and structures inspired by fairy tales such as Humpty Dumpty, Goldilocks, Mother Goose, Cinderella, The Three Pigs, Peter Pumpkin, Hansel & Gretel, Pinnochio, and more. A vibrant castle and a huge Mother Goose's shoe still stand at the front gate.
The park closed in 2005, but many of the original structures remained. Over the past few years, the park's owners have been refurbishing many of the old favorites with the hopes of reopening. While the opening likely will not coincide with that of Fables, it's a step closer to bringing back a piece of much-loved NJ nostalgia.
According to the park's website, Fables will offer dine-in "New American" cuisine created by Chef Christine Nunn and take-out gourmet delectables like ice creams, baked goods, and an organic juice bar.