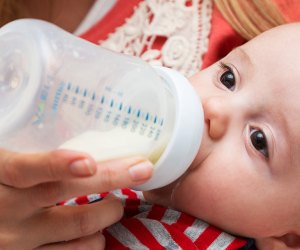 New NJ Laws That Can Impact Parents and Families in 2019
As 2019 gets underway, new laws impacting expectant and new moms, students, and parents may make life a little easier. From streamlining the application process for applying for pregnancy-related disability benefits to ensuring infants have access to breast milk and students in need are offered a breakfast once school's underway, these changes are welcome news for families. Take a look at the new laws and when they go into effect.
Streamlined pregnancy-related temporary disability benefits
Being an expectant mom who is put on bed-rest or faces an equally concerning pregnancy-related condition is stressful enough without worrying about how it will impact your finances and how many disability forms you'll need to complete to get receive benefits. A new law that will go into effect October 4 will expedite the application process for New Jersey's expectant moms who apply for pregnancy-related temporary disability benefits or moms who experience a birth-related disability.
Pregnant moms are eligible for up to four weeks of temporary disability benefits before giving birth, and six weeks of family leave benefits following delivery. Moms who give birth via c-section are eligible for up to eight weeks. Under the new law, New Jersey's Department of Labor must automatically process an application for family leave insurance once the employee applies for temporary disability benefits. By submitting just a single application, the process should provide for "a more seamless transition," according to Gov. Phil Murphy.
Improved access to breast milk
There's good news for moms who either face challenges nursing or adopt an infant but still want their babies to benefit from breast milk. As of January 1, health insurers must now cover breast milk for babies under six months of age. That means that if breast milk has been prescribed by a doctor, insurance companies are now required to cover breast milk from a human milk bank that meets the guidelines established by the Department of Health.
Assemblywoman Pamela Lampitt, D-Camden, who sponsored the bill, issued the following statement: "Requiring health benefits coverage will help us to better ensure that mothers who not produce it themselves have access to breast milk that meets the standards of quality their infants deserve."
'Breakfast After the Bell' rather than before
Starting off the day with a nutritious breakfast can be crucial to a student's success. Yet food insecurity remains an ongoing problem in the Garden State. According to a November 2018 NJ.com report, 270,000 children in the state are food insecure. While many New Jersey school districts have been offering breakfast before the school day begins to students who are eligible for free or reduced meals, a new "Breakfast After the Bell" program will allow kids to grab the most important meal of the day once the school day has begun.
Effective May 30, a new law establishes that Garden State school districts that have 70 percent or more of students eligible for free or reduced meals must offer a "Breakfast After the Bell" program. From that date, districts will have six months to present their plans for the program and have it up and running in the next full school year. According to The Center for Food Action, serving breakfast before school results in extremely low student participation because students haven't yet arrived. The Center notes that making this meal part of the school day, like lunch, is the "only effective way to deliver the meal to hundreds of thousands of New Jersey children who need this morning nutrition to be focused and ready to learn."
PARCC exam graduation requirements change
High school students who dread sitting for standardized tests, specifically the Partnership for Assessment of Readiness for College and Careers (PARCC) exams, may be breathing a sigh of relief. While passing 10th grade English Language Arts and Alegbra I have been required for high school graduation by the New Jersey Department of Education, a three-judge panel of the Superior Appellate Division ruled on Dec. 31, 2018, that that will no longer be the case going forward. While the tests aren't going away completely, kids will no longer have to pass them to graduate.
These changes are a result of a lawsuit brought by the Latino Action Network, the Latino Coalition of New Jersey, the Paterson Education Fund, and the NAACP New Jersey State Conference. The Education Law Center and American Civil Liberties Union of New Jersey provided legal representation, arguing that the requirement is not authorized under state law. Students will still need to pass one 11th grade test to matriculate.