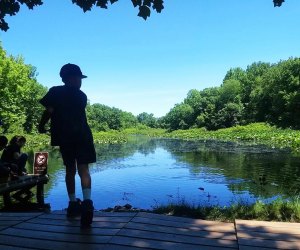 Tenafly Nature Center: Family-Friendly Hikes and Outdoor Fun for NJ Kids
For suburbanites, the Tenafly Nature Center offers a special treat: the chance for a real walk in the woods, without straying too far from civilization. On a recent visit with an 11-year-old and two 8-year-olds, the intervals when we could neither see nor hear other visitors were just short enough for my comfort level and long enough to make the experience feel like an adventure for the kids.
Read on for more about this Bergen County nature preserve, and check out other New Jersey Nature Centers here.
Situated on nearly 400 acres in Bergen County, Tenafly Nature Center offers a dozen trail options that can be combined for a little over seven miles of hiking. Trail options range from very short to about two miles.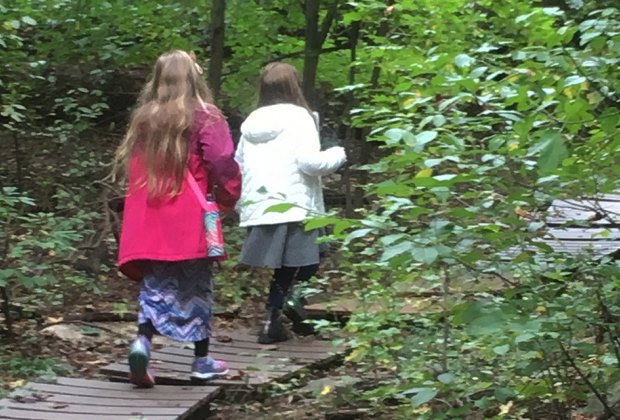 Wooden planks help make the walk a bit easier in spots.
We started with the Red Trail and found blazes clearly marked on trees. My younger daughter and her friend eagerly ran ahead looking for the trail markers. They led us over a variety of terrain: rocks, dirt, tree roots, a small bridge. In spots, the path was made a bit easier with flat wooden planks to step on. The trail ended at a scenic overlook for Pfister's Pond, a spot that on a warmer and sunnier day would surely be a great place for bird watching. We looked out over the myriad lily pads and colorful fall trees then moved on to the White Trail.
RELATED: Best Nature Centers in NJ To Visit with Kids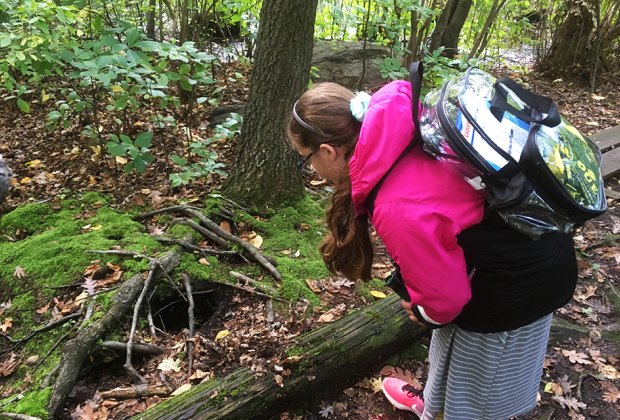 Stop and look for evidence of the preserve's resident critters.
This path starts by the De Filippi Shelter, which offers an elevated (and if you're there on a sunny day, shaded) view of the pond. Afterward, this slightly longer trail took us past fallen trees with upended roots, rocks, a bridge, mysterious holes in the ground that were surely created by critters (Tenafly Nature Center is home to at least two dozen species of mammals), and even a beaver dam. We took the White Trail back to the Main Trail, a direct line back to the parking lot. As the day was damp and chilly, a total hike of about a mile was enough for our group.
The Red and White trails were easy but probably best for kids 5 years and older due to the bumpy and uneven surfaces. Environmental educators at TNC suggest the Yellow Trail for younger visitors. The quarter-mile path is relatively flat and passes by a clearing where little ones can play. It also leads to a floating dock over the pond. Even so, it's probably best to leave your stroller in the car. An ideal time to check out the place with a preschooler is at the monthly Nature Story Time, which features books and a live animal encounter.
RELATED: Paterson Great Falls: History and Natural Beauty for NJ Families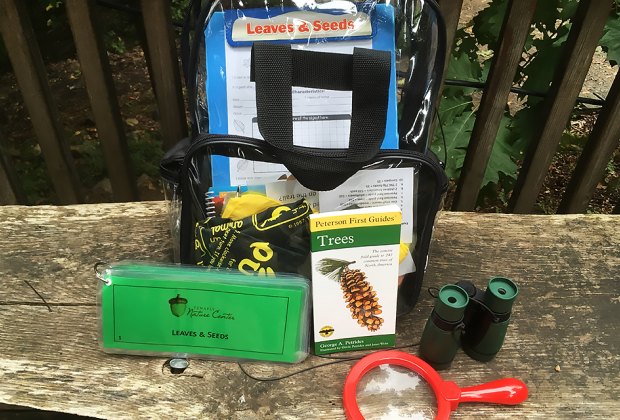 Pick up a backpack filled with supplies to help you investigate nature as you walk through the woods.
Before starting our hike, we stopped by the Nature Center building to borrow a backpack with binoculars, field guides, and scavenger hunt–type activities for kids. The 8-year-olds in my group had too much fun making their own nature discoveries to focus on the materials, and the 11-year-old and I were too busy trying to keep up with them. We found the backpack to be well-meaning but a bit heavy and not helpful for our particular visit. We agreed we might make better use of it on a warmer day with more time on the trail.
The Nature Center is open year-round and houses about 20 small, live animal exhibits of mostly native species. There's also a library, trail maps, and information about local plants and animals. Although the center and trails are free, a variety of public programs for both children and adults are available for a fee. On the day we visited, there were three sessions of apple cider making. Other family-friendly programming includes seasonal scavenger hunts, nature storytimes, and maple sugaring. We also saw one birthday party leaving when we arrived and another setting up when we left. A picnic pavilion near the parking lot can be rented for private parties, with a choice of themes and packages. Young nature lovers can also attend summer and school break camps.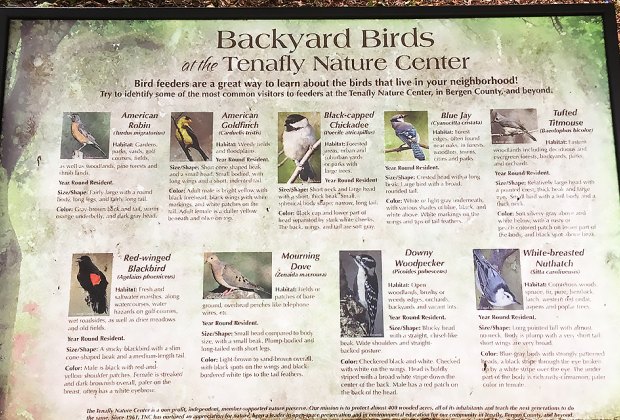 Study the graphic panel with the names and pictures of a dozen native birds and then try to identify them in the wild.
Adjacent to the parking lot is a display of different feeders to attract a variety of birds. Young bird watchers can try to identify them with a graphic panel that names about a dozen native species. Meanwhile, two barn owls and a hawk, which can't be released back to the wild due to their injuries, live in a neighboring aviary. Memorial Day through Labor Day, guests can also see monarch butterflies up close in the Butterfly House.
A small bathroom by the parking lot (and party area) has a composting toilet. Although I saw a staff member check it for supplies, we chose to wait till we got home. Flush toilets are available by the visitor center. Besides being a great place to take the kids, adults should consider TNC for a night or day out. Check out their Full Moon Hikes held throughout the year and seasonal Nature Yoga.
Unless noted, photos by the author