Sherlock Exhibit Solves the Most Confounding Mystery of Them All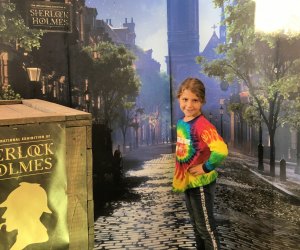 11/21/18
- By
Elaine Paoloni Quilici
Calling all sleuths! There's a mystery brewing in Jersey City, and Liberty Science Center needs your help to solve it. At The International Exhibition of Sherlock Holmes, the latest exhibit at the favorite New Jersey science spot, children and adults hunt for clues in a beautifully detailed exhibit that teaches the science behind detective work and puts it to the test to solve an elaborate murder mystery.
Hunt for clues on the streets of Victorian London, learn about poisonous plants, forensics, send Morse code messages, and then, detective notebook in hand, document your deductions by embossing, stamping, rubbing, and punching holes in paper. Finally, puzzle out what the all evidence means to solve the mystery.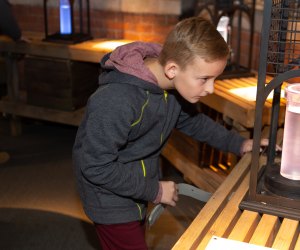 This highly interactive and educational exhibit solves the one mystery families are always looking to crack: where to spend a great day that the whole family will enjoy. And we're here to clue you in on what to expect, who it's best for, and what you need to know before you go.
After a few unavoidable stops at some of my kids' Liberty Science Center favorites, like the Infinity Climber and the tactile puzzles on the stairwell landing, we reached the fourth floor and the Sherlock exhibit. We picked up a junior detective booklet for my 7 year old from a staff member who provided a brief rundown of the show and instructed my 10 year old and myself to get our detective notebooks inside the exhibit. The attendant also warned us that the first room, a detailed replica of Sherlock creator Sir Arthur Conan Doyle's London study, included real human remains, which made my daughter turn wide eyed. She was quickly relieved to discover the skull hit with an ax and a sternum impacted by a bullet were not gruesome.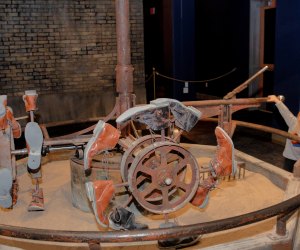 After exploring the creation of Sherlock through artifacts and manuscripts, we got hands on to learn the science behind our mystery, including optics and lenses, botany, cosmetics, ballistics, ciphers, and basic detective work. These building blocks are needed to solve the mystery, so I recommend spending enough time in this room to absorb all the information to properly investigate and come to the correct deductions later in the exhibit.
The crime is presented along with an analysis from the lead detective. But, just like in a Sherlock Holmes story, nothing is to be taken for granted. We were challenged to question the report, abandon any assumptions, and follow the facts to arrive at our own conclusion, based on the information we could collect.
The exhibit provides four stations to prove or disprove the detective's reasoning. We tracked footprints in sand, rebuilt a shattered bust of Napoleon, and identified a probable poisonous plant. This was a fun and interactive way to test the detective's theories. Based on our own experiments and results, we arrived at conclusions that eventually helped us solve the crime.
Dr. Watson's Desk. Photo by Robb McCormick for Liberty Science Center
Parents should take note that solving the mystery involves visiting a room decorated as a slaughterhouse to learn about blood splatter science. One of my kids found this section disgusting and moved through quickly. Once my other child and I decided which spatters pertained to the case at hand, we punched our booklets and moved on too.
Once you have collected all your clues and made your deductions, you get to test whether your theory is right. We had a few errors in our solution so I encouraged my kids to go back and find out where we went wrong. After a little more deducing, we solved the case.
Fans of Sherlock Holmes and modern takes like BBC's Sherlock or CBS' Elementary will enjoy the last part of the exhibit that features costumes and props as well as other related artifacts. We particularly enjoyed the cool videos explaining how many of the elements explained in the exhibit are used in real, modern-day CSI labs.
This is not an exhibit you will cruise through. To solve the case you really need to work through each step. For this reason the exhibit is better for slightly older children, but the junior notebook allows younger kids to participate at a less complicated level. My kids enjoyed stamping their books at each station, which also cleverly ensured they visited each area. If you need any assistance, staff are on hand to help.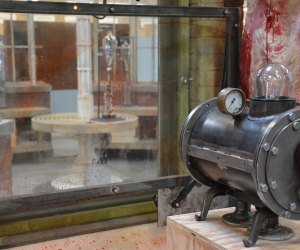 Blood splatter device. Photo by Robb McCormick for Liberty Science Center
Know before you go:
In all, we spent a good 90 minutes in the exhibition, however, more time could certainly be spent, depending how long you take to absorb the information and consider the outcomes.
The show is suggested for children ages 5 and up. Children at the older end will be able to process more of the information and come to conclusions independently. Younger ones can work through the simplified junior detective notebook, which does not lead to a solution to the case, or work with an adult to solve the case together.
Try to encourage kids not to breeze through the first room as the video and information there provides background that lays a useful foundation for solving the mystery.
After all that sleuthing, you may want to hit the cafeteria for a snack to refuel before visiting the rest of Liberty Science Center. You can easily spend a full day visiting the the museum, which includes the largest planetarium in the Western Hemisphere, 12 museum exhibition halls, a live animal collection with 110 species, giant aquariums, and a 3D theater. You may also want to check out the other special exhibit, Doc McStuffins, which we recently reviewed.
The Liberty Science Center Sherlock Holmes exhibition runs through May 27, 2019. The premium exhibition is available with a combination pass: $24.75 for children ages 2 to 12; $29.75 for adults; children under 2 are free. Liberty Science Center tickets can be ordered online in advance.
Photos by Mommy Poppins unless otherwise noted