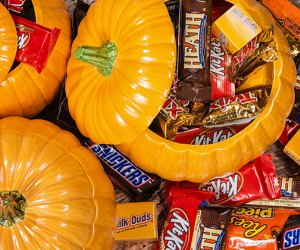 Leftover Halloween Candy? Ways To Use It or Donate It in New Jersey
Twix, Milky Ways, Sour Patch Kids, Skittles! It seems like kids collect enough Halloween candy to last a lifetime. Instead of saving your surplus supply of Kit Kats or having your children consume it all in one night (or worse, you consume it all in one night), take a look at our alternate ideas for using up your little ones' leftover candy haul – whether you donate it, bake with it, make money from it (!), or make others smile with it. Hope you have a great Halloween, New Jersey!
Local Candy Buyback Programs
Many local dentists and doctors are hosting candy buyback programs. Children can cash in their candy (average $1 per pound), which will be donated to U.S. soldiers overseas. For more locations, search HalloweenCandyBuyBack.com or visit the Operation Shoebox website. Most of these programs start November 1, but check individual websites to confirm.
Rauchberg Dental Group
Address: 199 Baldwin Road Suite 120, Parsippany, NJ 07054
Phone: 973-334-3777
$1 per pound
Donations will be sent to Operation Gratitude.
Springfield Orthodontics
Address:165 Mountain Ave, Springfield, NJ 07081
Phone: 973-544-8915
$1 per pound, plus dentist will donate toothbrushes
Donations are for Apostles' House.
P&C Pediatric Dentistry
Address: 1011 Clifton Avenue, 2nd Floor, Clifton, NJ 07011
Phone: 973-928-3880
$1 per pound up to 5 lbs
Donations will benefit Operation Gratitude.
Rockaway Orthodontics
Address: 141 US Highway 46 West, Suite 101, Rockaway, NJ 07866
Phone: 973-627-2229
$1 per pound up to 5 lbs, plus goody bags and raffle tickets for participants
Toothbrush donations will also be collected for Operation Gratitude.
Family Foot and Ankle Specialists – 2 Locations
Address (location 1): 349 Route 206, Hillsborough, NJ 08844
Phone: 908-874-8030
Address (location 2): 12 Wills Way, Piscataway, NJ 08854
Phone: 732-968-3833
Children will receive $1 per donated pound
Additional donations will be accepted to benefit victims of domestic violence.
Loew Orthodontics – 2 Locations
Address (location 1): 4 Walter Foran Blvd., Suite 205, Flemington, NJ 08822
Phone: 908-751-1633
Address (location 2): 1465 Route 31 South, 4th Floor, Clinton, NJ 08809
Phone: 908-735-7620
$1 per pound, 10-pound limit
Dr. Loew will match each donation to Hunterdon Outreach Program.
Smile Works Pediatric Dentistry
Address: 150 North Finley Ave, Suite 101, Basking Ridge, NJ 07920
Phone: 908-340-4848
$1 per pound, 5-pound limit; letter and drawings for the troops are welcome, too.
Donations will benefit Operation Shoebox.
Zeik Dental
Address: 33 N. Main St. Route 79 Marlboro, NJ 07746
Phone: 732-863-8040
$1 per pound, 5-pound limit; all participants will receive a sports bag and a chance to win passes to YESTERcades.
Donations will benefit Operation Gratitude.
Dental Kidz
Address: 24 Commerce St, Newark, NJ 07102
Phone: (973) 639-1000
$1 per pound, 5-pound limit; participants will receive goody bags.
Donations benefit the troops
Other Ways To Donate
Several local churches, synagogues and other places of worship accept donations of extra candy for upcoming events. Meals on Wheels and Ronald McDonald House Charities also accept donations. Check with your local chapter for details.
Sweet Reward
You can freeze candy, up to a year, to distribute at a later time. We use a chart reward system and dispense a mini bar at the end of each week.
Sweet-er Treats
Use your left over candy to make a delicious, sweet treat. Whether it's a Milky Way bar or candy corn, there are endless possibilities to incorporate your surplus supplies into a fantastic dessert. Here are just a few options:
Peppermint Patty Brownies from Delish.com
Heath Bar Cake from Food.com
Snickers Cupcakes from YourCupofcake.com
Giant Rainbow Cookies (M&Ms) from HowSweetItIs.com
Kit Kat Cake from RecipeGirl.com
Baby Ruth Cookies from TasteofHome.com
Candy Corn Fudge from MomOnTimeout.com
And don't forget, the holidays are just around the corner. Put away some of your extra candy for stocking stuffers, gingerbread houses, or a homemade advent calendar.

Photo via Bigstock.