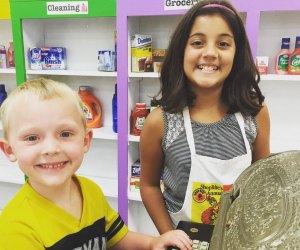 Jersey Shore Children's Museum Closes Its Doors After 20 Years
Generations of kids were firefighters, postal workers, grocery store clerks, construction workers, and doctors at the Jersey Shore Children's Museum, which closed down in December 31 due to a lack of funding. Founded in 1998 by two local teachers, the non-profit museum promoted learning through play and was a favorite indoor play spot in the community.
"Sadly, fundraising efforts over the past have drastically declined, and for any non-profit [that] relies heavily on community support and sponsors, the donation jar has run dry," museum board members wrote in a press release.
First known as the Children's Museum of Egg Harbor Township, the museum moved locations several times over its two decades and was most recently located in the Hamilton Mall in Mays Landing.
It featured various exhibits promoting imaginative play, including a fire station, construction zone, and post office, as well as a baby and toddler play area. All exhibits were sponsored by the community; ShopRite donated the grocery store, for instance, while Klingert Family Chiropractic Center provided an interactive anatomy lesson. The museum was also a popular destination for birthday parties and school field trips.
"Over the years, we had the pleasure of watching young babies grow through school years," trustee Dawn Cooper said, adding that those same children returned years later: "grown now with families of their own and visiting for an educational family day out."
The museum will hold a public sale, featuring exhibit items and more, from January 12–14. Find more information on its website, or Facebook page.
Top photo: Kids playing in the museum's grocery store. Courtesy of Jersey Shore Children's Museum