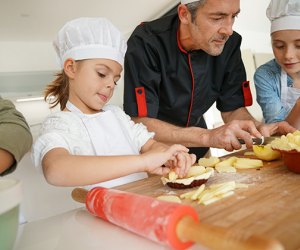 Cooking Classes for Kids in New Jersey
Whether you have an aspiring Ina Garten at home, or you're just looking for something different to do with the kids, consider signing up for a fun, hands-on cooking class. We've rounded up several places throughout NJ that offer wonderful programs for children of all ages. Cooking classes not only teach culinary technique, they're also a great way to try new foods, master hand-eye coordination, and practice social skills like sharing and following directions.
For more enrichment ideas, visit our guide to Classes and Enrichment Programs for New Jersey Kids.
Kids' Cooking Classes in North Jersey
Bambino Chef – Jersey City
Located on Newark Avenue in downtown Jersey City, this warm and inviting cooking school offers a variety of programs for kids of all ages. Current class options include Junior Chef, Master Chef, and Mini Bambino Sensory Play & Cook. There's also a summer cooking camp. Bambino Chef is a popular choice for kids' birthday parties, too.
Carlo's Bakery – Hoboken
Aspiring pastry chefs can learn to decorate cakes like the Cake Boss himself in these classes for ages 8 through adult. Participants under 18 must have a legal guardian enrolled in the class, so parents can join in the fun.
Classic Thyme Cooking School – Westfield
Children can learn to cook breakfast, dinner, dessert, and more! "Parent & Me" classes for kids ages 2 and up are offered both weekdays and weekends. Drop-off classes for ages 4-9, as well as a Friday night cooking club for ages 10 and up, are also available.
King's Cooking Studio – Short Hills
Tucked away in the back of the food market, the Cooking Studio allows kids ages 8 and up to get hands-on in the kitchen with a wide-range of cooking and baking classes. Little Cooks & Storybooks are Saturday morning family classes for kids ages 3-7 years plus an adult. Start with storytime, then make recipes inspired by the book, like crunchy turkey tacos in honor of Dragons Love Tacos.
The Kitchen at Bed Bath & Beyond – East Hanover
What could be cooler than cooking right in the middle of a Bed Bath & Beyond store? The interactive cooking space dishes up classes in baking, Italian food, and even homemade dog treats! Kids' birthday party menus for ages 5 and up include Breakfast for Dinner and Fiesta themes. If you're in need of a date night, The Kitchen transforms into a BYOB evening cooking school for adults.
Montclair Culinary Academy – Montclair
The "Kids in the Kitchen" series for ages 7 years and up will get even the pickiest of eaters to try new cuisines, everything from dim sum and empanadas to the flavors of France and Peru. In addition to parent & child classes for little ones and summer and holiday mini camps, family cooking classes bring everyone to the table to prepare meals that are meant to be shared.
Ridgewood Culinary Studio – Ridgewood
Children's classes for ages 3 and up are offered year-round at this fully equipped cooking studio. Options range from easy recipes for younger children to more advanced techniques for older kids. Students will learn about kitchen safety and nutrition in addition to preparing delicious meals each week.
Splurge Bakery – Millburn
Famous for its yummy desserts and personalized cookies, Splurge also hosts classes and parties at its adorable bakery on Main Street. Class offerings vary but tend to focus on the sweeter side, with offerings that teach budding bakers ages 4 years and up how to make cake pops, cupcakes, and unicorn cakes.
Sugarsuckle – Hoboken
Known for its amazing birthday cakes, Sugarsuckle also invites kids age 2.5–8 years inside its bright and beautiful studio for a taste of the behind-the-scenes magic. Your little sweet tooth can take their pick from cupcake and cookie decorating workshops, as well as summer drop-off classes in dessert jars, mini pies, and cookie cakes.
Kids' Cooking Classes in Central Jersey
The Farm Cooking School – Titusville
Does your little ones look forward to trips to the farmer's market? They'll love learning how to make dishes from local ingredients at this cooking school located on a working organic vegetable farm. Classes teach culinary basics, knife skills and techniques, plus provide an introduction to cuisines from around the world. Summer camp sessions give budding sous chefs an opportunity to tour the farm, meet farm animals, and learn where our food comes from and how it is grown. ​
​P.E.P. Club Kids' Cuisine – Warren
Kids ages 3–8 can make delicious dishes using easy-to-follow recipes for meals such as baked ziti and garlic bread, chocolate chip waffles, and strawberry and banana-stuffed French toast. Drop in for one class, or sign up for a full 12-week session. Kids' Fun Days, for ages 3–7, include arts & crafts, cooking lessons, science experiments, and obstacle course fun.
Taste & Technique Cooking Studio – Fair Haven
Themed cooking classes for kids ages 7 and up include Sweet & Savory Schooltime Snacks and Halloween Party, featuring ghoulish treats like haunted haystacks and bloody finger food sandwiches. Participants get to sample the dishes at the end of class and get a recipe packet to take home. Summer camp themes range from Chopped Challenges to Food Truck Favorites.
Young Chefs Academy – Marlboro
Young Chefs offers new classes each week, all structured around a monthly theme. For instance, Leftover Takeover is all about finding creative ways to turn leftover ingredients into tasty meals. Classes include KinderCooks (ages 4–6 with adult), JuniorChefs (7–12), and Senior Chefs (13–18).
Kids' Cooking Classes in South Jersey
The Chocolate Belles – Brick
Kids can skip straight to dessert with classes in cupcake decorating, candy making, and more at this longtime Jersey Shore sweet shop.
​Kitchen 19 – Hammonton
This creative culinary spot offers Saturday kids' classes in everything from Korean BBQ to pumpkin pancakes. Age group ranges include 4–7 and 8–13. Fans of Netflix's Nailed It! cooking show can choose that theme for their birthday party. And in the summer, each Kitchen Kamp session ends with a celebratory brunch students prepare themselves for parents and guests.
Sugarplum Studio – Cherry Hill
Kids ages 6 and up can make a variety of sweet treats including monster cakes, sloth cupcakes, plus donuts, muffins and scones. Parents are welcome to stay and help younger children.
Multiple Locations
Chef It Up – Budd Lake, Nutley, Tom's River
At Chef It Up, kids learn to prepare basic recipes in a fun-filled environment. Mommy/Daddy & Me classes are available for younger children, while older kids can partake in sessions designed around age-appropriate themes. The facility can be reserved for birthday parties, field trips, and adult nights, too.
ShopRite – Statewide
ShopRite offers a variety of culinary workshops for kids and adults alike. Kids can create a full menu of tasty, healthy dishes like shredded chicken arepas, acai bowls, veggie wontons, and turkey croquettes. Check your local ShopRite for schedule.
Sur La Table – Lawrenceville and Marlton
Kids' classes are offered primarily during the summer in cooking camps, but you can catch a family workshop on Saturday, September 3 at both locations. Family Fun: Pizza Night is for kids ages 8 and up plus an adult—participants will create pizzas on a hand-tossed crust, with homemade mint ice cream speckled with chocolate chips for dessert. Yum!
This post was originally published in 2013 and is updated regularly.