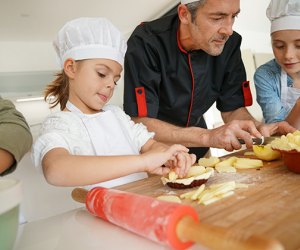 Cooking Classes for Kids in New Jersey
Whether you have an aspiring Ina Garten at home or you're just looking for something different to do with the kids, consider signing up for a fun, hands-on cooking class. These cooking classes for kids in New Jersey cater to all ages. Cooking classes not only teach culinary techniques, but they're also a great way to encourage kids to try new foods, master hand-eye coordination, and gain essential life skills.
For more enrichment ideas, visit our guide to Classes and Activities for Kids in New Jersey.
Subscribe to our newsletters to get stories like this delivered directly to your inbox.
Cooking Classes for Kids in North Jersey
Ages 4+
Located on Newark Avenue in downtown Jersey City, this warm and inviting cooking school offers a variety of programs for kids of all ages. A summer cooking camp is also offered. Bambino Chef is a popular choice for kids' birthday parties, too. Classes are offered virtually and in person; all in-person classes are drop-off only.
OUR LATEST VIDEOS
Ages 4+
Children can learn to cook breakfast, dinner, dessert, and more at this cooking school. Children ages 4 to 9 can enjoy drop-off cooking classes and summer camps. Teens and pre-teens can take intense, two-day themed workshops like "choco-palooza" or "thrill of the summer grill," plus choose from their own selection of camps and classes.
Ages 3+
HealthBarn offers hands-on, fun, and educational classes, summer camps, and holiday camps. Each week of the summer camp focuses on a different theme, and classes can be enjoyed remotely as well as in person.
Ages 8+
Tucked away in the back of the food market, the Cooking Studio allows kids ages 8 and up to get hands-on in the kitchen with a wide range of cooking and baking classes.
Ages 7 to 17
Montclair Culinary Academy's Junion Chefs program gets even the pickiest of eaters to try new cuisines, everything from dim sum and empanadas to the flavors of France and Peru, all while teaching proper culinary skills. Food safety, food science, and knife skills are all a focus. Classes are offered after school, during school breaks, and summer camp sessions are also held. If you're looking to bone up your own culinary skills, book an adult class or even a sip-and-cook session.
Ages 3+
Children's classes are offered year-round at this fully equipped cooking studio. Options range from easy recipes for younger children to more advanced techniques for older kids. Students learn about kitchen safety and nutrition in addition to preparing delicious meals each week.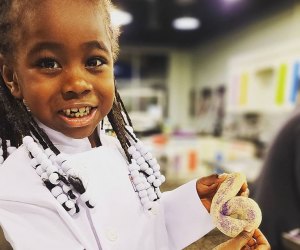 Learn baking and cooking at the Young Chef's Academy. Photo courtesy of the academy
Cooking Classes for Kids in Central Jersey
Ages 10+
Does your little one look forward to trips to the farmers market? They'll love learning to make dishes from local ingredients at this cooking school located on a working organic vegetable farm. Classes teach culinary basics, knife skills, and techniques, plus provide an introduction to cuisines from around the world. Summer camp sessions allow budding sous chefs to tour the farm, meet farm animals, and learn where our food comes from and how it is grown. ​Masks are required.
Ages 3+
Themed cooking classes for kids are offered year-round, with a summer cooking camp also an option. Little culinary geniuses can get in the kitchen with mommy-and-me cooking classes, while ages 10+ can opt for a Supper Club class, where they'll prep and eat a Friday-night meal. Older kids can go more in-depth with workshops focused on specific cuisines, like mastering the art of sushi making.
Ages 4+
Young Chefs offers a rotating schedule of cooking classes, all structured around a monthly theme. For instance, Leftover Takeover is all about finding creative ways to turn leftover ingredients into tasty meals. Classes are divided by age and include KinderCooks (ages 4 to 6 with adult), JuniorChefs (7 to 12), and Senior Chefs (13 to 18). Adult classes are also offered.
Cooking Classes for Kids in South Jersey
Ages 4+
Kids can skip straight to dessert with classes in cupcake decorating, candy making, and more at this longtime Jersey Shore sweet shop.
Ages 6+
Make a variety of sweet treats including unicorn cakes, sloth cupcakes, plus donuts, muffins, and scones at this South Jersey "edible art" depot. Parents are welcome to stay and assist younger children at some workshops.
Cooking Classes for Kids With Multiple Locations
Ages 2 1/2+
At Chef It Up, kids learn to prepare basic recipes in a fun-filled environment. Parent-and-me classes are available for younger children, while older kids can partake in sessions designed around age-appropriate themes. The facility can be reserved for birthday parties, field trips, and adult nights, too.
This post was originally published in 2013 and is updated regularly.