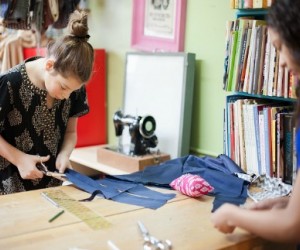 Best Fashion Classes for NJ Kids and Teens
Kids can be little trendsetters and fashionistas, and when it comes to their wardrobe, they definitely what they like and don't like. If your child has a keen interest in fashion and sewing, and vows to attend a fashion-oriented college someday, perhaps they'd be interested in one of New Jersey's kid-friendly fashion design classes. Here's a list of the top programs that your budding Rachel Roy or Zac Posen (Hey, you never know, right?!) may find engaging and informative. It's fun for kids to tap into their creativity-- and they can get their paint on, too!
The Handwork Studio (Montclair, Basking Ridge, other)
This is a kids' needle arts and fashion studio with locations throughout New Jersey. (During the academic year, they operate out of of a home-base location in Narberth, PA.) The Handwork Studio's mission is to pass down the tradition of teaching practical arts such as knitting, crocheting, hand and machine sewing, embroidery, quilting, fashion and crafts in a fun and relaxed environment. Classes for kids ages 5 to late teens include: Handwork Day Camp (5-12), Glamorize Your Doll Camp (ages 7-10), Fashion & Machine Sewing Camp (ages 9-15), and Award-Winning Fashion Boot Camp (ages 11-16).

FYI: The talented staff is comprised of professional artists, instructors and skilled teachers, dedicated to making each student feel special. The teaching philosophy is one that focuses on the students' accomplishments, and teachers will never criticize the student's work, but praise his or her efforts.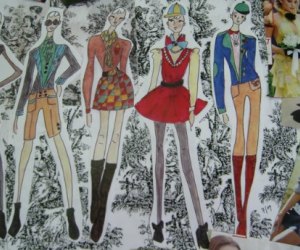 Bass Arts Studio (Montclair)
The Fashion Design Program teaches students the skills they need to turn their creative visions into reality and develop confidence that will last a lifetime. Bass offers classes year round for kids ages 6-18 as well as summer fashion programs.Students learn all the skills needed to sketch, design and sew their own clothing. Youngsters learn: How to design a clothing collection, fashion sketching & illustration, hand and machine sewing skills, pattern making, and more. They also participate in fashion shows, take a trip to NYC's Garment Center, and meet industry insiders.
FYI: The students meet some great industry folks, such as Jennifer Burnley, a Montclair resident and a personal stylist at the Short Hills Anthropologie store.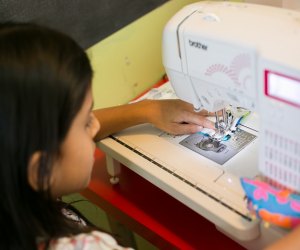 M Avery Designs (Hoboken)
At M Avery Designs sewing studio in Hoboken, basic sewing and design skills are taught to kids in first grade all the way up to 12th grade (and adults). M Avery Studio offers after school sewing classes, summer camps, private lessons, private parties/events at schools, and even classes for home-schooled kids. Students use sewing machines, as well as the needle and thread; popular projects for include fashion accessories, handbags, tote, hats, clothing, stuffed animals, toys, home decor items & more. Classes are a mix of beginners & experienced stitchers.

FYI: The classes are taught by seasoned teachers & instructors who also have experience in the fashion, design and/or sewing industry.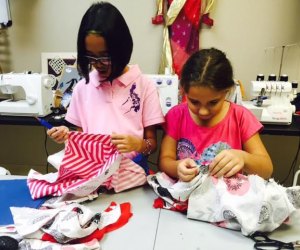 Bright Zebra Studio (Matawan)
Bright Zebra's fashion and sewing classes show kids how to use needles and threads and machines, how to create patterns for clothing, of course, and finally, make a garment. Groups usually complete a garment during each session; for example, they have made a shirt, skirt, dresses, pajama tops, and bottoms. The studio also offers special Sewing Workshops, such as Make Your Own Halloween Costumes.
FYI: Current fashion classes are divided up by age: Fashion Design and Sewing (ages 6-10), Fashion Design and Sewing (10-18), and Fashion Design and Sewing for 18+.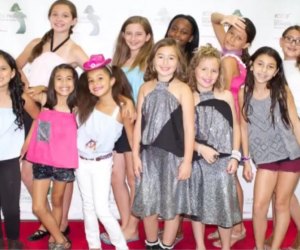 Karen's School of Fashion (KSOF) (Morganville; Little Silver, SoHo NYC)
The fashion design classes are for students ages 8 and up (kids, teens and adults); KSOF's also offers a mommy & me program for kids 3 to five. Overall, KSOF offers classes and camps in fashion illustration, pattern making, textile print design, draping, sewing, accessory design, and more. Kids and teen learn sketching, draping, sewing, pattern making, accessory, textile design and more. Additionally, KSOF offers an exclusive Fashion Show program that allows students to participate in the Annual Fashion Show at the end of the program. Private lessons, and fashion birthday parties are also available.

FYI: Founder Karen E. Lozner of karenecouture.com, graduated from the Fashion Institute of Technology in New York City and majored in Fashion Design and Production Management. She has worked for some of the finest brands including DKNY.
Future Fashionistas (Livingston)
Owner Hallie Dennis is a RISD and FIT-educated fashion designer by trade, with more than 20 years of experience in the ever-changing world of fashion. In Livingston, she currently shares her knowledge and experience to empower students to embrace their individuality within the world of fashion. Classes--all held in Livingston--include Beginner Sewing and Construction, Fashion Design, Sewing and Construction Design, Develop & Create, Sewing and Illustration, and more. Students participate in a groovy, yearly fashion show where they show off their talents.

FYI: Future Fashionistas' Fashion Design Program teaches students the skills they need to turn their creative visions into reality and develop confidence that will last a lifetime. Fashion birthday parties can also be arranged.

The Art Garage/StudioKids Art (East Orange)
The fashion-themed enrichment program for elementary and middle schools--called Fashion Passion!--is offered to schools that register for the program; such as Little Falls School 2 and 3 and Forest Ave school in Glenridge. In weekly Fashion Passion classes, kids learn how to draw the fashion figure, they create an outfit, design a "line" of fashion, create a label, build a fashion portfolio; the list of projects is endless.
FYI: Fall solo classes include Manga Studio, Learn to Draw Comics, and more.
photos: courtesy M Avery Designs (Megan Avery), Bass Arts Studio, Bright Zebra, Karen's School of Fashion
Originally published 2014