Why All the Butterflies, and What Are Good Spots To See Them?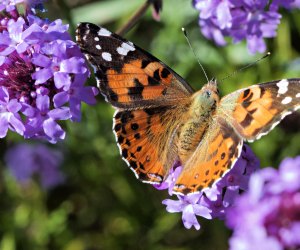 If you're one of the three remaining Angelenos who haven't yet noticed, run outside, quick, and take a look at the steady stream of butterflies flying north up your street! People all over social media are trying to photograph and video them, but the truth is it's tough to do; smart phones just aren't doing justice to this breathtaking phenomenon. So what's going on? Why is getting swarmed by magical winged creatures as easy as walking outside? We can explain—and we can offer some ideas of where to head, if the butterflies aren't outside your own front door.
First off, you're not seeing monarch butterflies or moths (your sweaters are safe); these butterflies are called painted ladies, and we're directly in their annual migration path from the Mojave and Colorado deserts to Sacramento and even Oregon. If you think you're seeing more than usual, though, you're right. Scientists say there haven't been this many painted ladies dancing across the state since 2005, when the population was in the neighborhood of 1 billion.
What accounts for all the painted ladies this year? Rain. Thanks to the drought-ending showers we've had this winter and spring, flowers have blossomed everywhere (maybe you've seen one of the wildflower superblooms already?). More rain means more flowers, even in the deserts where the painted ladies are based, and the vegetation gave the baby caterpillars plenty to eat.
So if you feel like a drive, you could go off butterfly spotting in the deserts; Joshua Tree, Death Valley, and Anza Borrego are all reporting more painted ladies than usual. But there is no need to go so far; our friends on Facebook are seeing them all over: Santa Monica, Palos Verdes, Burbank, Van Nuys, Southeast LA, San Bernadino—basically on northerly streets everywhere. We've seen people post FOMOish videos from Lake Balboa, from Griffith Park, and from Baldwin Hills Scenic Overlook.
This abundance is a welcome respite from the longtime trend of butterflies slowly disappearing from SoCal. According to the Los Angeles Times and a Xerxes Society for Invertebrate Conservation report, monarch butterfly populations have seen an 85% drop since last year and a 99.4% decline from 40 years ago. Worse, more than 20 other types of butterflies are disappearing faster than the monarchs.
Why are so many butterflies disappearing? Blame fewer open spaces, fewer butterfly-friendly plants, pesticide use, and climate change. Whether the rain will help other butterflies this year isn't entirely clear, as painted ladies are hardier than most butterflies. But plant some butterfly-attracting plants in your backyard and stash the pesticides, and you never know what 2020 will bring.
You can learn more about our SoCal butterfly population with a timely visit to the butterfly exhibit at the Natural History Museum or the upcoming Kidspace butterfly release.
And for now, enjoy the painted ladies while you can, since they will probably be gone in another week or two. But don't worry—they migrate back here from the north in the fall, so keep your eyes peeled then.