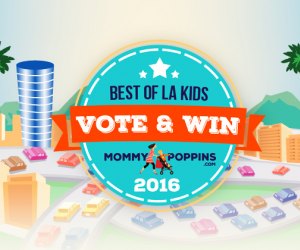 Help Us Choose the Best of LA: Vote for Your Favorite Spots and Win!
How do we love LA? Help us count the ways! We know that Los Angeles is the best place to raise kids, but even the best has its best. So we're counting on you, our Mommy Poppins readers and the most savvy parents we know, to help us pick the Best of LA. The best play spaces? We've got 'em. Family restaurants? We've got those, too. Swim classes, dance classes, and baby 'n' me? The greatest ones are all in sunny SoCal, along with the coolest theaters, museums, kindie bands, camps—heck, even our dentists are the best. But only you can tell us which is the best of the best, so we're asking you to vote for your favorites in all of these categories and more.
Of course, we know you're busy parents, so we've got some fantastic prizes lined up to thank you for sharing your expertise: how does a free bowling party at Lucky Strike sound? Or what about a family glamping trip at El Capitan Canyon? Or a year's worth of STEM activities delivered to your door? Or an Ojai Getaway? Give us 5 minutes and your expert opinions, then let us know which prize you'd prefer—it's a win-win for everyone!