Top Things to Do in Carmel-by-the-Sea for a Family Getaway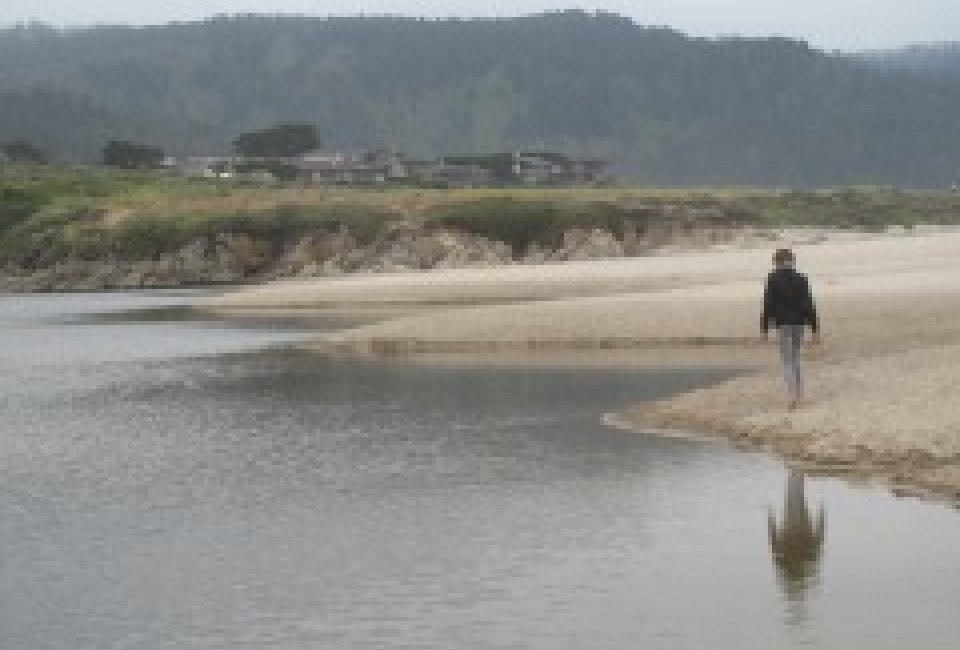 6/10/14
- By
Roberta B
From pristine beaches and the start of Big Sur to missions and kid-friendly wineries and even some wildlife, Carmel-by-the-Sea is a great relaxing family destination that adults and children will both enjoy. Imagine, if you will, spending the weekend someplace so laid back that comfortable shoes are mandated by city ordinance. For real. A place where businesses don't have street addresses and Main Street has more trees than signs. Or stop imagining and just hop on the 101 toward Carmel-by-the-Sea. We did just that and recharged the family batteries with a Carmel weekend - a treat of a getaway that I had not indulged in since I was a kid myself (decade to remain nameless).
Things to Do in Carmel-by-the-Sea
We based our weekend's activities at the pretty-in-pink Hofsas House, a family-run Bavarian inn rich in local art history (and so much of Carmel's history is art history). Its iconic mural by Depression era muralist Maxine Albro greeted us before we were even out of the car, and the unapologetically cheerful pink exterior of the 38-room hotel worked like rose-colored glasses, setting the tone for an all-things-good weekend. Though small and cozy by LA standards, Hofsas House is one of the largest hotels in Carmel - and the only one with a heated pool. And speaking of large, the family suite we enjoyed so much that my son barely wanted to go out could easily have accommodated a family of six or more. He loved the size; I loved falling asleep with a fire in the fireplace every night - what a treat!
But of course we did leave the room, and found far more to do in Carmel than I'd remembered. There's the beach with its signature white sand for a start. Our weekend was a bit cool and overcast for swimming in Northern California waters, but the beach is lovely to walk and play on all the same; the sand is smoother than anything my toes have felt in SoCal, and the views are gorgeous. (We planned on taking the hotel up on its nighttime beach fire and s'mores package, but the sea air tuckered us out too early!)
A short, scenic drive along the shore road leads to a spot where the Carmel River meets the sea, and the estuary there makes for fine bird (and polliwog) watching. The hotel sent us out kitted with binoculars (yes, rose-colored) to help with the birding. The binoculars also came in handy when we drove three more miles down the road to Point Lobos State Reserve, the official start of Big Sur. Carmel makes an excellent launching point for a Big Sur trip, whether you stay one night before delving deeper in, or all weekend making day trips into California's most famous piece of coastline. We only dipped our toes in, as a teaser for a future trip, and Point Lobos is the perfect spot to do that. If you're a State Park member, be sure to bring your parking pass; if not, you can either park inside for $10 or on the Cabrillo Highway for free and hike the half mile in. The woods and ocean views are as wonderful as you would imagine, and there are frequent sightings of sea lions, seals, and sea otters - particularly in April when pups pay visits to the shore. So yes, take Hofsas House up on those binoculars.
Another outing we enjoyed was the Carmel Mission (I have a fourth grader, and that's the missions year, if you hadn't heard). We've visited several of the California missions already - including a few on the drive home from Carmel - and I'm ready to call the one in Carmel my favorite so far. It's one of the oldest (1771) but in lovely condition, following an impressive and painstakingly authentic restoration documented in the mission's museum. If you've got a mission hunter in the family, s/he'll want to know that this is the one that houses the grave of Junípero Serra, father of the California missions. We spent the better part of an hour wandering the museum and gardens. (Admission: Adults $6.50, Kids 7+ $2)
All of this sight-seeing, of course, can make a person hungry, so it's a good thing there's so much incredible food in Carmel. I'm still thinking about the dinner of tapas we had at the Spanish restaurant Mundaka. For those who don't know, tapas are small, absurdly yummy Spanish dishes, a few of which together make up a meal. The result is lots of different flavors at one sitting; a table of four people might easily order 10-12 small plates. We got to indulge in all sorts of exotic flavors, and the staff takes great care of kids; my son enjoyed several kid-appropriate treats, plus a trip to the bar, where the bartender allowed him to invent his own fruit juice cocktail.
My son was equally wowed by The Grill, incidentally, where we ate the second night. The delicious steak I tucked into there was just the sort of indulgence I expected at a restaurant with that name, but my vegetarian son was surprised and delighted by an equally delicious pasta dish that surpassed his hungriest hopes. And again, very family friendly.
Our breakfasts were spent sitting by the fire in the Hofsas Lobby, where not-your-average pastries are laid out every morning with coffee, fruit, and yogurt. And for lunch? Well, one of the days we spent lunchtime cheese shopping at Carmel's decadent Cheese Shop, where pretty much every cheese you've ever dreamed of, and many more that you haven't, can be tasted. Don't get me wrong - we bought cheese; but by the time we were done tasting all the candidates, lunch would have been extraneous.
Speaking of tasting, there's another indulgence in town that's unexpectedly family friendly: wine tastings. The Wine Walk Passport offers nine stops out of a dozen tasting rooms around the town, each one offering a flight of four wines to passport holders. The beauty of this, apart from several delicious wines to try, is that everything is within walking distance, and all of the tasting rooms welcome kids - and even dogs.
Speaking of dogs, the entire weekend could have been done as easily with a dog if we had one. Canine family members are welcome at Hofsas House (and given pink frisbees to take the beach), and generally more welcome everywhere in Carmel than high-heeled shoes. That ordinance I mentioned? It's for real: no high-heeled shoes are allowed in town. But everyone seems quite happy to substitute flip-flops, as they walk their dogs and take their kids wine tasting.
A final word about the route to Carmel, which is obviously closer to San Francisco (about two hours away) and so perhaps not too prominent on SoCal families' radar. We drove up the scenic 101, which took about five and a half pleasant hours. The 101, of course, is the old Camino Real, the road that connects California's 21 missions. (Did I mention I've got a fourth grader?) As we drove north, we chose which missions we would break up our drive with on the way back south, and the drive home was a mini-vacation all of its own. Check this space for tales of our visits to the missions of San Miguel, Santa Ynez, and San Luis Obispo. We even managed a pastry stop in Solvang - so for sure don't be put off by the drive; we really enjoyed it.
And we'll be going back to Carmel. I promised someone I'm related to.