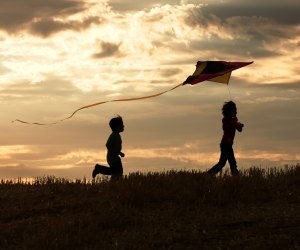 Best Places to Fly a Kite on Long Island
With an average wind speed of 12.2 mph, did you know that New York falls within the top 20% of windiest cities in America? With Long Island's expansive shoreline, the wind is even stronger in many parts of the 516/631/934. Set your sights on the sky with these kite-flying hot spots on Long Island. You'll have the wind blowing through your hair as your family (and casual bystanders) admire colorful kites soaring through the air. Check out this map from Long Island State Park HQ and fly with others at the Long Island Maritime Museum's annual Kite Festival on Sept. 18.
Some things to note before you head out in search of an easy, breezy spot. There are several protected areas that are critical for some species survival. For example, look for piping plover nesting signs and be sure to steer clear of them. Before you set flight, look above for power lines and tree limbs that your kite may get caught on. Check the skies and use a weather app to make sure there isn't a storm looming. Lightning and kite flying do not mix, as we learned from Ben Franklin. Wind speeds between 5 and 25 mph are ideal for kite flying.
Nassau County
Bethpage State Park
99 Quaker Meeting House Rd, Farmingdale
The picnic areas have open fields that provide a vast, green landscape for kite flying.
Jones Beach State Park
1000 Ocean Parkway, Wantagh
Park in Field 6 lot and walk east for prime kite flying spots. Paid parking Memorial Day to Labor Day. After 4pm is free.
Hempstead Lake State Park
Eagle Avenue, West Hempstead
There's an open area just south of Schodack Pond, (off Woodfield Road) that is optimal for kite flying.
Suffolk County
Belmont Lake State Park
625 Belmont Ave., West Babylon
Set sail in the sky between the bathrooms and the lake.
Heckscher State Park
1 Heckscher State Parkway, East Islip
There are a few special spots you can hoist your kite here. Fields 1 and 6 (east of the picnic area).
Captree State Park
3500 Ocean Parkway, Babylon
With the ocean as your backdrop, head to the parking lot at Overlook Beach for an ideal kite flying setting.
Orient Beach State Park
40000 Main Road, Orient
At the shoreline east and west of the refreshment stand, kite flyers can fly freely with the ocean waves lapping below.
Montauk Point State Park
2000 Montauk Hwy, Montauk
On the beach, just west of the refreshment stand is where you can fly a kite at The End of Long Island.
When buying a kite, you often get what you pay off. But more expensive kites can often require greater skill. Do your research before making a purchase. Also, never let younger children handle a kite. Not only can the string be a hazard, but it can also be made out of dangerous materials (depending where the kite was manufactured).
Kite flying is an amazing and joyful hobby. Here's to happy skies!
Photo: Two children enjoy flying a kite during sunset. Shutterstock