5 Museums and Classes Where Long Island Kids can get Scientific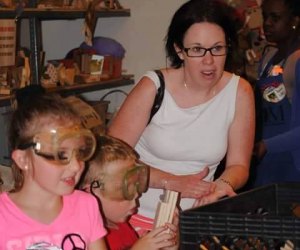 There's no denying how important science is to a child's overall education. In fact, excelling in this subject has been proven to help kids excel in other subjects in school, including math, reading and language. So if you have a budding little scientist on your hands, this is an interest you definitely want to help them explore. Luckily, there happens to be a few places right here on Long Island that cater to students that want to stretch their scientific brain muscles outside of school. The entire family can even join in and experience hands-on experiments and science learning at these five places.
And for other enrichment programs, be sure to check out our Long Island Classes Guide.
The Long Island Science Center
21 North Country Road, Rocky Point
631-208-8000
The relocated Long Island Science Center, which prides itself on "bringing science to live," is open every Saturday during the school year from 11am to 4pm and offers weekly-themed exhibits and activities.
Girl Scouts of Suffolk County STEM Center
Camp Sobaco, German Boulevard. Yaphank
631-924-6433
Knowing that an education in STEM is becoming increasingly important to kids, Girl Scouts of Suffolk County has opened a 4,500-square foot STEM education center, which offers kids an opportunity to explore science, math, technology and engineering throughout the year. The council offers programs to both schools and girl scout troops, including ones related to static electricity, catapults, clean water, butterflies and clouds.
Mad Science of Long Island
Carle Place
516-620-6768
For a seriously entertaining science experience, Mad Science of Long Island will come to you, providing a unique, hands-on science experience for children of all ages. The franchise, which is over 25 years old, offers, in addition to school programs, birthday parties and workshops, as well as summer camps at locations in both Nassau and Suffolk.
Brookhaven Lab Science Museum
Camp Upton, William Floyd Parkway, Shirley
631- 344-4495
You can't find enough science at the Brookhaven National Lab, which offers a number of hands-on STEM programs and opportunities for kids in grades K-12. During the school-year, the lab provides classroom visits, but in the summer, it opens up several workshops for kids and also provides family science sessions every Sunday.
Science Museum of Long Island
1526 North Plandome Road, Manhasset
516-627-9400
Your family can explore science together at the Science Museum of Long Island through a variety of programs. The center offers after-school workshops from 4pm to 5pm for elementary school children, as well as birthday parties and summer camps. In addition, the museum is open on various holiday, offering programs including candy chemistry, strange science and biological bonanza.