30 Things to Do Over February Break With Long Island Kids
No matter what you call it...February break, midwinter vacation, or Presidents Week, your kids will be home from school for a whole week and you need ideas to keep them busy.
Well, we've got exactly what you need: a list of 30 family-friendly events happening across Long Island during school break, February 18-22 (most private schools are also closed that week). Of course, we think these events are timeless enough to be enjoyed whenever your children are home.
From one-day and weeklong camps to outdoor ice skating, indoor swimming, museums, and aquarium events, our roundup of activities will get your kids up and out of the house. Some events might cost you, but plenty are FREE or low cost, so there's no excuse to not try at least one.
And for more ideas, check out our list of camps and classes during February break as well as our February GoList and Winter Fun Guide.
1. Hit the Lanes. Bowling alleys have been a staple on Long Island since forever, but my how they have changed. Most venues now include full-service restaurants (and bars for the adults), high-tech arcade and game rooms, and themed events. Check out these family-friendly bowling alleys in Nassau and Suffolk counties and on the East End.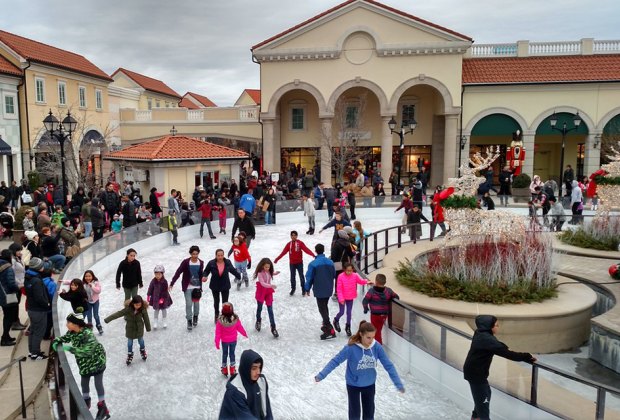 Shop then skate at Tanger Outlets in Deer Park. Photo courtesy of the Tanger Outlets
2. Try Ice Skating. Whether your family prefers to bundle up and do its skating outdoors or head indoors, somewhere on Long Island there is a rink just right for your family. Check out our roundups of the best indoor and outdoor rinks. Celebrate the Lunar New Year at the Port Washington Skating Center. Some rinks are town-run facilities and offer discounted rates for residents.
3. Or Roller Skating. If ice skating isn't your family's thing, roller skating might be more its style. With most rinks boasting music and colorful lights, it's a great way to work off some of that kid-sized energy. Check out our list of the best roller rinks on Long Island.
4. Go Camping. We're not talking tents, of course, (too cold for that). We mean the daily and weekly camps that pop up all over the Island during February break. There's plenty going on at the Nassau County Museum of Art, the Center For Science Teaching and Learning, Sweetbriar Nature Center, and the Vanderbilt Museum, just to name a few. See our complete guide to camps and classes for more ideas.
RELATED: The best indoor play spaces for LI toddlers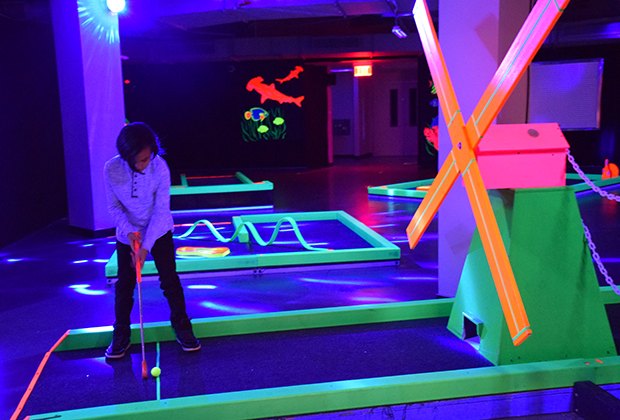 Sharpen your putting skills under the lights at Glowgolf. Photo courtesy of Glowgolf
5. Indoor Mini-Golf. Here's a whole new spin on mini-golf: Indoor venues that feature glow-in-the dark courses. Try Glowgolf in Garden City or Monster Mini Golf in Deer Park.
6. Aquarium Fun-cation. From movies to crafts and games to touring exhibits, there's plenty to keep your kids busy at the Long Island Aquarium's weeklong camp. Kids ages 6-13 can go for the week or for one or more days. Registration is required.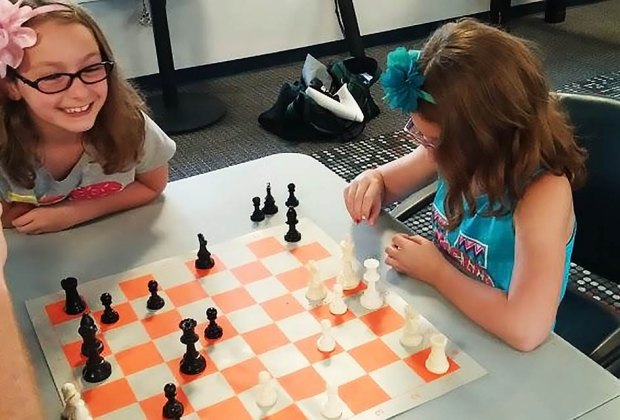 Beginners are welcome to learn the ancient game at a meeting of The Southampton Youth Bureau's Chess Club. Photo courtesy of the youth bureau
7. Play Chess. Kids in grades K-12 can discover the challenging world of chess with the help of the Southampton Youth Bureau's Chess Club. It meets on Tuesdays, including February 19.
8. Kitchen Closed. Shut down the kitchen and treat everyone (especially yourself) to a dinner in a family-friendly restaurant. To keep it budget-friendly, check out our roundup of Long Island restaurants where kids eat for free.
9. Day Trippin'. Pile into the car and take a drive out of your neighborhood and into one you haven't visited in a while … or ever. Explore the quaint shops and restaurants in scenic harborside villages such as Northport, Port Jefferson, or Cold Spring Harbor. In Nassau, consider Port Washington or Glen Cove. Maybe head to the East End to see what's happening in Riverhead and Greenport, or hop on the LIRR and head into NYC for the day.
RELATED: 100 things to do with LI kids before they grow up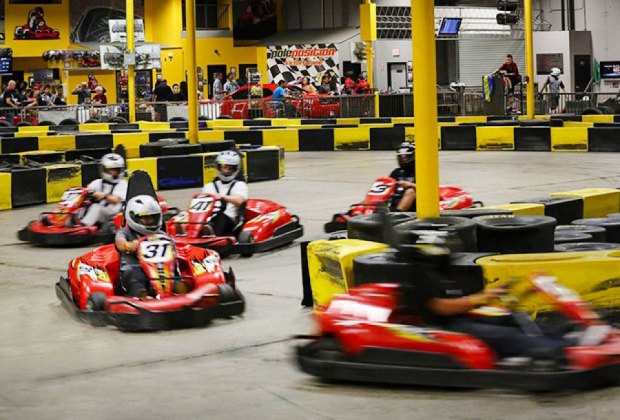 Pick up the pace at Pole Position Raceway in Farmingdale. Photo courtesy of the raceway
10. Go for a Spin. Here's something for older kids: go-kart and slot car racing. There are a number of indoor and outdoor spots on Long Island. Most have minimum height requirements, so be sure to check individual websites.
RELATED: Great rainy-day activities for LI kids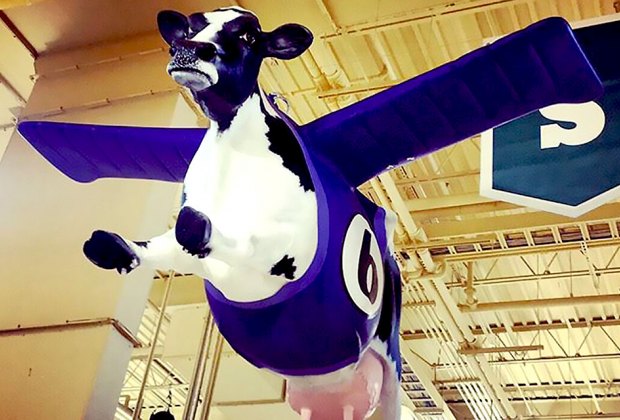 With animatronic animals and costumed characters, Stew Leonard's is a whole lot more than a dairy store. Photo courtesy of Stew Leonard's
11. Take the Kids Shopping. Kids seldom get excited by a trip to the food store, but Stew Leonard's is no ordinary supermarket. Dubbed the "Disneyland of Dairy Stores" by The New York Times, kids visiting the Farmingdale or East Meadow stores are entertained by costumed characters, animatronics, and more. Enjoy Slime Time on Tuesday, February 19 in Farmingdale. Or after hunting for holiday shopping-mall bargains, you can skate on the ice at Tanger Outlets at the Arches in Deer Park.
12. Open Play. Head to the Long Island Sports Complex in Freeport for some indoor play time. A variety of sports are available, including kickball, football, soccer, and more.
13. Arts and Crafts. Plenty of venues offer daily and weekly workshops at which kids can explore painting, drawing, crafts, and more. Try Golden Eagle Art Store, As You Wish, and the Gold Coast Arts Center.
14. Discover Nature. At Sweetbriar Nature Center, kids can attend camp for the week or for a day. This year's themes include "How to Train Your Bearded Dragon," "Even Animals Bundle Up," and more.
15. Books and Beyond. Spend an afternoon at your local library and let your kids experience the pleasure of browsing through the shelves. Children's sections are equipped with puzzles and games, and most libraries offer free storytimes, museum passes, and plenty of other perks.
16. Winter Workshops at the Vanderbilt. During Presidents Week, the Vanderbilt Museum offers a number of workshops for kids, incorporating fun, history, and nature.
17. See a Show. Catch these live performances and others at local playhouses across Long Island: Cinderella, Aladdin Jr., Jack and the Beanstalk and The Little Mermaid Jr.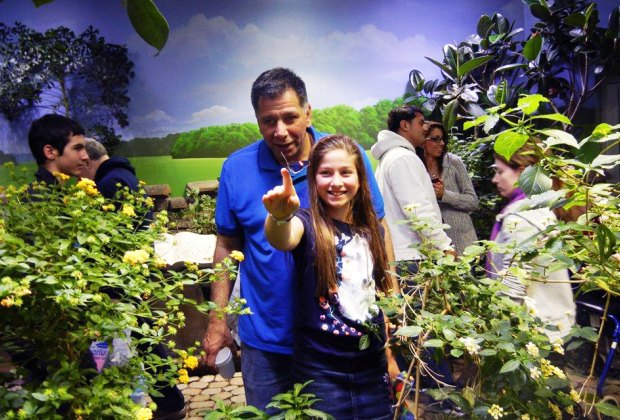 Discover the marine world and more at the Long Island Aquarium. Photo courtesy of the aquarium
18. Aquarium Fun. Visit the Long Island Aquarium for a day of fun exploring underwater creatures, petting penguins, and learning about the Amazon rainforest. Kids can also attend the weeklong camp.
RELATED: Great winter day trips for LI families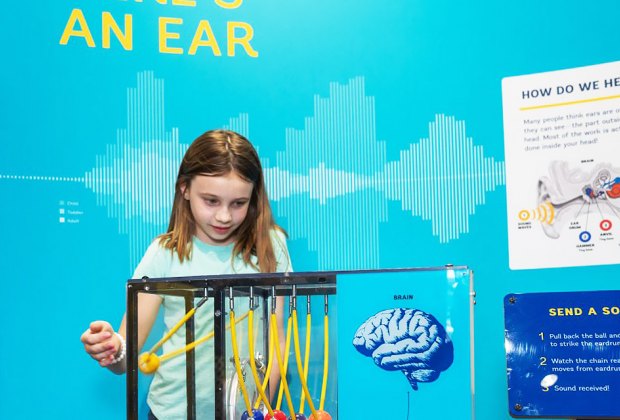 The Long Island Children's Museum's traveling exhibit Sonic Sensation explores the science of sound. Photo courtesy of LICM
19. Now Hear This. Discover the science of sound and hearing at the Long Island Children's Museum's newest traveling exhibit Sound Sensation.
20. Take a Dip. Summer is right around the corner … or at least you can pretend it is. Dive into one of Long Island's many family-friendly indoor swimming pools.
21. Calling All Techies. Geek out, have fun, and learn at the Long Island Explorium's STEAM Winter Break Mini Camp. Enjoy five days of workshops, each focusing on a different theme. Taught by qualified educators and teachers.
22. Learn and Play. Enjoy hands-on science experiments and more at the Center for Science Teaching and Learning's winter break camp. Garvies Point Museum and Preserve offers plenty of indoor and outdoor crafts and activities during the break.
23. Outdoor Fun. Children get to explore the outdoors at Quogue Wildlife Refuge's Winter Wildlife Camp. They'll take a hike, meet some animals, and create a craft. Be sure your child is dressed appropriately.
24. Puppet Play. The Ward Melville Heritage Organization is hosting "Hibernation Creations," a unique, three-day puppet-making and science workshop presented by a professional puppeteer. Kids learn about animal migration and hibernation.
25. Something Fishy. There are plenty of goings-on at the Cold Spring Harbor Fish Hatchery and Aquarium, including live exhibits, trout fishing, story times, and more.
26. Whale of a Time. The Whaling Museum & Education Center in Cold Spring Harbor offers drop-in craft workshops throughout the week at which kids can explore Long Island's rich maritime history.
27. All About Art. Head to a museum and let your child discover the world of art. Storytime and art go together perfectly at the Long Island Children's Museum's stART (story + art) program.
28. Flip Out. Work off some of that energy at M.A.T.S.S. Kids' Gym. Mini camps at two locations, Bellmore and Syosset, include gym activities, crafts, snacks, and more.
29. Go Sledding. If we get snow during the week off, bundle up the kids and grab those sleds. We've updated our list of the best family sledding spots on Long Island. Then, warm up with a steaming cup of hot cocoa.
30. If it's too cold for outdoor activities, check out our list of 50 things to do indoors with Long Island kids to keep your family happily and warmly entertained.
This post was originally published in 2018.