25 Things to Do Over February Break on Long Island With Kids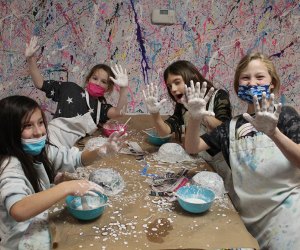 No matter what you call it: February Break, Midwinter Break, or Presidents Week, your kids will be home from school for a whole week, and you need ideas to keep them busy.
Well, we've got exactly what you need: A list of 25 family-friendly events happening across Long Island during school break, which runs from Monday, February 21, through Friday, February 25. Of course, we think these events are timeless enough to be enjoyed whenever your children are home.
From one-day and weeklong camps to outdoor ice skating, family-friendly museums, and aquarium events, our roundup of activities gets you up and out of the house. Of course, this year, we've found a few virtual activities, too.
For more ideas, check out our list of 28 fun things to do with Long Island kids this winter and our Winter Fun Guide.
Please call or check websites before heading out to any event for potential cancellations or for COVID safety details.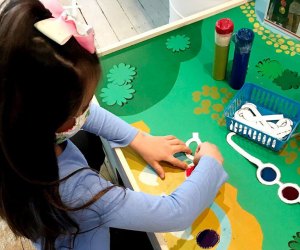 Mask up and get a group of friends together for a private play session at the Long Island Explorium.
Indoor Things to Do on Long Island During February Break
1. Plan a Playdate
Head to the Long Island Explorium with your squad for a private, 90-minute play session for up to five guests. Of course, this harborfront museum is just a small part of bustling Port Jefferson.
2. Hit the Lanes
Visit one of the bowling alleys in Nassau or Suffolk counties or on the East End.
3. Roll Around
Get groovy at United Skates of America in Seaford, which offers roller skating fun for all ages.
RELATED: Winter Fun Guide For Long Island Families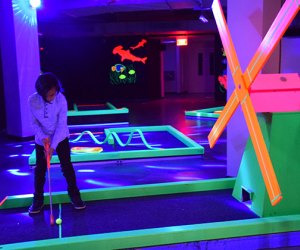 Sharpen your putting skills under the lights at Glowgolf.
4. Take a Shot in the Dark
Enjoy a whole new spin on mini-golf at these glow-in-the-dark courses. Try Glowgolf in Garden City or Monster Mini Golf in Deer Park or take your game to the next level at the newly opened Topgolf.
RELATED: 100 Things To Do With LI Kids Before They Grow Up

Say hello to the "residents" at the Long Island Aquarium.
5. Visit the Penguins and Others
From movies to crafts and games to touring exhibits, there's plenty to keep your kids busy at the Long Island Aquarium's weeklong camp. Kids ages 5-11 can attend for a single day or the whole week. Pre-registration is required.
6. Get Crafty
Enroll in an arts-and-crafts half-day session at As You Wish in Merrick or check out these studios offering on-site classes.
RELATED: 11 Inexpensive Winter Weekend Getaways for NYC-Area Families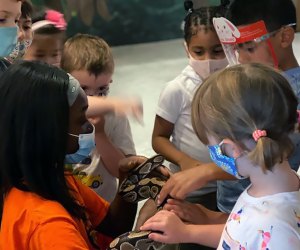 Meet the wildlife at the Center for Science Teaching and Learning.
7. Enjoy Hands-On Learning
Try some science experiments and more at the Center for Science Teaching and Learning's winter break camp.
8. Channel Willy Wonka
Learn how to decorate chocolate lollipops during a guided workshop at Stony Brook Chocolate.
9. See Outer Space
Kids will flip for Gold Medal Gymnastics' Outer Space Adventure Camp.
RELATED: Nature Centers Sure to Delight Long Island Kids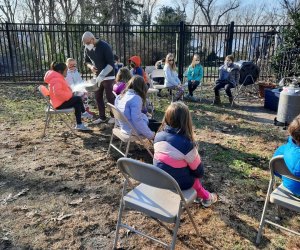 Indoors or out, kids will delight in a workshop at the Science Museum of Long Island.
10. Explore a New Area of Science, Engineering, History, or Nature
Sign up for the Science Museum of Long Island's drop-off workshops during the winter break. This in-person series has a sweet ending: maple sugaring!
11. Satisfy Your Sweet Tooth
Whether you're craving a scoop, sundae, or shake, seek out an old-fashioned ice cream spot for a sweet treat or check out a newly opened doughnut shop.
12. Act Out
Kids ages 7-12 can participate in Bay Street Theater's My Life the Musical camp.
13. Save Some Dough
Treat everyone (especially yourself) to a dinner at one of these restaurants where kids eat free.
Outdoor Things to Do on Long Island During February Break

Garvies Point Preserve boasts a natural shoreline, meadow, and woodland environments. Photo by Malena Hoefling
14. Find a New Favorite Playground
Check out the swings and spinning discs at Garvies Point Playground and then explore the kid-friendly city of Glen Cove.
RELATED: Indoor Water Parks Open Now for a Warm Getaway Near NYC

Out on the East End? Hit the ice at Buckskill Winter Club.
15. Perfect Your Figure 8s
Take a spin on one of the outdoor ice skating rinks on Long Island open now.
16. Go For an Artsy Stroll
Walk around the outdoor sculpture exhibit at the Parrish Art Museum, which is laid out on 14 acres. Bonus: Leashed dogs are welcome. We've found 11 other outdoor art destinations nearby, too.
17. Have A "Reely" Good Day
Tour the aquariums, ponds, and other exhibits at the Cold Spring Harbor Fish Hatchery and Aquarium before checking out its catch-and-keep fishing program. Or drop a line at one of these other Long Island spots.
18. Commune With Nature
Visit Sweetbriar Nature Center's Winter Discovery Days, where kids ages 5-11 can attend one-day or weeklong camps.
19. Explore the Outdoors
At the Quogue Wildlife Refuge's Winter Wildlife Camp kids can take hikes, meet some animals, and create a craft. Be sure your child is dressed appropriately; this program is entirely outside.
RELATED: Caleb Smith State Park Preserve: Five Things To Do at This Scenic Long Island Park

Wander the trails at the lovely Sands Point Preserve.
20. Visit a Castle
Explore the Sands Point Preserve with its lush lawns, trails, and more. Seek out the Dino Trail and follow the footprints into the forest.
21. Head For the Hills
If we get snow during the week off, bundle up the kids and grab those sleds to hit one of the best family sledding spots on Long Island.
22. Try a New Winter Sport
Ready for more outdoor winter fun? Try a winter walk or go cross-country skiing.
At-Home Activities for Kids During February Break
23. Have a Dance Party
Blast some of these kid-approved tunes and rock out.
24. Get In the Kitchen
Try one of these recipes your little ones will love creating as much as eating.
25. Bust Boredom
Stay inside and check off a few of these great indoor activities.
This post was originally published in 2018 and is updated annually.
Unless noted, photos courtesy of the venues