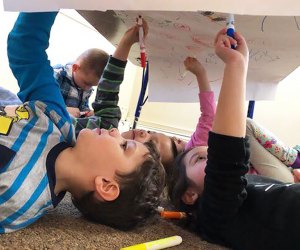 11 Preschools in Suffolk County for Long Island Kids
You might get misty-eyed thinking about sending your little one off to preschool, but you know he or she is ready, and September is just around the corner. With so many options available in Suffolk County, choosing the right preschool can be overwhelming.
We're here to help with our picks for preschools in Suffolk. While location might play a role in your choice, consider the school's teaching philosophy and take some time to tour a few schools with your child.
Families in Nassau can check out our list of preschools to consider, and if you're interested in Montessori preschools, we've got you covered there, too. Head over to our complete guide to Long Island preschools for even more helpful information.
Creations Early Childhood Learning Center – Sayville
All instructors at Creations are state-licensed teachers. Students, from 2-5 years old, benefit from enrichment classes such as dance, art, yoga, and French. The "Candies" program for 3-year-olds focuses on discovery and instilling a love of learning at a young age. Families can look forward to enjoying performances by their children throughout the year as they showcase all they've learned.
HabiTots Preschool – Medford, Middle Island
Family-owned and operated for more than 20 years, HabiTots offers two locations in central Suffolk County. Instructors guide students through learning and discovery via play and teachable moments. The school boasts state-of-the-art security equipment in a clean and pleasant environment. Before- and after-school care, as well as enrichment programs, are offered for all half-day and full-day programs.
Kiddie Fit Community Preschool – Riverhead
The Kiddie Fit program incorporates academics with health and wellness. To encourage lifelong wellness practices, students learn developmentally appropriate physical activities and healthy nutrition. Children are not only provided with healthy snacks, they learn about where fruits and vegetables come from and help prepare the food. Currently, the program is offered Monday-Friday from 9-11:45am.
Lyrical Children's Pre-School & Learning Center – Calverton
With a focus on the arts, students at Lyrical Children explore and learn through creative play and educational activities that include music and art. This is a screen-free environment, so don't expect kids to be sitting in front of a computer or tablet. Instead, students have access to natural outdoor play spaces, musical instruments, art supplies, and dramatic play equipment. This school only offers half-day programs.
Mill Pond Child Care – Stony Brook, Port Jefferson Station
The curriculum at Mill Pond includes plenty of hands-on education through games and real-life experience such as growing a garden, mailing a letter, and cooking. The Stony Brook location is conveniently located near Stony Brook University and those associated with the university might qualify for a tuition discount.
RELATED: 10 questions to ask during a preschool tour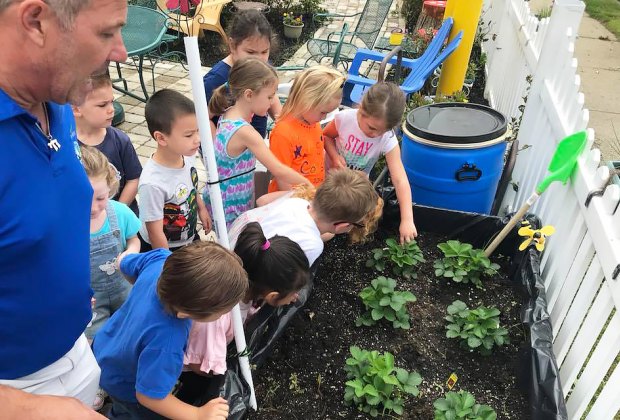 Kids can get an early introduction to hands-on learning at Miss Midgie's Preschool.
Miss Midgie's Preschool – West Babylon
You can find the owner and school director, Midge Leavey, interacting with students and parents here on a daily basis. The curriculum uses a mindfulness approach that encourages children to consider the feelings of others and promotes esteem-building. School break camps are offered as well as babysitting services.
St. Joseph's Nursery School – Babylon
Learning through play is the educational philosophy at St. Joseph's. Students follow a schedule, but are given time to experiment and explore things that interest them. Flexible morning and afternoon programs are offered, and parents have the option of adding activity programs for additional days. The school is affiliated with St. Joseph's Catholic Church in Babylon.
Smithtown Nursery School – St. James
Smithtown Nursery School offers programs from toddler mommy-and-me programs to half-day programs for ages 3 and 4. Children begin their day with meeting time that allows them to share something special with the class, and to discuss the day's schedule. Programs for 3 and 4-year-olds are enhanced by field trips out into the community including the post office, farm, fire station, and dentist's office.
STEP Academy – Smithtown
This preschool incorporates a sports curriculum into its daily schedule in addition to state-approved academic programs. Students have access to a gym and outdoor fields, where team sports are taught and practiced. Students even can take part in yoga and nutrition classes. Through sports and physical education, students learn problem-solving and social skills. Literacy, math, and science are even integrated. The school also has a location in East Meadow, in Nassau County.
RELATED: Ways to ease the preschool transition, for kids and parents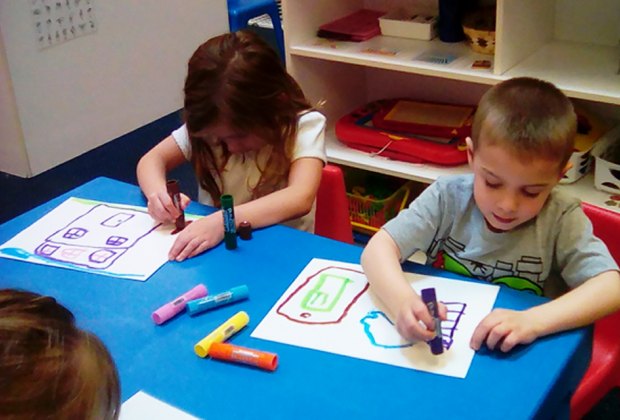 The individual needs and interests of each student are targeted at Storybook Kids in West Islip.
Storybook Kids – West Islip
Early preschool begins at age 2 at this child care center. The preschool program for kids ages 3-4 focuses on the individual needs and strengths of each student. Students learn in a hands-on environment and work toward skills such as pre-reading and writing, pre-math, and social skills. Before- and after-school programs are offered along with busing for in-district students.
West Hills Montessori – Huntington
Located on the 18-acre campus of West Hills Day Camp, this Montessori school offers classes for toddlers up to sixth grade. The preschool program uses a hybrid Montessori program that provides an accelerated curriculum. Students regularly use the outdoor classroom learning environment that includes a living pond with plants and animals.
Photos courtesy of the schools