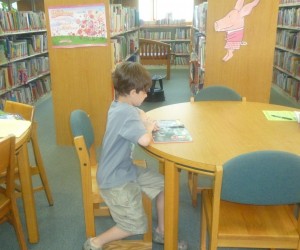 5 Suffolk County Libraries with Fun, Free Family Events This Summer!
Some of the best fun and free events this summer are being held in your own backyard at your local library. Library calendars are jam-packed with both fun and educational programs that cater to a wide variety of kid's interests from animals and outer space to American Girl and LEGOs. We've rounded up five Suffolk County libraries that not only offer wonderful programming to their own patrons but also generously open their doors to neighbors all over the Island for some very special free events. Also check out Great Free Fun at Long Island's Libraries and The Best Long Island Libraries.
Cutchogue New Suffolk Free Library
27550 Main Rd., Cutchogue
631-734-6360
Cutchogue New Suffolk Free Library generously opens very special events to families from all neighboorhoods on Long Island. Couple one of these fun family events with a visit to one of the beautiful beaches, farms, or vineyard located on the Long Island's beautiful North Fork for a fun-filled family day.
The Fuzzy Lemons Concert
Kindie-rock band The Fuzzy Lemons will be the very special guests of Cutchogue Library, in partnership with several other North Fork libraries, on Tuesday, July 10, from 6 to 7pm. Head to Silversmith's Corner in Southold and jump, wiggle, and shake to the Fuzzy Lemons laugh-out-loud lyrics and memorable melodies.The show will be full of fun, inspiring kids of all ages to dance and sing along with music the whole family will love! In the event of rain, the show will be held at the Southold Presbyterian Church.
Brady Rymer Concert
Join several North Fork libraries as they host kid favorite and Grammy nominee Brady Rymer at Mitchell Park in Greenport on August 2 from 6 to 7pm. Enjoy Brady's melodic assortment of toe-tapping songs for "kids with a rock 'n' roll heart!" Bring along a folding chair or blanket. In the event of rain, the concert will be moved to the Greenport School.
Family Farm Day with performance by Darlene Graham
Come on down to Charnews Farm in Southold for the 3rd Annual Family Farm Day on Saturday, August 4th, from 11am to 2pm. The Peconic Land Trust, East End Education Enrichment Coalition
(4EC) and the Southold Mothers' Club will cohost a bushel of kid-friendly activities! Dance to original music by musician Darlene Graham! Meet farm animals and see birds of prey! Go on a garden treasure hunt, see how sheep are sheared, and make some farm-themed crafts. Storytelling from local librarians, pony rides, and local food presentation from Slow Food educators will be available as well. Event will be held rain or shine!
Musical Playground
Join Cutchogue Library on August 8 from 1 to 2pm on an adventure through the musical playground. Kids will sing, dance, and laugh using instruments like the peace pipes and jembe drums. The program uses songs and beats from around the world to expand their knowledge of melody, rhythm, harmony, pitch, and timbre.
Grins & Grins
Head to Silversmith Corner in Southold on August 10 from 4 to 5pm to see Grins & Grins. Ray and Erin Grins are sure to make families smile with their action-packed show featuring comedy, madcap antics, juggling, spinning plates, and tons of other circus skills, along with lots of audience participation.
Bubblemania
Come see Bubblemania on August 16 from 10 to 11am at the Cutchogue Village Green. Bubblemania is is loaded with visual comedy, quick wit, big-band swing music, and the untamed, often unbelievable qualities and beauty of bubbles. Event will be canceled in the event of inclement weather so call ahead before leaving home.
In addition to these special events, nonpatrons are welcome to register for select weekly programs such as Family Flicks Fridays, Open House Crafts, and Kid's Creation Cave. See newsletter for more information.

Floyd Memorial Library
539 1st St., Greenport
631-477-0660
Floyd Memorial, in partnership with several North Fork libraries, cohosts some of the special events we highlighted under Cutchogue Library. Floyd Memorial library generously welcomes patrons and nonpatrons alike to participate in some unique events it will hold throughout the summer. In addition to what's listed below, off-site trips to kayak, to collect seashells at Orient Beach, and even a discounted group trip to Country Fair in Medford are all offered. Check newsletter for more information and be sure to call and register. Spots will fill up quickly. Greenport is another great spot to spend the day with your family. Try to catch the brass ring on the antique carousel in Mitchell Park and get ice cream in Greenport Village while you're there at one of these great events.
Art & Story Writing on the Bay
Board Glory, a solar/electric boat for a two-hour cruise from Preston's Dock on Saturday, July 21, from 9 to 11am. Open to children grades 3 & up. Rain date: Sunday, July 22, from 9 to 11am. Call for registration information.
Music with Darlene Graham
Visit the library on Monday, July 23, at 1pm for an interactive, hand-clapping, foot-stomping fun time with Darlene Graham. Call for registration information.
Ice Cream, Story and Carousel Ride
Meet at the library on Friday, July 27, at 10am for this annual event and walk to Mitchell Park. If raining, the event will be canceled. Call for registration information.
Buttons on the Bay
Meet at Preston's Dock on Tuesday, July 31, from 9 to 11am and board the Glory. Kids will create their own nature art button inspired by the beauties of the Peconic Bay. Call for registration information.
Theatricks Magic Show
Visit the library on Thursday, August 9, at 1pm for Theatricks, a family magic show sure to amaze the entire family. Bring a chair or blanket. In case of rain, the program will be held indoors. Call for registration information.
Dunegrass Family Concert
Meet at the library on Friday, August 24, at 6pm for an outdoor bluegrass concert in the garden. Bring picnic baskets, blankets, chairs, and children and grandchildren for a multigenerational good time.
Mattituck-Laurel Library
13900 Main Rd., Mattituck
631-298-4134
Mattituck-Laurel Library is another North Fork library that cohosts some of the very special events we highlighted under Cutchogue Library. In addition to those events, Mattituck-Laurel welcomes all families to some very cool special events hosted at the library.
Johnny the K Family Show
Visit the library on Wednesday, July 11, at 6:30pm to see John Kelleher, an award-winning children's performer, with his 12-string guitar and trunk full of zany hats and disguises.There will be music, comedy, dancing, and lots of fun for the whole family.
Creatures of the Night
On Wednesday, July 18, at 6pm Mattituck-Laurel Library brings you Creatures of the Night. Enjoy a presentation by Animal Adventures and experience live creatures of the night.
Lasermania Spectacular
Prismatic Magic brings high-tech dazzling laser animations and imagery synchronized to some of your favorite current pop and rock music to the library on Wednesday, July 25 at 6:30pm.
Animals, Animals!
Join Jason of Green Meadows Farm for an exciting wildlife show. Meet Stickers the Tree Frog, Toothpaste the Turtle, Tickles the Hedgehog, and other lovable creatures, bugs, and baby animals. Dance and sing with a fluffy chicken! They will all be on hand at the end-of-summer celebration on August 15 at noon, courtesy of the Friends of the Library. Come hungry for free hot dogs with all the fixings.
Westhampton Free Library
7 Library Ave., Westhampton Beach
631-288-3335
The Westhampton Beach "Kids on the Green" Summer Enrichment Program is held every Tuesday evening in July and August this summer at the Gazebo on the Village Green located at Main Street and Mill Road in Westhampton Beach. Events are generously sponsored by the Westhampton Youth Alliance, Westhampton Free Library, the Greater Westhampton Chamber of Commerce, and Rotary International Westhampton Club. The programs are geared toward younger children ages 3–8 and their families. Programs start at 5:30pm and last approximately one hour. All performances are free. Bring a blanket or lawn chairs for these performances. Call 631-288-3335 for information about a venue change in the event of inclement weather.
Squeaky Clean
Head to the Westhampton Village Green on July 10 for a fun evening of music and dance filled with Squeaky Clean: Rock 'n' Roll for Kids—the Sounds of the '50s & '60s." This concert is sure to get children of all ages up on their feet and dancing the night away to some great tunes from an era gone by.
Mr. Scott the Music Man
Mr. Scott will be dressed in signature head-to-toe rainbow tie-dye at the Westhampton Village Green on July 17, performing his uniquely creative and energetic, interactive concert for children and their families.
The Magic of Amore
On July 24 at the Village Green, Amore the Magician will turn colorful handkerchiefs to magic canes, live birds appear at Amore's fingertips, and objects materialize out of thin air. Spectacular visual magic combined with music captures the audience's attention. Audience participation is the main portion of Amore's performance so Have your camera ready for memorable moments that will surely be added to your photo album.
The Singing Bus Driver
On August 14, Joe Guida, the Singing Bus Driver, will be driving into Westhampton Beach for an upbeat show that will have the children participating with singing, clapping, and dancing from the very first song right through his last rocking song, "Dance with Me to My Music."
Zumba with Bobbi Ann
Join Bobbi Ann on August 21 for a Zumba kids program, a wonderful opportunity for the children to participate in an activity that reinforces skills such as listening and following directions, along with the exposure to a fun activity that promotes healthy habits. This program is so energetic, you can't help but want to get up and move!
Suffolk County Farm Animals
Head over to the Westhampton Village Green and Gazebo at Mill Road and Main Street on August 28 to meet the llamas, chickens, ducks, rabbits, goats and other farm animals from the Suffolk County Farm in Yaphank. This program starts at 4pm.
East Hampton Library
159 Main St., East Hampton
631-324-0222
Plan a trip to East Hampton on Sunday, August 12, and visit the beaches, parks, preserves, and shops that make East Hampton a wonderful summer family destination. Then make your way to the East Hampton Library for its annual children's fair beginning at 2pm. The Children's Fair features carnival rides and games, a book fair with children's book authors signing their books, a raffle with terrific prizes, book-themed crafts, performers, community information booths, and delicious treats.