Sleepaway Summer Camps for Kids on Long Island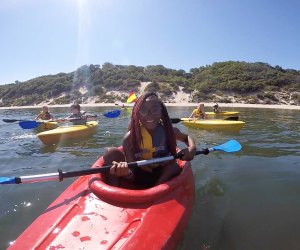 2/1/18
- By
Thien August
Long Island has a bounty of day camps in Nassau and Suffolk counties, but it's also got its share of great overnight camps. Sleepaway camps offer a range of programs and options, including horseback riding, swimming, rock climbing, wakeboarding, arts and crafts, and all kinds of sports activities. If your kids are ready and want some time away from home, but still be nearby, here is our list of sleepaway camps on Long Island that offer adventures and experiences sure to last for years to come.
The camps below have options for one week and up to eight weeks, so choose the camp and length of time that fits best with your kids. Looking for more great summer camp ideas? Head over to our Long Island Summer Camp Guide and make this summer an awesome one.
Camp Blue Bay Sleepaway Camp — East Hampton
Run by the Girl Scouts of Nassau County, Camp Blue Bay is a girls-only sleepaway camp on 179 acres along the shores of Gardiners Bay in East Hampton. Girls can choose from sleeping in a traditional dormitory house or a tent. In addition to the fun of campfires (and campfire songs), all girls participate in a mix of activities, including swimming, boating, crafts, and nature programs. Specialty programs are also available. The camp is ACA-accredited, and campers can register for single- or multiweek sessions. Campers do not need to be a Girl Scout to attend.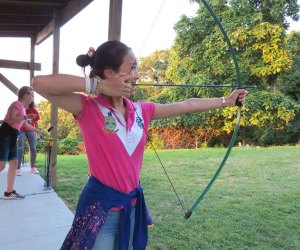 Test your skills at Camp DeWolfe.
Camp DeWolfe – Wading River
Camp DeWolfe is run by the Episcopal Diocese of Long Island, and programming does have a general Christian theme. Children can attend for one- to six-week sessions. The camp is situated on 26 acres of mixed woodland and beachfront property on the north shore of Suffolk County. Activities include sailing, swimming, canoeing, archery, arts and crafts, sports, and, of course, nature hikes and campfires. Lodging is in cabins, and the camp is ACA-accredited.
Camp Edey — Bayport
​This girls-only camp is run by the Girl Scouts of Suffolk County. Camp Edey offers day camps as well as a sleepaway camp for girls entering grades 5-9. Located on the Sans Souci Lakes in Bayport, this camp has amenities to keep campers busy and having fun. There are two swimming pools, an archery range, hiking trails, horseback riding lessons, and corcls, a type of small, round boat propelled by using a paddle. Campers get to choose from an exciting list of activities on Choose Your Own Adventure Days. Girls do not have to be members of the Girl Scouts to attend this camp.
Camp Quinipet — Shelter Island
Camp Quinipet sits on a large, partially wooded peninsula with wonderful water views from almost everywhere on the property. There is no swimming pool, but there is a sandy beach and dock with all sorts of watercraft. In addition to its sleepaway program, the camp offers a day camp and sailing school. Quinipet offers rustic, comfortable lodgings, up-to-date facilities, and is situated in one of the most beautiful places on Long Island. The staff is wonderfully friendly and professional. The camp is ACA-accredited. Owned and run by the United Methodist Congregation, it does include some progressive Christian programming, although it welcomes children of all faiths.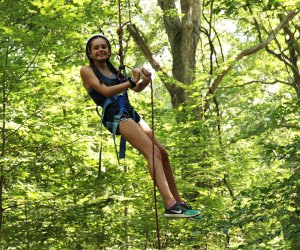 Be daring at the Dorothy P. Flint Nassau County 4H Camp.
Dorothy P. Flint Nassau County 4-H Camp — Riverhead
This ACA-accredited, coed, sleepaway camp is operated by the Cornell Cooperative Extension of Nassau County, although it's located in Suffolk County. The camp offers a range of programs, including archery, dance, drama, kayaking, farming, fishing, swimming, tennis, arts and crafts, rocketry, and more. Lodging is in log cabins. Campers are dropped off on a Monday and picked up on a Saturday with the option of staying over the weekend for an additional fee. Sign up for one week or all eight.
Hofstra Summer Camp — Hempstead
Campers can get a feel for what it's like to live on campus and see what college life is about. There may not be any roaring campfires here, but kids entering grades 4-9 have access to the university's state-of-the-art facilities, air-conditioned dorm rooms, great food, game room, and special events such as a barbecue with a DJ, movie night, and a scavenger hunt. This camp is ACA-accredited.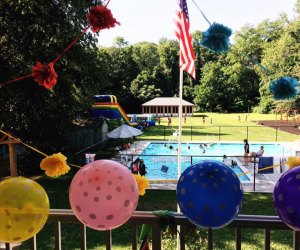 North Shore Holiday House is a nonprofit that provides sleepaway camp for girls 7-12.
North Shore Holiday House — Huntington
North Shore Holiday House is a girls-only camp that is FREE and open to those meeting USDA requirements for free lunch. It is accredited by the ACA and run by a nonprofit established in 1914 by a local group of women seeking to serve and empower girls from low-income families. Campers participate in arts and crafts, swimming, self-esteem building activities, dance, science and literacy classes, and more. Camps run in two-week sessions.
Peconic Dunes 4-H Camp — Southold
This coed, full-day, and overnight camp on Long Island Sound is operated by the Cornell Cooperative Extension of Suffolk County. Camp activities include swimming at the camp's beach on the Sound, archery, fishing, kayaking, sailing, sports, theater arts, and environmental sciences. The camp also offers a series of weekend extender trips for overnight campers.
This post, originally published in February 2013, was updated in 2017 and again in March 2018.
Top photo: Camp DeWolfe The camp is situated on 26 acres of mixed woodland and beachfront property on the north shore of Suffolk County.