Toys for Tots, Spark of Love, and More Places to Donate Toys in Los Angeles for the Holidays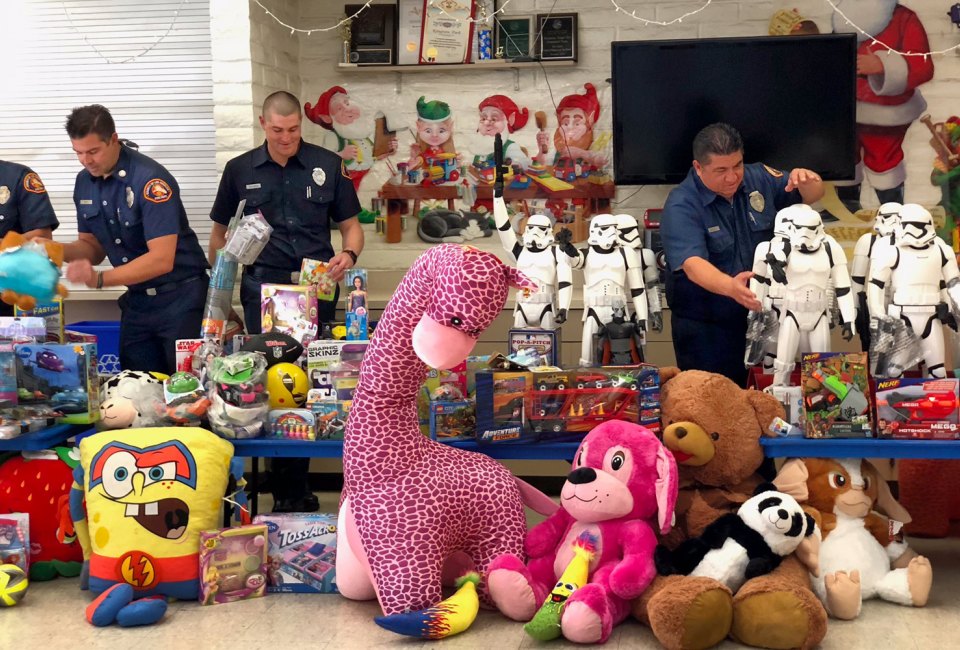 12/1/22
- By
Roberta B
Toys for Tots and Spark of Love are two great places to donate toys in Los Angeles. Here are our favorite ways to make the holidays merry and bright for a whole bunch of LA kids.
Christmas is a tough time to be in need; donating toys during the holiday season can truly change the lives of kids in need and showing our children how the community rallies to help our own is a lovely illustration of what the holidays are truly about. Volunteering with our kids is a great holiday tradition when we can manage it, but even when we can't, there is joy in passing along some of last year's unused gifts before finding out what Santa delivers this season. Or when we shop for Christmas or Hanukkah, maybe we could add just one extra item for a child in need. It's a great way to teach our kids about the true joys of the season: giving!
Below are some great places to bring both kinds of toy donations—new and even gently used—to spread around some of that holiday joy. For more ways to celebrate this holiday season, check out our Guide to Christmas Activities and Holiday Events for Los Angeles Families.
New and Unwrapped Holiday Toy Donations
The following annual holiday programs accept donations of new, unwrapped toys, which they pass on to little ones for Christmas:
Toys for Tots is probably the most famous of the holiday toy drives. Operated by the Marine Corps each holiday season, the charity brings gifts to less fortunate children all over the country. This year you can donate a toy locally at a toy drop location or visit the Virtual Toy Box and pick toys to donate.
Spark of Love is the Los Angeles Fire Department's holiday toy drive, organized alongside ABC7 and Toys for Tots; stations generally start collecting and accepting requests for new toys the day after Thanksgiving. You can also donate money that will be used for purchasing toys and sports equipment via text or online. This year there are three drive-thru Stuff-A-Bus events! On December 2 the event will be held at Mathis Brothers in Ontario, on December 9 the event will be held at Los Cerritos Center and the Westfield Topanga, and on December 16 the event will be held at Red Robin in Santa Ana. However, to drop off a new, unwrapped toy in person, schedule an appointment at one of the participating fire stations.
Children's Hospital Los Angeles also gratefully accepts toy donations. To prevent infection, toys need to be new and unwrapped. The hospital keeps a specific wish list and has designated drop-off dates on the website. Drop-off hours are limited for the 2022 giving season and must be scheduled in advance—you may also donate by purchasing from the toy registry or shipping directly to the hospital. They also recommend donating gift cards to save space at the hospital and allow for "on-demand" purchases.
CHIPS for Kids is the holiday toy drive sponsored by the California Highway Patrol. This year the event has events at various locations around Southern California, including Pasadena, Orange County, Glendale, and Murrieta. Check the website for donation and location details.
This Holiday Toy Drive helps bring Holiday happiness to our military families. This year the nationwide toy drive is being run as a partnership with Dollar Tree—stores will have collection boxes at the checkout counters where you can place purchased toys for donation. Collection boxes will be in Dollar Tree stores through December 2.
In addition to all of these organizations, many school or children's organizations have their own internal toy drives to supply toys in their communities.
Gently Used Holiday Toy Donations
It's sometimes trickier than you might think finding someone (other than a younger cousin) to gratefully accept gently used toys. This year, due to continuing Covid-19 restrictions, many places that usually accept gently used and pre-loved toys are not able to take them. Happily, there are still a few places that will, and they need donations more than ever before.
LA County Toy Loan is an amazing option for donating second-hand toys in good condition. This wonderful program has been around since the Great Depression, lending toys to needy families on an honor system, much like public libraries. For a list of Toy Loan Centers, and other ways to donate, check the website.
Thrift Shops
One way to recycle last year's favorites is by donating them to thrift shops. The Salvation Army and St. Vincent de Paul of Los Angeles are two of the largest organizations with multiple drop-off locations around the city. There are also a host of local hospitals, churches, and other worthy charities that operate thrift stores where some families are looking to buy second-hand treasures to thrill a new round of kids. The Salvation Army is accepting all donations except baby gear. St. Vincent de Paul's website has a detailed list of all items they are currently accepting, including toys, sports gear, clothes, and shoes. For local hospitals, thrift stores, and churches, be sure to call before donating to confirm that they are accepting donations and what they can accept this year.
With so many in need, this is a great time to think beyond toys. Closets and garages that got sorted and organized during manic pandemic cleaning frenzies last summer may have led to boxes and bags of items to be donated. The Salvation Army and St. Vincent de Paul both accept almost anything you can think of including books, kitchen goods, clothes, and furniture. Out of the Closet also has many locations and accepts all adult goods and clothes.
Discover more ways to give back with our list of spots for Volunteering at Holiday Time.
Post originally published November 17, 2011
Sign up for the Mommy Poppins Newsletter today!