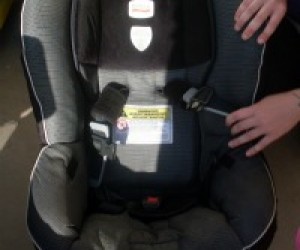 CleanBeeBaby Car Seat Cleaning and Giveaway
This week's giveaway from CleanBeeBaby is a no-brainer. We all have car seats and strollers. They all face daily assaults from the toddler arsenal. (Cheerios. Goldfish. Raisins. Sand. …Not to mention an array of bodily fluids). They need to be cleaned.
But we're faced with a dilemma. Cleaning the car seat means taking it out of commission for a day or more (you can put the cover in the washer but have to let it air dry). It also means taking it out of the car - uninstalling it - and then having to reinstall it ourselves. (No pressure or anything, but did you know that more than 80% of car seats are installed incorrectly?) We've found a terrific solution, and we get to share it for free in this week's giveaway!
Enter CleanBeeBaby. CleanBeeBaby is a mobile cleaning service for car seats and strollers.
Not limited to one location, CleanBeeBaby travels to various sites throughout Los Angeles and Orange County (handy spots like Under the Sea, Right Start, and Giggle). The company will also do housecalls for an additional fee. You bring your car seat, drop it off, go have a cup of coffee, and when you come back your car seat has been steam-cleaned, disinfected, and vacuumed and is ready to be reinstalled. CleanBeeBaby uses only non-toxic, environmentally friendly cleansers, so while no one would recommend your child sucking on the newly cleaned seat, it would do her no harm. CleanBeeBaby's staff are all trained Certified Child Passenger Safety Technicians (they take the same five day course that cops and EMTs take), and they make sure your car seat is correctly installed so you can drive off with peace of mind.
Amazingly, CleanBeeBaby is the only service of its kind. It's one of those "why didn't I think of that" ideas. Founder Jennifer Beall came up with the idea while she was earning her MBA at Northwestern's Kellogg School of Management. She was looking to combine her business savvy with meeting a real need of moms; the result was the business plan for CleanBeeBaby. By graduation, she had won first place in the Kellogg Cup business plan competition, beating out all sorts of high-tech concepts.
So how did my experience go? We met CleanBeeBaby at one of its frequent visits to the Pump Station in Santa Monica. After being reassured that our car seat was not the worst the staff had seen (Yay! No mold!) we set off to watch the ducks in Douglas Park. Before we knew it, it was time to come back and retrieve our car seat. Admittedly we didn't challenge CleanBeeBaby with our car seat (no aforementioned bodily fluids to be removed), but I feel confident that these folks can rise to any challenge. The service was also decidedly child-friendly, as cleaners Anita and Jess proved to be an excellent audience for my daughter's dance and samurai sword displays.
It was a great feeling putting my daughter back into her car seat, knowing it was pristine and germ-free. If you've been given a hand-me-down car seat, are reusing a car seat for a second child, if your current car seat is overdue for a cleaning, or if you're faced with a biohazard emergency, I whole-heartedly recommend you give CleanBeeBaby a call.
You can check out CleanBeeBaby's online schedule or Facebook page. The company tries to accommodate walk-ins, but the schedule tends to be full, so I advise making an appointment.
Now for the giveaway: Mommy Poppins wants to share the clean seat bounty with our readers. One reader will receive TWO cleaning services of his or her choice. So you can clean two car seats, a car seat and a stroller, two strollers - the possibilities are endless! (Well, not really. Those are your choices, but I think they're pretty good.) You can redeem your services anywhere CleanBeeBaby is scheduled to be.
How to Enter: To enter the contest you must email us with the subject line "CleanBeeBaby" by 9pm on Friday night, March 9, 2012. By participating in this give-away, you will be automatically signed up to receive the free weekly Mommy Poppins family events e-mail newsletter. A winner will be drawn at random and notified before midnight on March 9, 2012. Please include your full name and email address in the email. If you do not respond to our email notification within 24 hours, another winner will be drawn. Email addresses of entrants will not be collected, sold, or otherwise abused.

We welcome entries from our Facebook friends, but this promotion is in no way sponsored, endorsed or administered by, or associated with, Facebook.