Where to Have Mother's Day Brunch in Boston Without a Reservation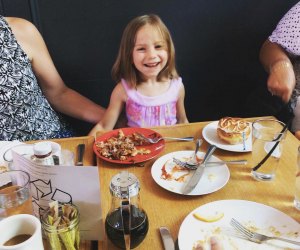 Going out for Mother's Day brunch sounds like such a treat, but you may fear you've missed your chance if you didn't make reservations weeks in advance. Not so. There are plenty of restaurants all over the Boston area welcoming walk-ins for breakfast and brunch on Mother's Day. Some of them are even near a few of the spring festivals happening that Sunday, so you can stroll over after your meal to make a day of it.
Boston
There are few places in the Boston area that have more to offer for brunch than Trident Booksellers & Cafe. Not only does this Newbury Street eatery have a menu a mile long, but you can browse the latest bestsellers before or after your meal. Head there for Mother's Day to feast on apple brie omelets, malted Belgian waffles or the breakfast burrito—and be sure to ask for a patio table if it's a nice day. After you've eaten, stroll to the Public Garden to check out Duckling Day.
Brookline
You never need a reservation to get breakfast all day at Zaftigs Delicatessen in Brookline. This is the perfect place to go for Mother's Day brunch if you have a hankering for traditional deli dishes like corned beef hash and eggs, smoked fish plates and cheese blintzes. Zaftigs has dishes kids will love too like challah bread French toast and banana walnut pancakes. The Arnold Arboretum isn't far away, making this the perfect pit stop on your way to Lilac Sunday.
Cambridge
Head to Harvard Square for brunch at Grafton Street and you won't be disappointed—the restaurant even has a patio in nice weather. This Cambridge eatery has a wide variety of dishes to choose from, like the Irish Breakfast or the Texas Style French Toast, that are sure to please any palate. Grafton Street accepts reservations, but they aren't required. So if you're looking for a last-minute place to dine on Mother's Day, this is a great option.
Jamaica Plain
Centre Street Cafe in Jamaica Plain never takes reservations for brunch, so it's always welcoming to walk-ins on Sundays. The menu isn't huge, but it more than makes up for that with the delectable dishes on offer. The yogurt parfait features seasonal fruit like strawberry and rhubarb, while the Truckstop gives you a taste of nearly everything: eggs, pancakes, bacon or sausage or beans and greens, and homefries. Head to the nearby Arnold Arboretum after brunch for Lilac Sunday.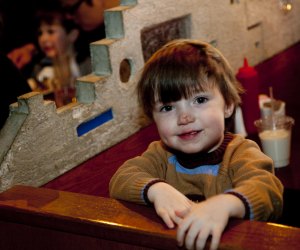 A little one enjoying brunch. Image courtesy of Highland Kitchen.
Somerville
You never need a reservation at this Somerville staple that slings sumptuous brunches, making it the perfect place to spend Mother's Day. Highland Kitchen serves southern-influenced food accompanied by live country and bluegrass from late morning to mid-afternoon on Sundays. You'll find everything from huevos rancheros and smoked pork hash to fried green tomatoes and buttermilk pancakes on this eclectic menu.
North of Boston
If you're looking for a casual, delicious restaurant that's kid-friendly north of Boston, Scratch Kitchen in Salem fits the bill. As the name implies, everything at Scratch kitchen is made fresh daily, often using regionally or locally sourced ingredients. You never need a reservation to enjoy Sunday brunch at Scratch, where you'll find dishes like green eggs and smoked ham with goat cheese (pesto gives the eggs their green color) and the SK Bacon Benedict, which features a double dose of bacon on top of a buttermilk biscuit.
South of Boston
If you're south of the city looking for a family-friendly brunch that doesn't require reservations, Craig's Cafe in Quincy has what you're looking for. This classic diner is casual, cozy fare at its best. You can get an eggs Benedict six ways: classic, with goat cheese, with avocado, with corned beef hash, with crab cakes, or with bacon and buffalo aioli, or for something sweet, try the bananas foster pancakes.
West of Boston
West of Boston in historic downtown Concord, you'll find Haute Coffee, a cute cafe that takes its coffee very seriously. Every cup is made fresh to order, so it pairs perfectly with Haute Coffee's egg sandwiches, cinnamon toast and house made quinoa granola, which often feature local ingredients. Don't miss the delectable pastries, which you can take outside on sunny days.
---
Top image courtesy of the Centre Street Cafe in Jamaica Plain.