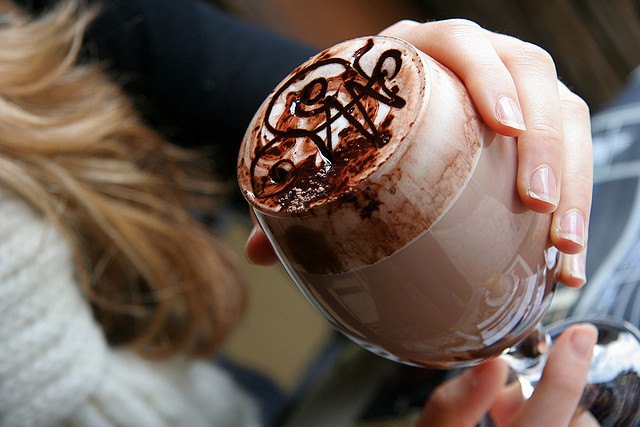 Westchester's Best Hot Chocolate Spots for Families
Move over, Manhattan. There are hundreds of places in Westchester County that serve hot chocolate, however there are a handful of spots that inspire such fierce loyalty in their customers that entire families are willing to bundle up, brave the cold and make a veritable pilgrimage "over the ground so white" to their favorite cocoa shop.
Last week told you about our favorite coffee shops in the Rivertowns, now we're focusing on our top picks for the best hot cocoa in Westchester County. These are shops where the hot chocolate tastes more like a melted candy bar than that watery powder-based stuff that dribbles out of office vending machines; shops where chocolatiers, baristas and servers routinely go out of their way to create drinkable confections.
Cocoa - Larchmont
2107A Boston Post Road
Aptly named, Larchmont's Cocoa repeatedly tops the chocolate charts in Westchester County. Its signature beverage is Belgian Hot Chocolate topped with a homemade marshmallow—and there are really no words that adequately describe how thick and creamy this cocoa is. Orders can be made in increments of 4 ounce "shots," though more than a single shot is overdoing it for most folks. The homemade marshmallow floats perfectly atop the cup and can be buried in whipped cream at your request. A word of warning—this shop is tiny. Be prepared to take your chocolaty inoculation with you to go.
Bread and Cocoa - Larchmont
2110 Boston Post Road
If you're up for a miniature coco-crawl, pop right across the street to Cocoa's sister shop, Bread and Cocoa. This shop uses a house-made 70% dark cacao chocolate ganache as a base for all of their hot chocolate beverages. While kids will probably be happy to drink this dark and creamy cocoa without any additions (or to even eat it with a spoon), adults should know that it comes in spiced and peppermint varieties and can be combined with espresso for an extra little kick of caffeine. There are a few small chairs and tables in the front of this shop, and the bread collection on the menu is as tasty as the cocoa.
Chocolations - Mamaroneck
607 East Boston Post Road
Known as the place were you can go in and create your own personalized chocolate bar, Chocolations in Mamaroneck is a destination for chocoholics of all ages. Come cold weather, the shop's "Sipping Chocolate Machine" becomes the star of the show. The rich hot cocoa, topped with a swirl of whipped cream, is so popular that Chocolations has created a signature summer version too—Frozen Hot Chocolate. Relaxing in one of the armchairs that pepper the shop's front café, it's easy to see why Chocolations was voted Westchester's Best Chocolate Shop in both 2012 and 2013.
Stone Barns Café - Pocantico Hills
630 Bedford Road
Located on the grounds of the Stone Barns Center for Food and Agriculture, the Stone Barns Café serves food created with the same food-to-table consciousness of its big brother, Blue Hill at Stone Barns. With so much to see and do at the center, this little grab-and-go café makes a perfect pit stop. In the colder months of the year, nothing makes more sense than stopping in at the café for a steaming cup of hot chocolate as you begin, end or take a break from your visit. This is hot chocolate at its purest; Valrhona chocolate steamed with fresh milk and cream. Space inside the café is tight—just enough room to get in, get your stuff, and get out—but there are acres and acres just outside where kids can run off a jolt of sugar and caffeine.

Mint Premium Foods - Tarrytown
19 Main Street
When you order a cup of hot chocolate at Mint in Tarrytown, someone behind the counter starts your order by lugging a gigantic brick of Valrhona chocolate up from below the counter and chiseling off a sizeable chunk. The chocolate is then melted, mixed with half-and-half, frothed, heated, frothed and mixed again—all right before your eyes. Because this is a very active meat and cheese shop, as well as a cafe, patrons are often handed a variety of cheese samples to nibble on while they wait. The owner, Hasan, is often behind the counter and willing to go out of his way to satisfy customer's requests—he once heard my 3 year old asking for water before I did and, seconds later, a waiter appeared with a glass. Be forewarned—even a "small" is a sizeable beverage. One order of cocoa is perfect for sharing.
Quimbaya - Ossining
193 Main Street
The hot chocolate choices at this small Columbian coffee house stand apart from what is available at any other shop in Westchester. For starters, all of the cocoa beverages here are made with panela—a kind of Columbian cane sugar—and real unsweetened powdered cocoa. Drinks are made to order using a molinillo, a wooden stick designed especially for mixing and frothing Mexican hot chocolate. The choices range from simple "Grandmother Style" (milk, panela, powdered cocoa and half-and-half) to a kid-pleasing "Peanut Butter Hot Chocolate" which adds peanut butter syrup and cinnamon into the mix. Spur of the moment specials are common and Columbian coffee or espresso can be added to any beverage. The service is very friendly and the possibilities are endless.
Check our our Kid Friendly Restaurant Guide for more ideas for dining out in Westchester!
Creative Commons image credit: Macinate