Visit the Lockwood-Mathews Mansion Museum's Holiday Exhibits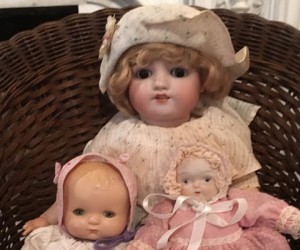 It's hard not to be sentimental as we pull our Christmas decorations out of their boxes. A little light up village that mesmerized our kids, earring-like decorations that belonged to Grandma and handmade pine cone creations remind us of holidays past. More Christmas decorations from another time, the Victorian era, are on view in the annual holiday exhibit at Norwalk's Lockwood-Mathews Mansion Museum running through January 3. [For more holiday displays visit our Holiday Guide.]
At the museum, real, expertly restored Victorian rooms in this elegant stone mansion, recreate Christmas scenes as they were when the mansion's original owners, the Lockwoods and then the Mathews, lived in it. These period rooms, with authentic decorations and lights, show the ways Christmas decorations, traditions and rituals were both similar and very different in that era and how they then evolved into the ones we recognize today.
For instance, from 1850 through the 1900s, the indoor Christmas tree tradition began but at first, with only a very small evergreen placed on a table top. Circling it, traditionally, were goodies to eat and it was dotted with handmade ornaments. From this humble beginning, the exhibit follows the tree's path to becoming a gorgeously decorated floor-to-ceiling tree. The exhibit also peeks in at Christmas time in the 1930s, for another view of how decorations, including glass balls and tinsel, as well as presents of the era had changed. [Find your perfect tree at a local Christmas tree farm.]
And an additional exhibit, Holiday Grandeur: The Mansion's Toys and Trains Story, showcases the era's toys, games and trains that children played with and hoped to find under their tree. Trains, especially, are a theme at the Lockwood-Mathews Mansion Museum because one of the mansion's residents, Legrand Lockwood, was a magnate who owned railroads. There are two vignettes of antique trains, with engines, train cars as well as bridges and scenes from Lionel, American Flyer and Ives. Other toys of the era, including a doll carriage, a bowling set, blocks, a collection of dolls and more are on display. [Check out more holiday train displays.]
Happily, there are even more Christmas displays to see at the Lockwood-Mathews Mansion Museum celebrating the holidays. Another exhibit, Designer Show House of Holiday Decorations, presents the work of three modern day interior designers who each have transformed a traditional tree into a uniquely decorated, festive vision of the holiday. The mansion's grand staircase, draped with red silk garlands, interspersed with apple and cranberry swags, and accompanied by red amaryllis and gold accented magnolia leaves, like the rest of the Lockwood-Mathews Mansion Museum, is truly a Christmas vision to see.
The Lockwood-Mathews Mansion Museum
295 West Avenue Norwalk, Connecticut