10 Creative Tooth Fairy Ideas Kids Love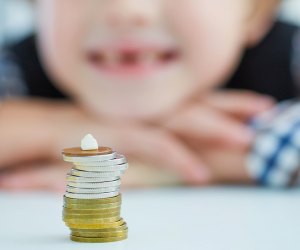 2/21/21
- By
Ally Noel
As your child begins to notice the first signs of a wiggly tooth, you may start asking yourself a lot of questions about how to be the Tooth Fairy. What does the Tooth Fairy pay these days? Does she leave something besides money? Does the Tooth Fairy take the teeth with her?
From tooth fairy letters to tooth fairy pillows to glitter money and more, we've rounded up some truly creative and fun tooth fairy ideas and traditions that provide inspiration for creating a little tooth fairy magic in your own home. Plus, we'll tell you what the average kid seems to be collecting for those pearly whites...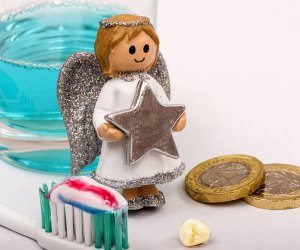 A shiny, clean tooth clearly makes the Tooth Fairy happy! Photo by Mommy Poppins
What Does the Tooth Fairy Pay?
First things first—what does she pay? As a child, I was more than happy to wake up and find a quarter under my pillow. But when you consider the cost of living increases, inflation, and the global economic climate, it should come as no surprise that today most tooth fairies leave more than just a quarter. We polled Mommy Poppins readers to discover the going rate and concluded that most of us are shelling out between $1-$5 for each tooth. Some parents pay a little more if the tooth appears to be in good shape. Other parents pay more for a first tooth or a larger molar. Many of us even go the extra mile and leave behind treats such as books, rare $2 bills, and small toys.

Wait, what did the Tooth Fairy leave in this special box? Photo by the author
10 Creative Tooth Fairy Ideas for Parents
From that first tooth all the way through to the very last wiggler, here's how to make a visit from the Tooth Fairy feel extra special.
1. Give a Tooth Fairy Certificate
Make sure that all that flossing and brushing doesn't go unnoticed by leaving an official "Tooth Fairy Certificate" under the pillow. We love this one from momdot that allows you to keep track of how clean, shiny, white, and strong the tooth was.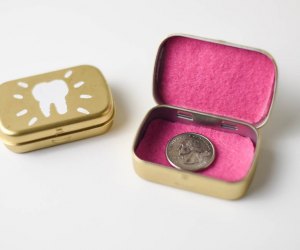 Make a lost tooth box from a mint tin. Photo via Homemaker's Habitat

2. Tooth Fairy Pillows, Boxes, and Containers
Any seasoned parent knows how hard it is to sneak your hand under a pillow and not wake the sleeping head lying on top of it. You need quite a skilled set of hands to fish around under the pillow for a teeny tiny tooth. Thankfully, there are no shortages of tooth fairy pillows, boxes, and other vessels available for purchase. If you want to create something truly unique, try one of these DIY tooth boxes or tooth fairy pillows. This one uses a mint tin and a coat of paint to create an adorable little box. Make any child smile when you create a box out of an empty floss container, or try this darling DIY pillow from The Spruce.
3. Make a Tooth Fairy Door
If you build it, the fairies will come! Add a whole lot of magic to your tooth fairy visits by creating a little door, so the Tooth Fairy can find her way into the bedroom with ease. You can make the cutest fairy door by following this tutorial.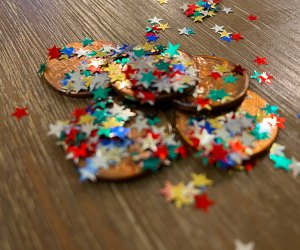 Glitter makes everything extra special. Photo by Sara Marentette
4. Glitter Money
Fairies and glitter go hand in hand (or maybe that's wing in hand?), so it only makes sense to add an extra coat of sparkle to fairy bling by making Tooth Fairy Glitter Money. Whether you add a hint of glitter to coins or dollar bills, this trick is sure to make the magic real!
5. Fairy Footsteps
Glitterphobes beware! This activity is definitely not for you. But for those of you who embrace a little sparkle in your life, this trick is really easy to pull off. Dip a doll's shoe (or foot) into a little glitter to create a trail of magic fairy-sized footprints on the windowsill or nightstand.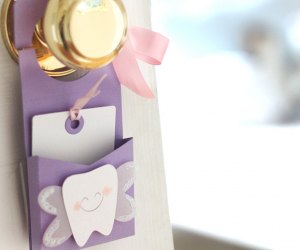 No need to leave that teeny tiny note under the pillow. Whew! Photo by mom2sofia
6. Leave a Teeny Tiny Note
The first time our tooth fairy left a note behind, my daughter proclaimed, "Wow! The Tooth Fairy is bigger than I imagined! She can hold a normal-sized pen!" Naturally, I did the only thing I could do—I began to write teeny tiny notes. Thankfully, the folks at Rooftop Post must have heard my cries, because they have an absolutely adorable teeny tiny template for you to download and print.
7. Gold Dollar Coins
The United States Mint has several gold coins currently in production. Since the year 2000, they have been producing the Sacagawea, Presidential, and American Innovator dollars that are all gold in color. Almost any bank will be able to cash a few out for you, and their color and uniqueness make them feel particularly special.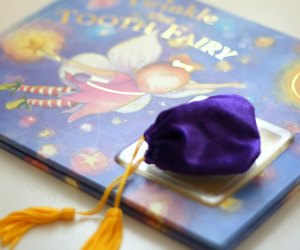 Books like Twinkle the Tooth Fairy can help answer tricky questions. "Tooth Fairy" by Bunches and Bits
8. Books about the Tooth Fairy
What does she do with all those teeth? How will she get into my bedroom? Where does she come from? For the kids who can't stop asking questions (or who try staying up all night trying to figure out if there really is a tooth fairy), this list of books will help answer all their questions—and then some.
9. Leave a Tooth Receipt
Making a big deal over the first few teeth is a lot of fun! But there comes a point around tooth 3 or 4 when you need something simple to make the magic sustainable. This printable tooth receipt does the trick. It's easy to quickly print and fill out so no one will question the Tooth Fairy's existence.
10. Origami Tooth Fairy Basket
No need to collect, make, or buy anything extra for this one. All you need to do is fold any paper currency into the shape of a basket. This YouTube tutorial will walk you through the steps needed to make this magic happen.