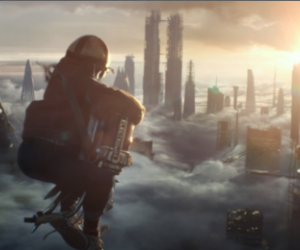 Tomorrowland: Parent Review of Disney's New Action Movie at El Capitan
This weekend, Disney rolls out an action-packed sci-fi adventure for older kids that reminds us that there's a whole lot more to the Mouse House than princesses and singing snowmen. Tomorrowland is a glorious thrill ride for tweens, teens, and the adults who drive them places. It is not a movie for little ones by any stretch of the imagination—not because of anything inappropriate (the film is rated PG), but because the breakneck pace of both the complicated plot and the relentless threat of peril is likely to leave anyone younger than 10 curled up in a ball begging for explanation. But for older kids? Pure gold. Tomorrowland has all the action and humor of an Indiana Jones flick, the sci-fi impact of Star Wars or Doctor Who, and the feel-good, inspirational message of vintage Walt Disney—all with some heart-pumping George Clooney charisma and a pair of ass-kicking young girls thrown in. In short, I got to see a film last night that my son and I loved equally. Read on for everything a parent might want to know (no spoilers), and what perks you get if you see it at El Capitan.
As the trailer reveals, this movie is all about traveling not just through time but through dimension. It begins with a nostalgic romp amid Walt Disney's dreams for the future, as expressed at the 1964 World's Fair (making this movie one that even Grandma and Grandpa may want in on), and quickly launches into a science-based roller-coaster ride that was nothing short of an epiphany for my gobsmacked 11-year-old. The ride includes kid inventors stumbling into other worlds, teens with drones breaking into NASA, and one mysterious tween girl who kicks like an army of Bruce Lees and seems to know more than everyone else combined. The action is almost nonstop, and the motivation of most of the characters is a puzzle to be put together as they run. Good guys? Bad guys? We're never really clear until the end; and even then my son was talking about the different ways of looking at Hugh Laurie's character all the way home.
But for all that ambiguity, one thing is crystal clear throughout: the world can only be saved through optimism. Tomorrowland is a high-tech, explosion-driven, star-studded public service announcement for believing in your dreams, taking hold of your own destiny, and—above all—using your brain for all it's worth.
OUR LATEST VIDEOS
As far as parental concerns, I give this film all the stars in my pocket for big kids; through all the explosions and relentless threat of peril, no human actually dies, and hardly a curse word is uttered. I didn't have to explain any age-inappropriate sexual behavior either, and the only characters who actually get blown up are robots who were kind of asking for it anyway. The stakes are high—very, very high—throughout, but our kids are safely delivered out the other end. My son squealed out loud a few times, but it was that roller coaster kind of squeal, when you feel you can't take anymore and then suddenly get yanked in the other direction.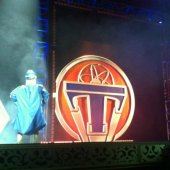 We saw Tomorrowland at El Capitan, and I'll say that if there is one film this year on which you should splurge for the El Capitan treatment, this is it. Magician Greg Wilson is back, with a completely different stage show from the one he created two years ago for Oz the Great and Powerful. His family is something of a magical dynasty; his father performed, and first met Walt Disney, at the same 1964 World's Fair that sets this whole adventure off (a detail worked into the magic show, of course). If your kid is one who likes being picked to go up on stage, sit near an aisle; my son was a lucky volunteer and had a blast. The vintage theater is also decorated with original pieces from the It's a Small World ride prototype. The ride, which debuted at the '64 World's Fair, gets a fitting homage in Tomorrowland—happily, it's early enough in the movie to leave you in no danger of going home with the song in your head! And for the techie in the family, only El Capitan offers the new screen-popping Dolby Vision technology.
Having made it this far without letting slip any significant spoilers, I'll quit while I'm ahead, save for one more shout out for the real joy I felt at seeing a movie that has all the thrills and action a teen or adult could want in a movie, but with a powerful message of optimism, planetary stewardship, and personal responsibility. It also packs one heck of a lot of girl power, but presented in a way that just feels like youth power; this is not a girl movie or a boy movie, but it sure is one fabulous mom-and-tween movie.
Tomorrowland runs May 22-June 17, 2015 at Hollywood's El Capitan Theatre.
Check out our Film Guide to read more reviews that focus on what parents want to know!